NEXON's mobile game MapleStory M had just announced a collaboration event with Vocaloid singer Hatsune Miku on its Japanese server. The event features a mini rhythm game, where players can obtain Miku's collaboration outfit.
The collaboration period will be on the 30th July 2020 (Thur) till 13th August 2020 (Thur) 09:59 [JPT].
The collaboration event will feature a mini-rhythm game called Miku's Puru Puru Concert (ミクのぷるぷるコンサート) featuring 3 songs.
After completing these new songs in Hard Level with an SS rank, players will be able to obtain the special Miku's outfit.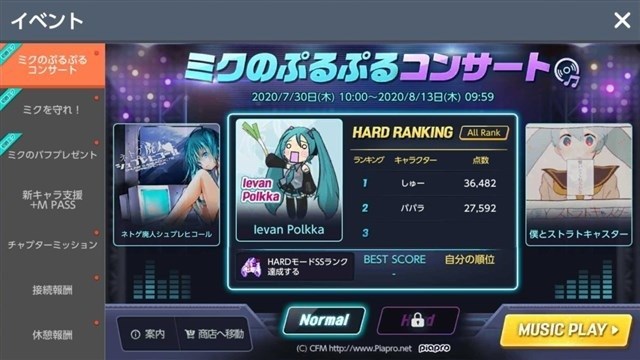 In another mini-game, players will need to protect Miku from her passionate fans. Miku, her stylist, and her bodyguard all have different skills where players can use to protect Miku from harm. And by clearing specific missions, players will be able to get collaboration emblems.
By collecting coins from the Miku's Puru Puru concert and Protect Miku mini games, players can use those coins in exchange for collaboration items and outfits.
During the Miku's Puru Puru concert mini-game, five players who participate in this event will stand a chance to obtain a special miku costume set.
In corporation of this collab event, special packages will be available for purchase which includes items such as Microphone rides, damage skin, Miku's soul stone and special outfits.
More details regarding this MapleStory M x Hatsune Miku collab event will be available on their official Twitter account.
MapleStory M
Android, iOS
MapleStory M, the highly anticipated follow-up to MapleStory, is here and the hype is real! MapleStory M brings the nostalgic world of MapleStory to your mobile device. Enjoy a MMORPG experience whenever and wherever you want, right in the palm of your hand.