While Kirby's first outing in the Switch was met with mixed reactions from fans, Kirby and The Forgotten Land has brought the pink puffball to a whole new dimension and he's all the better for it.
As the first true 3D game in the series, Kirby and The Forgotten land refines the series with addicting new mechanics and collectibles while still keeping that familiar sense of relaxing warmth that Kirby is known for. It's hard not to get sucked in and enjoy the journey.
Jumping to a new dimension
It's another peaceful day in Dreamland, only for Kirby and friends to be sucked into a wormhole that has opened in the sky and into another, seemingly desolated world. Kirby is soon attacked by a group of creatures called the Beast Pack who are kidnapping Waddle Dees for an unknown purpose. Kirby must recuse his Waddle Dee friends and find a way to get back home.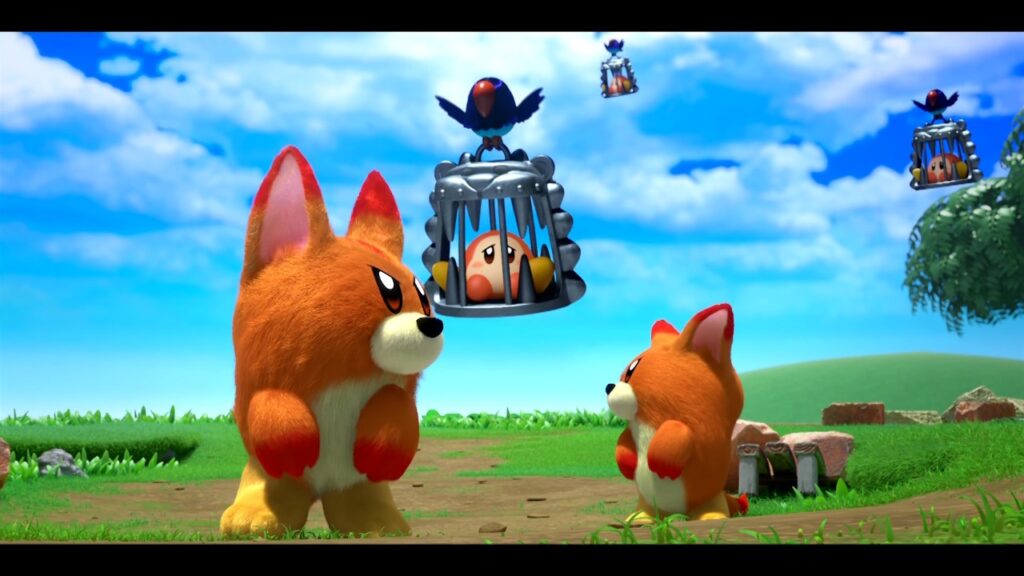 Like most of Kirby's games, the story is short and simple with some interesting and potentially dark implications if you read between the lines, not to mention, an explosively fun ending. Overall, the story is serviceable and gives a good excuse to hang out with Kirby and friends.
What has gotten quite the glow up is the world and character models. This forgotten land is vibrant with all the charming personality you'd expect from a Kirby game and more. The post-apocalyptic setting, decrepit buildings, and ruined machinery are eerie yet surprisingly serene. Each environment is also very detailed for a Switch game, the rested metal looks like rusted metal (and makes you kind of worried that Kirby will get sick from eating it).
Kirby and the gang have also never looked better. Their models are far more detailed to the point where you can see the texture of their fur or clothing. The characters also have a lot of expressions even down to how Kirby runs, uses power-ups, and even eats a maximum tomato. It's always fun watching Kirby have fun.
Kirby in 3D
If I were to describe Kirby games in one word, it would be 'comfy'. Kirby games are comfy, the world and character are cute, the gameplay is simple yet engaging in how casual it is.
Forgotten Land is very easy, even on the harder difficulty mode, however, that's the way Kirby should be. This game is a lot like Animal Crossing in that it's a game you can go to in order to destress and enjoy some light platforming without having to worry about anything deeper, kind of like being in a dream. They're casual games but in the best way.
However, the game still evolves the series formula in significant ways. This is Kirby's first true 3D game and this is the best Kirby has controlled in a long time. The marshmallow feels a little less floaty and slow than in previous outings, he runs and jumps a little faster, he's less reliant on floating past enemies and I loved zooming through parts of levels. He can also dodge roll now which makes avoiding enemies far easier.
New Copy Abilities
Kirby also has some new toys to play with. While the game only has 12 copy abilities (technically only 10), each one is upgradable by finding blueprints and rare stones on the map. Each upgraded ability adds a lot of choices in how to tackle different situations and even gave me a new fondness for certain abilities. I always thought the cutter ability was kind of meh in previous games, but when you upgrade it to the chakram cutters they cover a wide range of the screen and can be really useful for hitting numerous enemies at once.
The biggest of all the new mechanics is 'mouthful mode' where Kirby sucks up an item that's too big for his mouth leading to him wrapping on it like the eldritch abomination her is.
These are more than just a gimmick, they are genuinely entertaining, and each mouthfuls power up significantly changes how Kirby plays and adding a great amount of variety to each level. They're quite similar to the different characters you possess in Mario Odyssey and like in that game you'll need to master what each one can do if you want to grab all the collectibles in each level.
Cake at Waddle Dee Village
A big part of Kirby games has always been the collectibles and the game does a good job at implementing these into the game.
The main collectible for each level is rescuing the captured Waddle Dees. A certain number are hidden in each area and you can gain more by completing hidden achievements. It actively encourages you to search every nook and cranny of each level and find their various hidden spots.
Rescuing more Waddle Dees adds them to Waddle Dee Village, a sort of hub world for the game. The more Dees you get, the more facilities you unlock including a pond for fishing, stores for health items, and an arena to play in the games challenge mode (even Meta Knight shows up to battle). It is a cute little area where you can relax from the levels and as get more Dees, it's fun watching it grow. Once again, very Animal Crossing-like.
You will also be collecting blueprints to upgrade your copy abilities and the rare stones to do the upgrades. You get the blueprints in levels and the rare stones in challenge stages that you can find on the overworld. As I previously said these new upgraded copy abilities give these old hats a new set of moves and experimenting with them is a blast.
Finally, each level has a couple of hidden capsules that unlock models used in the game and allow you (and Kirby) to look at them close-up. I've always been a sucker for model viewers and that hasn't changed here. The game overall did a great job at incentivizing me to keep collecting and keep my eyes peeled for new blueprints and capsules.
Maximum Pink
While Star Allies was not bad, it felt like it was just put out for sake of getting Kirby on Switch, Forbidden Land, however, feels like to true next-gen Kirby experience.
The new gameplay keeps true to the style of Kirby but still adds new elements that further refine the series and keep it feeling innovative. The new copy ability upgrades are something I'd love to see in future games and with how fun they were, I wouldn't mind if mouthful mode came back as well.
Falling into another dimension was truly the best thing to happen to Kirby. I'm happy to say this is one of my favorite games in the series. If you're looking for one of the best platformers on the Switch, this is the next one you should pick up.
| | |
| --- | --- |
| Pros | Cons |
| Gorgeous Environments and the Character designs | May be a little to easy for some people |
| Copy Abilities are more refined | |
| Collectables are addicting to look for | |
Kirby and The Forgotten Land is available for the Nintendo Switch.
Kirby and The Forgotten Land
Nintendo Switch
Float off on an all-new adventure as the powerful puffball, Kirby. Explore in 3D stages as you discover a mysterious world with abandoned structures from a past civilization—like a shopping mall?! Copy enemies' abilities like the new Drill and Ranger and use them to attack, explore your surroundings, and save the kidnapped Waddle Dees from the ferocious Beast Pack alongside the mysterious Elfilin. Hope you're hungry for an unforgettable adventure!
---
Check This Out Next
---