Kirby and The Forgotten Land is coming out soon, so we thought this would be an app opportunity to talk about the stranger lore aspects of everyone's favorite pink puffball.
Kirby has always occupied the role of Nintendo's most casual of platformers. Simple, fun, wholesome, and very cute, the adventures of Kirby who loves to eat and nap alongside his friends in the happy realm of Dreamland (a country on the Planet Popstar). But underneath the sweet and bubbly atmosphere, the Kirby games can get dark and strange, between its nightmare fuel villains, odd lore, and even the main character himself.
What is Kirby
The first of these stranger lore aspects of Kirby, is well, Kirby.
Just what is Kirby? Cute, pink, but underneath, one of the strongest members of Nintendo's pantheon of characters and one of the deadliest? Kirby likes to eat, and that includes eating each of his enemies. This is a core gameplay mechanic of his games, sucking up enemies and stealing powers. Kirby's basically a cannibal or at least into vore.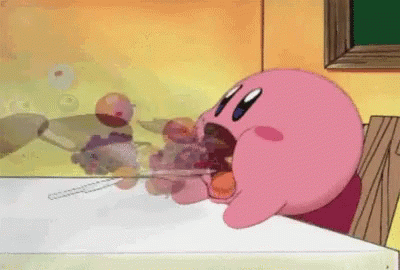 To make it worse, Kirby's victims don't actually die when consumed. According to the Kirby anime, his stomach is really the entrance to a pocket dimension where his foes are deconstructed into energy and have their powers absorbed by Kirby. It's implied that if Kirby doesn't copy their powers, they'll just stay in Kirby's stomach dimension until they whither and die.
While usually cheerful and sleepy Kirby can also go into intense fits of rage, more notably in Kirby Squeak Squad where Kirby goes on a psychotic rampage after someone steals a slice of shortcake that he was going to have for lunch. The game ended with Kirby killing another evil god, and he didn't even get the cake back.
Oh yeah, let's talk about those,
The villains of Kirby
HP Lovecraft once wrote the great dark beings of the universe would first contact us through dreams. Well, that must be why they keep invading Dreamland. For games that start with you killing tiny Waddle Dees and Bronto Burts, they end with you killing some of the strongest and most surreal enemies in Nintendo's history.
Dark Matter
The most notable of these is The Dark Matter, a group of mysterious entities that act as the main villains of Kirby's Dreamland 2, 3, and Kirby and the Crystal Shards (known collectively as the Dark Matter Trilogy).
In each of these games, they end up possessing King Dedede, causing his belly to split apart into a piercing eye and gaping maw like something straight out of The Thing.
This culminates in Kirby and The Crystal Shards where Kirby meets with The Dark Matter's leader, Zero Two (not that one). A giant white, Angel like creature with a red eye and red root-like appendages protruding out its sides.
You fight Zero Two in the middle of a crimson abyss and If that's not enough it literally fights by shooting its' bloody tears at you. It's a disturbing, uncanny image to end the game on, but remains memorable all the same.
Void Termina
Another notable villain in the series is Void Termina, an evil god summoned by the Jambandran cult leader, Hyness in Kirby: Star Allies.
First of all, Hyness himself is pretty creepy. Even though he looks goofy under the hood, his boss battle is accompanied by some eerie bell chimes, and in order to summon his dark lord, he sacrifices himself and his underlings, basically committing suicide to bring out the destruction of the world.
Void Termina himself is also pretty intimidating, with its' plague doctor mask and dark gorilla-like body. Some fans have suggested that void Termina is actually connected to the Dark Matter. Void Termina's 'true form', which he takes in the final stage of his battle looks a lot like the previous villain, however, it also changes shape to look like another character, Kirby.
Is there a connection between Kirby and Void Termina, and by extension Dark Matter? Some fans theorize that they may all be the same species (which would also make Meta Knight one of them) or Kirby could be an incarnation of Void Termina. Kirby might just be a bit more eldritch than we already thought.
The Apocalyptic Earth
Many have noticed the Kirby and the Forgotten Land seems to take place on a rather familiar planet, one with modern technology, only this familiar world has been brought to ruins. It's obvious that whoever used to use its' buildings has long since left.
But this isn't the first time Kirby has hinted that the human earth may be gone in their universe. In Kirby and The Crystal Shards, the fifth world that Kirby and friends visit is a Planet called Shiver Star and from the quick picture we see of it, there's an outline of what looks like North and South America.
Shiver Star is a planet covered in eternal winter. Remnants of old buildings and factories hint that Shiver Star likely had a civilization at some point but no longer. It didn't take fans long to theorize that the planet is a frozen-over Earth, perhaps caused by a nuclear winter or a new ice age.
Kirby of The Stars
That about sums up some of the stranger pieces of lore in the Kirby series. While still overall a casual and cheery series, when the more sinister side of Popstar pops up, it can truly leave a startling impression.
Hopefully, Kirby and The Forgotten Land will surprise and delight players the same way each previous game in the series has, with simple yet fun gameplay and an imaginative dream-like world.
Kirby and The Forgotten Lands will be available for the Nintendo Switch on the 25th of March 2022.
Kirby and The Forgotten Land
Nintendo Switch
Float off on an all-new adventure as the powerful puffball, Kirby. Explore in 3D stages as you discover a mysterious world with abandoned structures from a past civilization—like a shopping mall?! Copy enemies' abilities like the new Drill and Ranger and use them to attack, explore your surroundings, and save the kidnapped Waddle Dees from the ferocious Beast Pack alongside the mysterious Elfilin. Hope you're hungry for an unforgettable adventure!