The incredible mouthful of names collide in this collaboration of Kingdom Hearts: Dark Road and Final Fantasy Brave Exvius! If you haven't tried out Dark Road yet, it features a young Xehanort and his backstory before he began seeking the darkness. The lad himself will be available as the event unit from this collaboration event.
Meanwhile, from Kingdom Hearts III, the Destiny trio Sora, Riku and Kairi in their third game fits, will also be available to summon in Final Fantasy Brave Exvius, alongside regular Sora, Riku, Kingdom Hearts Sephiroth, and Kingdom Hearts Cloud. There is also a social media campaign to obtain more rewards: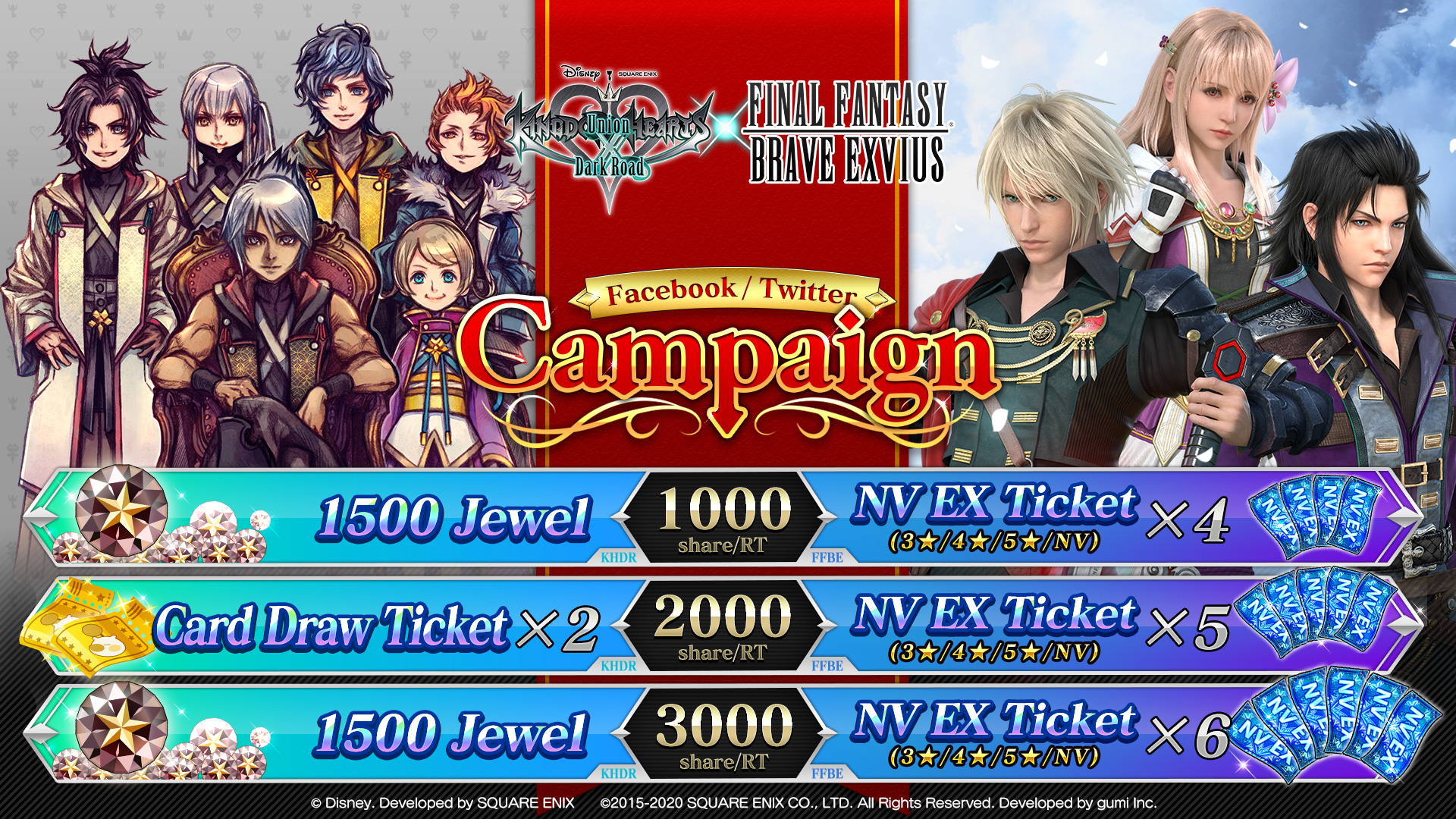 Through either Facebook or Twitter, sharing or retweeting the relevant posts can grant the following at the corresponding milestones in their respective games:
1000

KHUX: 1500x Jewels
FFBE: 4x NV EX Ticket

2000

KHUX: 2x Card Draw Ticket
FFBE: 5x NV EX Ticket

3000

KHUX: 1500x Jewels
FFBE: 6x NV EX Ticket
This social media campaign will run until 30 November, 23:59 PST.
Call upon the power of light with your keyblades and unlock a new path in fighting the darkness!

Obtain awakening materials for their brave abilities from Challenge of the Brave: Let Your Heart Be the Guiding Key and further their potential!

Train with these units by defeating waves after waves of heartless in the Scala ad Caelum event in the dimensional vortex! Summon them into your team now!
Final Fantasy Brave Exvius
Android, iOS
So begins a new tale of crystals.... A tried-and-true, yet brand new RPG! SQUARE ENIX's first title aimed at a worldwide audience; a brand new FINAL FANTASY game available for smartphones! Play an entirely new RPG made in classic FINAL FANTASY style! Includes characters from past FINAL FANTASY titles! Enjoy this expansive storyline right on your phone!