Heaven Burns Red is an upcoming mobile RPG about stopping world-ending monsters with your friends, and it's now open for pre-registration.
According to the website, the game is about the earth under siege from a threat called Cancer. The only weapons that can kill the Cancer are called Seraph, which only select girls can operate.
The game features art by Atelier series veteran Yuugen, who designed all the various characters in the game. From the new trailer, it looks like the game will feature an elaborate story, as your cast of characters deal with their problems and fight off the Cancer.
That being said, Heaven Burns Red isn't a visual novel. Instead, it's a turn-based RPG, where you control your party of characters to fight off threats. Not much is known about the actual combat systems, though it looks like each character will have their own flashy special attacks, and that the recruitable characters are a lot more expansive than the handful of girls shown in the story sequences.
Outside of that, the game features an overworld you can run around and explore. According to the game's Google Play store page, it sounds like you'll be able to also engage in regular day-to-day life, similar to the Persona games.
Heaven Burns Red is slated for a 2021 release in Japan, though no word has been given on an English release. It'll release on Android and iOS devices.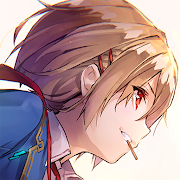 Heaven Burns Red
Android, iOS
Key by Associate Maeda, "Heaven Burns Red (Hebban)" is a story of girls who are entrusted with the last hope. A dramatic RPG that challenges you to fight for your life while running around the field and experiencing the irreplaceable everyday life!