Dragalia Lost has received a rogue like game mode, and naturally, the site's resident genre enthusiast has to dive right in. Here's a guide and overview to the Dragalia Lost Kaleidoscape!
The long and short of it is that it's a rogue like mode, where you will get randomly dropped into certain floor layouts to face against a random selection of enemies. The weapons, skills and wyrmprints you may obtain are likewise random. On clearing certain floor thresholds, you can send other characters to Expeditions to acquire resources after a certain amount of time, like portrait wyrmprints and more Amber.
I highly recommend NOT using Auto Battle, as the AI will not use the Shared Skills you may find. Unfortunately, runs can take a long time if you're doing it manually. At 30 floors in, I've taken close to 2 hours. Fortunately, you can suspend your runs, though that means your progress won't be reflected until you complete it. However, continuing a suspended run will consume your continue chances; you have ten per day, refreshing on reset.
Quitting a run midway will allow you to collect all the rewards you've obtained thus far.
BEFORE YOU BEGIN
While you can essentially choose any character in your roster, I will definitely recommend prioritizing characters and / or skills with some of the following characteristics in no particular order:
Can spam damaging skills
Have area of effect damage
Can inflict status effects, either damage over time or crowd control effects

Note that enemies may resist or nullify them, but it can still prove handy

Heals
Without any upgrades, the enemies' level can far outscale you, so you would prefer to strike a balance between defense and offense. Due to the random nature of the mode, all I would highly recommend will be keeping weapons with healing skills, so that you are less dependent on one-time use skills.
Whenever you get dragons, I would choose those with status resistances to lower your chances of getting locked down, before choosing those that raise stats. I see shapeshifting more as an emergency.
For Fafnir, I'd also opt for healing.
IN THE KALEIDOSCAPE
Play as normal, pretty much. You're unlikely to always 1 to 1 match the levels of the enemies you'll be facing, so they may become too beefy at a certain point.
You definitely must kill any enemy healers first, as their stats can easily heal back up any damage you've dealt.
You can open up your pouch to use a skill for the invincibility frames at any point, provided you complete the animation of your previous skill, or haven't been Cursed.
Attack speeds can feel a little slow, so it will be prudent to exercise caution.
Successfully clearing every 5 floors will allow you to skip directly to the highest level you've cleared.
WHAT TO USE AMBER ON?
Once you're done with a run, you can use your Amber to upgrade your stats and bonuses when playing the mode. At present, they go up to level 20 for each stat, with costs increasing exponentially per level. Recommended parameters to upgrade first:
HP
Strength
Skill Damage
Healing
EXP
The enemies have no elemental attunement, so I'd rather not count on getting any critical procs. Upgrade Force Strikes if you play a character with that mechanic, though I'd rather avoid it due to it being a little too slow.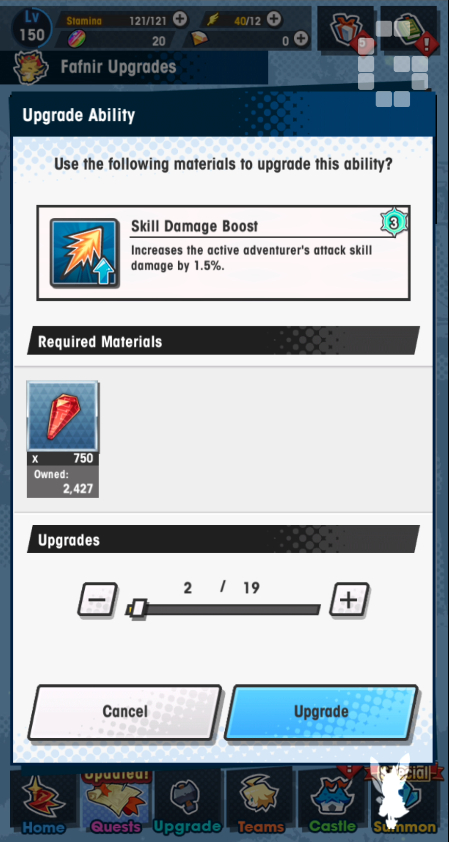 If you can get really far, the Kaleidoscape exchange shop offers monthly stock of Damascus Ingots, Sunlight Stones, Testaments, Adamantite Ingot and Omnicite.
---
All in all, this is a little guide and overview to Dragalia Lost's Kaleidoscape game mode. I think it can be a massive time sink for better or worse and could use some tweaking in some areas. After almost 2 hours, 1865 Dawn Amber feels a little low.
Good luck with your runs, and I'll see you in the next rogue like!
Dragalia Lost
Android, iOS
Follow your heart and pursue the dream to defeat the evil with the bonds between humans and dragons! Dragalia Lost is a swipe-controlled action RPG about the bonds shared between humans and dragons. Conquer your enemies using an array of powerful attacks and special skills and even by transforming into a dragon yourself!