You can pre-order Uma Musume's iconic Gold Ship in her school uniform as part of Good Smile Company's POP UP PARADE figure series. She is the first of three previously announced, which will include Mejiro McQueen and Tokai Teio.
Expected to release July 2022, the Gold Ship POP UP PARADE goes for 3,900 yen, and will include a postcard as a pre-order bonus. Her Nendoroid is likewise still available for pre-order, priced at 5,800 yen.
If you need even more evidence of Gold Ship supremacy, she made the cut to the top 100 primarily male character dominated list of most desired "husbandos", to put it simply. Additionally, Granblue Fantasy will also be hosting her (and her fellow horse girls) in a proper collaboration at last, where she will pair up with Mejiro McQueen. The Granblue game collab is expected to run in February.
For those wondering about the prices, the POP UP PARADE series is designed to be affordable:
POP UP PARADE is a series of figures that are easy to collect with affordable prices and speedy releases! Each figure typically stands around 17-18cm in height and the series features a vast selection of characters from popular anime and game series, with many more to be added soon!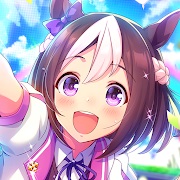 Uma Musume: Pretty Derby
Android, iOS
Horse girls take to the track! Train up these cute horse girls to be the best of the best.