Cookie Run: Kingdom is getting a new update on the 17/18th of November featuring two new cookies, the epic cookie, Cotton Cookie, and an all-new legendary cookie, Frost Queen Cookie.
You can check them out in a brand new trailer on Cookie Run: Kingdom youtube channel:
Cotton Cookie
The cute, fluffy Cotton Cookie is a support cookie who attacks enemies with her flock of sheep. She is an epic rank cookie who will be voiced by Cherami Leigh who previously played Makoto Niijima in Persona 5 and  A2 in Nier Automata.
This will make her the third summoner cookie after Licorice Cookie and Pumpkin Pie Cookie and considering both of them are top-tier units, it's likely she could be very good as well. She will however also be the first support unit to summon allies so it'll be interesting how that class affects her gameplay.
Here's the description of her skill:
"While Cotton Cookie's lantern shines, the warm light will periodically restore the allies' HP and increase the summoned creatures' ATK. Additionally, Cotton Cookie summons sheep that will charge at the enemies, dealing area damage and stunning them. The summoned sheep will fight alongside the Cookies for a certain time."
Frost Queen Cookie
The Cold season has also introduced a chilly new legendary cookie (which means a whole lot more rolling and crystal collecting to find her). Frost Queen Cookie is a magic cookie, who sits in the middle row. From what we've seen her ability to pretty OP, being at the freeze enemies solid, causing damage, leaving them vulnerable, and creating more time for her allies' cooldown to finish.
Here's the description for Frost Queen Cookie's skill:
"Casts a squall of freezing energy dealing damage and freezing all enemies. Once Frozen, the targets' Cooldown will be paused and will receive an additional portion of damage when thawed. If the Freeze debuff is dispelled, the targets will not receive the additional damage. Frost Queen Cookie herself is immune to freezing.
Some bosses and elites are immune to the Freeze debuff. Also, the debuff might not affect Cookies resistant to various interruption effects when casting their skill."
Design-wise she seems to be inspired by The Hans Christian Anderson tale, The Snow Queen, right down to her cold icy demeanor.
Her English dub voice is also voiced done by popular voice actress Cristina Vee, known for playing Noel Vermillion in Blazblue, Shantae in the Shantae series, and Ladybug in Miraculous: The Tale of Ladybug & Cat Noir. She's also done a lot of cool anime cover songs on her Youtube channel.
Super Mayhem Season 2 "Frozen Domain"
Winter is Coming and with it comes the second season of the Super Mayhem mode following Dragon's Valley earlier this year. This time, the season will take place in 'Frozen Domain'.
The idea of this mode is similar to the usual PvP mode however you now control three sets of cookie teams that charge into battle one after the other with the player who beats all three of the other teams becoming the victor.
In addition, the trailer also seems to suggest that each team will be able to summon some armies of icing snowmen to further assist in battle. Looks like there's going to be full-on winter warfare.
The Cookie Run: Kingdom update that sees Cotton and Frost Queen Cookie come to your kingdom, will drop on the 17/18th of November depending on what time zone you are in.
Cookie Run: Kingdom is available for mobile devices.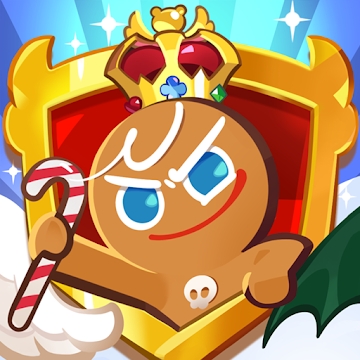 Cookie Run: Kingdom
Android, iOS
Build your dream Cookie Kingdom and reclaim the land lost against the evil that lingers in the shadows. Fresh out of the oven and from the Cookie Run: OvenBreak creators comes Cookie Run: Kingdom! Build a delectable Kingdom while battling against evil dessert monsters! Team up with friends in Guild Battles! Fight alongside other Guild Members and defeat new rivals. Battle against powerful enemies to level up together. Earn soul stones, guild level-up items, guild treasures, and more!
---
Check This Out Next
---