Cygame's popular mobile game title Granblue Fantasy is going to have its own spin-off anime titled "Guraburu" is going to be aired on 8th October.
The series is directed by "BanG Dream! Girls Band Party! Pico" chief director Kenshirō Mori  and animated by Dove Toon Studio and DMM.futureworks, the same studio of "Umayon!"
Along with the announcement, a new visual, returning cast members and staff who are part of this spin-off anime have also been revealed:
Key Visual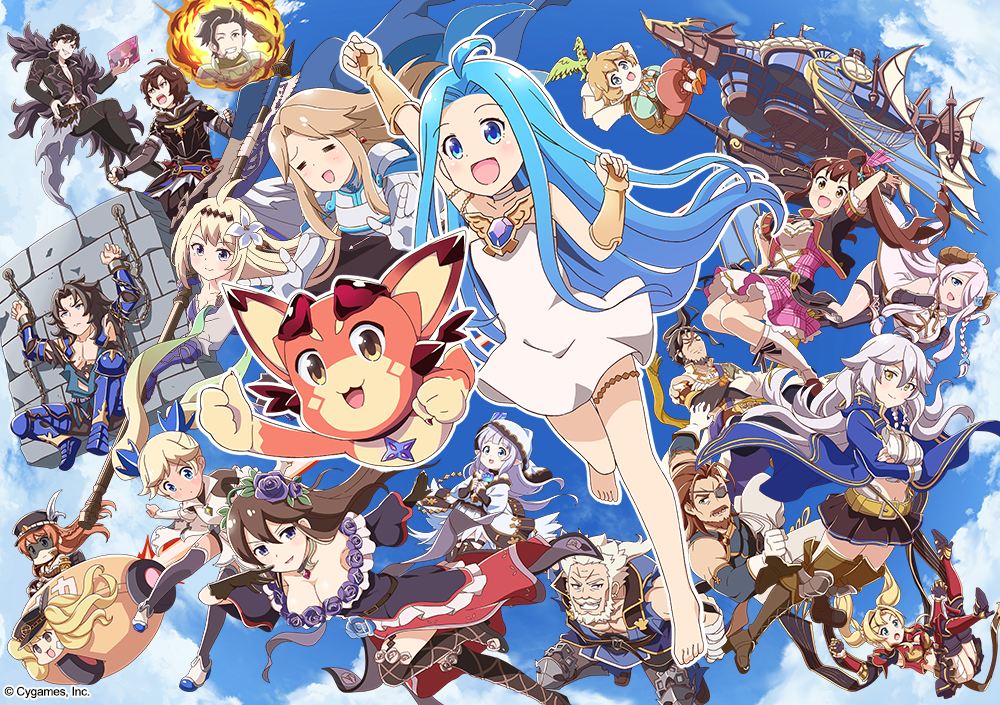 Synopsis
"Guraburu!" is a spin-off comedy manga created by Kikuhitomoji and is irregularly serializing in the "Granblue Fantasy" smartphone game. It has been collected in print by Kadokawa, and has been published in eight volumes in Japan as of November 2019.

The story centers on the crazy yet happy life on Gran's airship Grandcypher, and features a bunch of characters from the franchise.
Staff and Production
Original Work: Cygames
Director: Kenshirō Mori 
Series Composition: Kikuhitomoji, so-shi 
Original Character Design: Cygames
Character Design, Chief Animation Director: so-shi 
Art Director: Masanori Yamaguchi from Studio White
Photography Director: Tasuku Ozu
Sound Director: Takatoshi Hamano
Sound Production: dugout
Animation: DMM.futureworks, Dove Toon Studio
Cast
Vyrn- CV: Rie Kugimiya
Lyria – CV: Nao Tōyama
Katalina – CV: Miyuki Sawashiro 
Rackam – CV: Hiroaki Hirata
Io – CV: Yukari Tamura
Eugen – CV: Kazuhiro Yamaji
Rosetta – CV: Rie Tanaka
Sierokarte – CV: Emiri Katō
Sandalphon – CV: Kenichi Suzumura
Jeanne d'Arc – CV: Megumi Han
Silva – CV: Aya Hisakawa
Jin – CV: Hiroki Yasumoto
Zeta – CV: Kana Hanazawa
Soriz- CV: Rikiya Koyama
Diantha – CV: Inori Minase
Narmaya – CV: M・A・O
Belial – CV: Yoshimasa Hosoya
Monica – CV: Ayumi Tsuji
Lancelot – CV: Yūki Ono
Lecia – CV: Ayako Kawasumi 
Lily – CV: Yuka Iguchi
Will you be excited for Granblue Fantasy spin-off anime? For more information, check out the official website for this project.