Genshin Impact showed off a new trailer during State of Play, with plenty of new information about the game. The game, developed by Mihoyo, is an action-RPG set in a colorful fantasy world teeming with personality.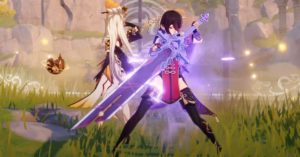 The game has a colorful host of characters, all with different abilities. In the trailer, you can see some of these characters using elemental powers not just for combat, but for traversing terrain like water.
The game has over a dozen characters, all with different elements you'll need to master. They also have a variety of playstyles, with different weapons ranging from bows to greatswords to spears.
The characters all have interesting movesets, too. One of the characters moves like a Dragoon out of Final Fantasy, with jumping strikes.
You won't have to manage these characters alone, however. The game has co-op, allowing you to take on bosses with your friends. In the trailer we're treated to a glimpse of Lupus Boreas, Dominator of Wolves. While they haven't mentioned the specifics for co-op, the trailer shows only three players fighting Lupus Boreas.
The trailer also shows off two of the seven towns being added to the game. The first is Mondstadt, the idyllic City of Freedom. The city's got a nice, classic medieval feel to it. The giant windmills also give it a great sense of fantasy.
The next town shown is the bustling port town of Li Yue Harbor. Compared to Mondstadt, this city boasts an East-Asian theme. The city also boasts a lot of natural scenery, making it feel distinct from Mondstadt's European aesthetic.
Genshin Impact will come to PS4 Fall 2020. More information can be found on their website.