Developers Omega Force Fire Emblem Warriors Three Hopes is a spin title to the turn-based strategy game of Fire Emblem series; unlike its predecessor of Three Houses, Three Hopes is a Warrior type Hack and Slash game and here is our review on it.
The Winds of Fodlan
Fire Emblem Warriors: Three Hopes while set in the same setting as in Three Houses, the story however is different as fans have played through the predecessor title. We are still able to see some of the familiar faces that we had lived or fought with and against in Fodlan. The three leaders of the houses are still here and even Blyeth who was the main protagonist back in Three Houses, though they take on a much different role in this game.
We start our journey in Three Hopes as the game's new protagonist Shez as you play off the early game by choosing one of the three houses of your liking, similar to in Three Houses. The story will branch off into different paths according to the respective house that you picked.
Players who have not played through Three Houses might want to talk around with all of the students from each of the houses to see which ones fit more to your fancy. And as for my playthrough of the game, I went with the Golden Deer House because of certain personal preferences.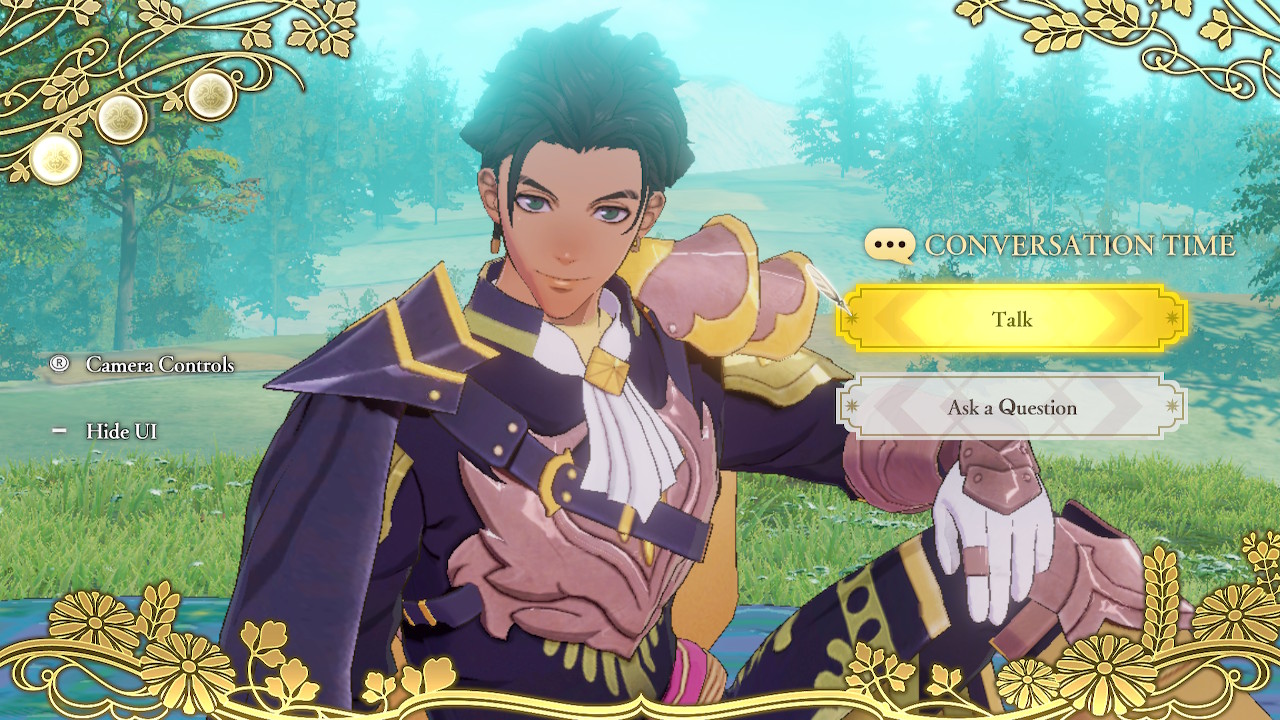 Into the battlefield
Fire Emblem Warriors: Three Hopes are mission based where before each battle begins, players will be told of the main criteria of clearing the battle as well as the losing condition. During the pre-battle part, players will have a detailed map of the battlefield that includes stuff like terrains and enemy positioning. Players can take advantage of this to bring in the units that are more suitable for the certain battle. As well as picking their units, players can also prepare the skills that their units can bring as well as their weapons to fully take advantage on the mission since Three Hopes keeps in the iconic Weapon Triangle feature.
During the battle, players can either go for two different playstyles according to their personal prefererences. The Slow and Steady style where you're more inclined to the classic Fire Emblem gameplay of taking stats and numbers into account, or the Quick and Efficient style where level-up window won't be shown so you can always keep the battle going without interruption.
While the combat system can be a bit complicated than the usual Fire Emblem titles, the combat can feel very satisfying if you're into a more fast-paced action. Characters will have normal attacks and strong attacks as well as character skills, classes skills, critical attack, awakening attack, summoning allies, character switching and more. So pretty much your average Fire Emblem game.
While the warrior type of games tend to not be more focused on stats and numbers, watching your favourite war criminals mow down waves of enemies will activate the neurons for my simple monkey brain, so it's a nice breath of fresh air compared to other Fire Emblem titles. The game also does a pretty good job at highlighting some of the more important aspect of the game like in instances where a red indicator is shown above an enemy, it would mean that the unit that I'm using currently won't be doing much to them, so it's a sign for the players to switch out their characters.
The game does the same thing when choosing a weapon for my units so it's a really nice accessibility option for players who just don't want to read the wall of text describing every unit and weapon types.
After class activities
While not in battle, players have access to the camp where all the management work will be done. If you're a fan of the Fire Emblem franchise, this is where the fun part is. So grab your excel sheets and strap yourself down because it's data entry time.
Camp Facilities
There are three parts where we divide this section to, "Character and Weapons", "Character Bonding", and "Camp Foundation" where it's a place to shop and upgrade facilities. This place is your bread and butter for management in Three Hopes so it's best to familiarise yourself with it as soon as possible.
Character Management
Training is one of the main things to manage for each of your units so the training ground in camp is a place to increase your unit's class experience. Since a character's class is not fixed to one, players get to pick between any of the classes that are available to suit your overall team composition which can make things easier during combat. Since our units are fixed when we choose a house, it's the best way to let players have their options to pick whichever classes they want for a specific unit so that it won't be too constricted.
Players also have access to materials where you get from the battlefield can be used to forge and strengthen weapons as well as fixing or selling them, just like in Three Houses.
It's tea time
Similar to Three Houses, character bonding still plays a big part in Three Hopes. When you deepen your bond with a unit, they'll be able to get bonus damage when you fight together with them in battle. The character bonding is not limited to the protagonist and an ally but also the relationship between one ally to another. There are many ways with increasing character relationships in the camp, but I found the easiest method would be to talking to them as well as giving them gifts.
Other bonding activities that you can find in Three Hopes that was also present in Three Houses is being able to cook and do chores with them. Once you reach a C level support with a unit, you'll be able to invite them to an Expedition, which gives you the option to get to know them better by asking them questions and talking with them.
I personally think it's a really neat part in Three Hopes because it lets you know more about your favourite characters. But for others who might not enjoy this part, can freely skip through it since it's not a mandatory thing in Three Hopes.
I fight for my friends
There is a multiplayer option in Three Hopes, but all of the quests can be played in multiplayer. A personal recommendation while playing multiplayer is to hook your switch to a TV because having your screen be split in half is a pretty miserable experience, especially at times when there's tons of enemies on the screen.
The controls in multiplayer is slightly different when playing solo, such as switching characters and moving the characters perspective. One player can only be fighting and one player will do all the ally ordering mechanic. If you have friends, the multiplayer experience can be enjoyable but if you want to fully experience the game, I wouldn't recommend the multiplayer mode. And no, that's not because I don't have friends, don't judge.
Verdict
To players who are unfamiliar with Fire Emblem titles, the daunting task of needing to take into account for all the information and mechanics that Three Hopes has can be a difficult mountain to climb, but the game also give the leniency of letting you play with your own style and not forcing them to learn every single aspect of the game in order to play the game.
The combat system offers a fast pace experience which can be vastly different to other Fire Emblem titles but it's very refreshing overall. One of the most enjoyable experiences that I had was when I am able to release a critical attack to my enemies, and seeing them die in slow motion is very satisfying.
The controls for the combat is also pretty beginner friendly to new players so I recommend trying out Fire Emblem Warriors: Three Hopes.
| | |
| --- | --- |
| Pros | Cons |
| Friendly to both hardcore and non-hardcore of player | Multiplayer mode is not good enough to let two players have a good playing experience |
| Offers a good hack and slash experience | |
---
For more information on Fire Emblem Warriors: Three Hopes, do check out the official website here.