CRIMESIGHT is a mystery simulation game from Konami, an always-online title that pits you against other players in a clash of wits. It is currently exclusively available on PC via Steam, since its launch 14 April 2022.
THE SETUP
London, 2075. This future era sees a 90% reduction in crime thanks to an advanced system known as Foresight AI. The developer of the system decides to take it further: to craft a powerful AI capable of solving the most heinous of crimes, appropriately named "Sherlock". However, a rivalling AI known as "Moriarty" emerges, having similar capabilities, but one wishing to bring ruin to the world instead.
Rather than sniffing out the "sus", the crime is merely a potential... for a time. Do you prevent it, or would you perform the crime instead? Casting doubt or identifying suspicious behaviour won't be enough, as you will need to pull out all the stops whether it's eliminating your target, or successfully preventing the incident from occurring to begin with.
THE INVESTIGATION
You'll be randomly assigned one of three AI when you start a game:
SHERLOCK: The Good Guy whose purpose is to prevent fellow AI Moriarty from doing them dirty deeds. Sherlock is able to control up to 3 pawns including the main victim. His persuasion skill can get overridden by Moriarty should they be controlling the same pawn, but in return, his deductive ability can get you a complete analysis; the hallowed dossier of information you'll need to track down the potential target and assailant.
MORIARTY: A straightforward AI who can only control 2 pawns and has no direct control over them. You can basically simply get the villain to eliminate the main target who will be revealed to you from the start. Deduction is less important here as your job is more to taking advantage of your available resources – from weapons to secret passages or tools – and take out the mark without being seen.
IRENE: Irene's options are more limiting despite knowing who the main target and villain are, as she cannot command or tamper with the environment. What she can do is remain hidden, so a Sherlock will not realize she's there. Basically a glorified assistant to a Moriarty player whose main function is to make Sherlock suffer.
Think of the manor as a "chessboard", with the characters within being pawns you control. Sherlock will need to track down the potential victim and villain, Moriarty to help the villain commit the murder, and Irene to give Sherlock red herrings. Moves need to be done in 10 turns across time blocks, all the while with pawns potentially going hungry, injured, and the like.
Exploration is key to acquire supplies, be it to keep your pawn healthy, or the murder weapon. Random events may occur in which environmental hazards can throw a literal spanner into the works, from wild dogs rushing in, gas leaks to blackouts. Environmental awareness, aside from the mind games, is incredibly important.
While you have your clear-cut hero / villain AI, it is entirely possible to collaborate with any of them, whether on purpose or not. Maybe you agree to have someone else control a pawn, but when you remember how Moriarty's persuasion takes priority over Sherlock's, that can result in some power plays. The game does have an option to cast a vote to determine the most suspicious player, which is more of a sign to watch out for them rather than an outright elimination. You won't be throwing AI out of the airlock here.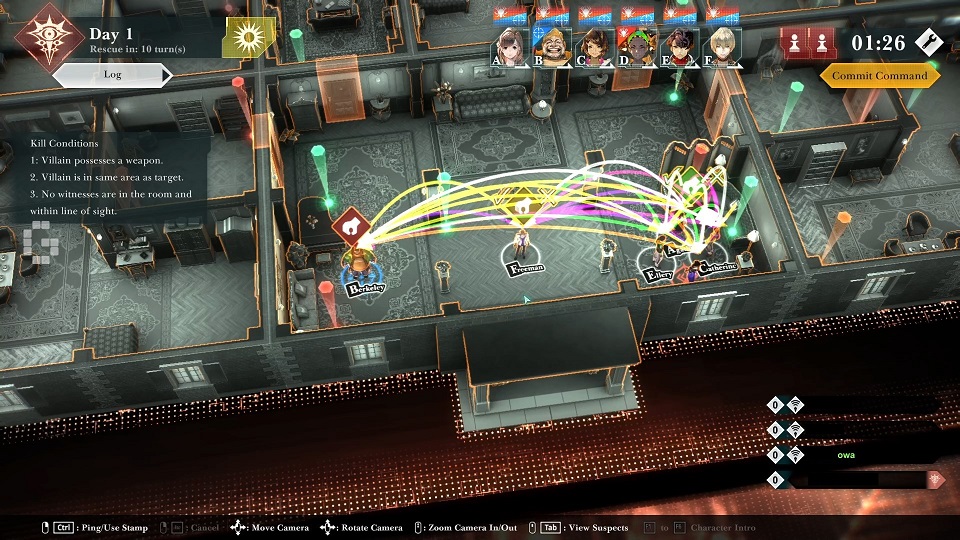 Moriarty is probably the most fun to play, as you really only have the one goal with the advantages to make it easier: get villain to victim to do the murder. You could get fooled by a Moriarty player as Sherlock, and Irene has no direct influence on the game, almost devastatingly over-reliant on a reasonably competent Moriarty. This isn't forgetting the exploration aspect: as important as it is, the actual appearance rate of items is random, so your pawn could end up dying.
THE VERDICT
As it stands, the concept is fun. However, you basically get to see it all in just a few games, with currently only 4 gameplay modes in different formations, one variation of the manor map, three main AI and the same missing structure. The extensive tutorial is a must to learn the game and even so, the learning curve gets steep with the various moving parts to juggle. You can see how well you're doing through the statistics, and for the especially confident / competent, compete on the weekly leaderboards.
The experience can only improve if / when they eventually add more AI, random events, pawns or even just methods of assailing the victim, with only the one cutscene you'll be seeing over and over. The asking price is already pretty decent for what it currently offers as you either get closer to the truth, or fail to prevent the crime, with all the factors you need to consider.
It does feel a little unfair considering Sherlock doesn't have Watson to counter an Irene. Luck plays a factor with the random item spawns, so you could be accidentally helping Moriarty instead. Balance changes might be required to ensure a game doesn't get too one-sided too quickly.
CRIMESIGHT is a novel take on its genre of whodunnit social deduction which can benefit from some more polish and added content.
| PROS | CONS |
| --- | --- |
| Social deduction with unique concept | RNG reliant |
| Great pacing, engaging and intense build-up | Playing Sherlock and Irene can be highly variable |
| Awesome art style and character design | |
CRIMESIGHT
Microsoft Windows, Steam
Whodunnit... or who will do it?! A new mystery simulation game with player-vs.-player action arrives on the crime scene! In CRIMESIGHT, players will face off against each other in a battle of wits. In this clash of good and evil, who can outsmart their opponent and come up on top?!