A smorgasbord of updates is coming your way in Borderlands 3 featuring the next campaign add on, Guns, Love, and Tentacles: The Marriage of Wainwright & Hammerlock, level cap increase and ECHOcast Extension event! That's not all, there'll also be the forthcoming Mayhem Mode 2.0 and a bunch more stuff!
Guns, Love, and Tentacles will be out on 27 March, Friday, for Asia. Hosts Greg Miller and Fran Mirabella on the Borderlands Show previewed the opening hour of the Wainwright & Hammerlock campaign, showing off new narrative details, enemy types, unique loot and more! You can get the game Season Pass or buy it separately once it launches. Watch them play below:
Two free content updates will also be coming, namely the level cap increase for Borderlands 3 and a new ECHOcast Twitch Extension event. Vault Hunter levels will be increased to 57 from 53, for four additional skill points and equipping two capstone abilities at once.
Streaming fans can engage in a new way with the Moxxtail ECHOcast Twitch extension event. Utilize Twitch's premium currency "Twitch Bits" and collectively create cocktails with your fellow viewers to buff streamers when they're delivered in-game. Details here.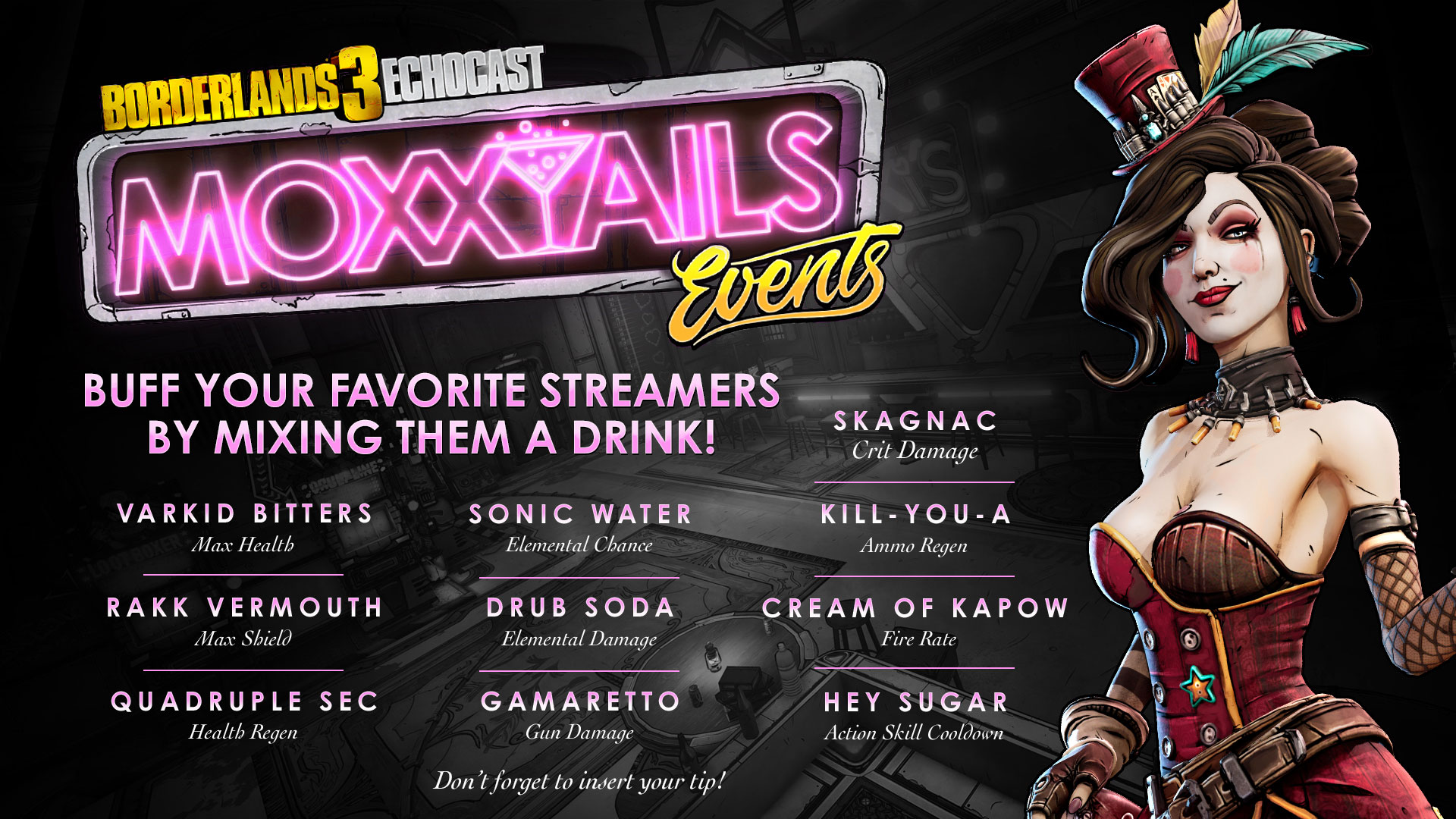 Besides that, Mayhem Mode 2.0 and Revenge of the Cartels seasonal event will be coming. Mayhem Mode will be getting changes to the user interface, additional modifiers and Mayhem-specific weapon drop system.
For the seasonal event, Maurice will be tasking you to take out cartel operatives throughout the Borderlands. Meeting a quota will get you access to the Mansion, a new location where an intense boss battle awaits. With three different factions to fight, the encounter will be changing with each playthrough. The event will last six weeks and can be toggled off and on throughout the event. Details here.
The Broken Hearts Day seasonal event will also return for an encore until 8 April, so go and break those hearts and collect unique gear!
Borderlands 3
Microsoft Windows, PlayStation 4, Xbox One
It's time to go shooty shooty again with your zany Vault Hunters! The next installment of the Borderlands series will have more guns, more loot and more Claptrap* than ever before!