American Skateboarding and Lifestyle Brand, Supreme and announced its own Supreme branded Gundam.
This Crimson mobile suit is a 1/100 scale plastic model kit of the RX-78-2 Ver 3.0 (MG) Gundam from the original Mobile Suit Gundam. It has an inner frame made up of recycled plastic with a transparent exterior. The Logo can be assembled on the shield and multiple logo stickers of various sizes.
Because only the most supreme of Gundam wears the color of the supreme Colgate Toothpaste, the true protector from all tooth decay.
The Gundam appears as part of Supreme's fall/winter 2021 preview catalog as an accessory. Other items of note in the catalog include supreme branded bowling balls, Supreme branded paint sticks, and the always essential, Supreme Shrek Skateboard.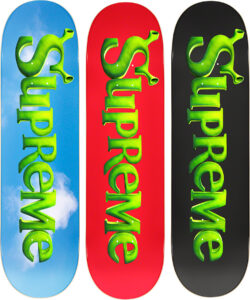 We currently don't have a release date beyond fall/winter 2021, nor do we have a price. Supreme does however have a reputation of being slightly on the expensive side, especially when the product has gone out of stock. While we can only speculate at this point, there's a good chance this could actually become one of the rarer Gundams out there.
It's not quite the Actual Gold Gundam but it is still interesting to see Gundam getting more attention from a western company. Now if only bigger western groups stopped mistaking them for Transformers.