A BanG Dream Aniplus collaboration will open its doors in Singapore, letting fans obtain special BanG Dream merch as well as food themed after the game.
The BanG Dream Aniplus Cafe opens its doors April 23rd, and the official website has listed some of what you can expect out of the event.
Like many collaboration cafes, this one will have an assortment of BanG Dream-themed foods, such as Ramen based on the band After Glow or the strangely pink Pastel Palettes Fuwa Fuwa Omurice.
There'll also be special drinks made, also themed after the various bands. These are various lattes and fruit drinks, such as the Roselia-themed Blackcurrant Latte or the Hello, Happy World! Mango Ade.
The cafe will also serve desserts such as the Morfonica Daylight Waffle Stack, as well as the Roselia Smoothie Bowl to complete your meal.
Of course, you'll also be able to get various merchandise from the cafe, such as premium Concert-Style Tickets that you get with every purchase off the collaboration menu. These are given at random, so you'll need to hope to get the one with your favorite band girl.
Using the special hashtag for your social media while you're at the cafe will also entitle you to a free character sticker, featuring one of the many band girls from the game. These are limited to the first 50 visitors every day and given at random, so you'll need to be smart if you wanna get your best girl too.
Finally, spending over SGD35 at the cafe will also entitle you to a special BanG Dream-themed mask case, so you can carry the season's hottest accessory with you in style.
On top of that, you'll also be able to buy regular merchandise, such as character pins and washi tapes based off of your favorite groups.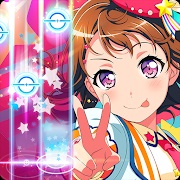 BanG Dream! Girls Band Party!
Android, iOS
Popular rhythm game in Japan! Tap to the rhythm of over 140 songs to choose from. Play both original and cover songs from popular J-Pop artists and anime songs! Play your favorite songs on a level of difficulty that suits you!
---
Check This Out Next
---