Koei Tecmo and Gust officially announced Atelier Sophie 2: The Alchemist of the Mysterious Dream at Tokyo Game Show 2021. The game will launch on February 25, 2022, for PS4, Nintendo Switch, and PC.
This is the sequel to Atelier Sophie: The Alchemist of the Mysterious Book, which was first released in 2015 and was recently relaunched with the Atelier Mysterious Trilogy Deluxe Pack.
Atelier Sophie 2: The Alchemist of the Mysterious Dream continues the story of Sophie and Plachta's adventures. After leaving Sophie's hometown, Kirchen Bell, the couple finds a large tree similar to the one Plachta saw in a dream, and as they get closer, a mysterious vortex pulls them inside. Sophie wakes up alone in a curious new world named Erde Wiege, and soon she hears about an alchemist named Plachta who lives in the suburbs.

Surprisingly, when Sophie arrives at the atelier, she meets a young alchemist named Plachta, and although the alchemist shares the same name with her friend, she doesn't know Sophie. What other surprises await Sophie on this journey? As the adventure continues, Sophie meets an ambitious alchemist, Ramizel Erlenmeyer, who willingly agrees to help in her time of need.
The narrative evolves elegantly with a captivating new visual style that combines the art of the Mystery sub-series with high-quality graphics and animation.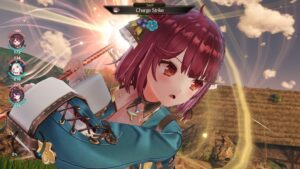 Like previous entries in the Atelier series, alchemy plays a big role in Atelier Sophie 2: The Alchemist of the Mysterious Dream. The game is built based on the panel synthesis system found in the Mystery sub-series, where materials are placed into panel slots to create new items. The game allows both aspiring alchemists and veterans to synthesize items in a way that is comfortable for them because of two different types of panels-regular panels make it easier to create items, while limited panels are difficult to master but allow items with a stronger synthesized effect.
3D models have been redesigned, and emotional expressions have been enhanced with richer facial expressions. In addition, the "multi-link turn battle" in a party of 6 people divided into avant-garde and rearguard, the battle begins in place when the enemy is touched. for such a "smooth battle", the battle system is evolutionary.
To help celebrate the latest edition of the Atelier Sophie franchise, Koei Tecmo offers a new Limited Edition of Atelier Sophie 2: The Alchemist of the Mysterious Dream, which is available exclusively through the American NISA Online Store for the time being. This limited edition version of the game contains art books, fancy fabric posters, keychains, bonus BGM CDs, and exclusive DLC costumes all packaged in a gorgeous Collector Box.
Atelier will be celebrating its 25th Anniversary which this will be part of. Stay tuned for more information on new Atelier projects and products.