The Acer Predator X28 is (as the name suggests) a 28'' monitor made for those that want to game with a widescreen. I'm currently using a 24'' monitor, and trust me, you can feel the difference and it is very much worth it.
The screen supports up to 4K152Hz giving it a crystal clear output. Combined with its ability to tilt the screen, you have a monitor with an incredible amount of optimization for your gaming setup. 
Simple but Well Designed
Despite how big it may look, The Predator X28 is actually quite light in comparison to other monitors of the same size. The design is a sleek black, a bit on the simple side but that certainly isn't a bad thing. 
The monitor is really easy to install and set up. The entire installation process does not require any tools. There's one screw at the bottom of the base, but it comes with a special handle tool to twist it in, making the setup incredibly easy.
The monitor itself is not a curve screen, but I prefer that and the bezel of the screen is actually quite unnoticeable. Despite the fact that the top and side bezels are really thin, the bottom bezel part protrudes out quite a lot, which your average monitor has as well but not this much. From the look of it, Predator X28's bottom bezel is about half as thick as the housing of the screen panel itself.
This is because the bottom bezel is where the unit houses the proximity sensor. Predator X28 has something called ProxiSense where the monitor will sense if you are in the room with it. If you are not in the room, the monitor will just enter power-saving mode or standby mode.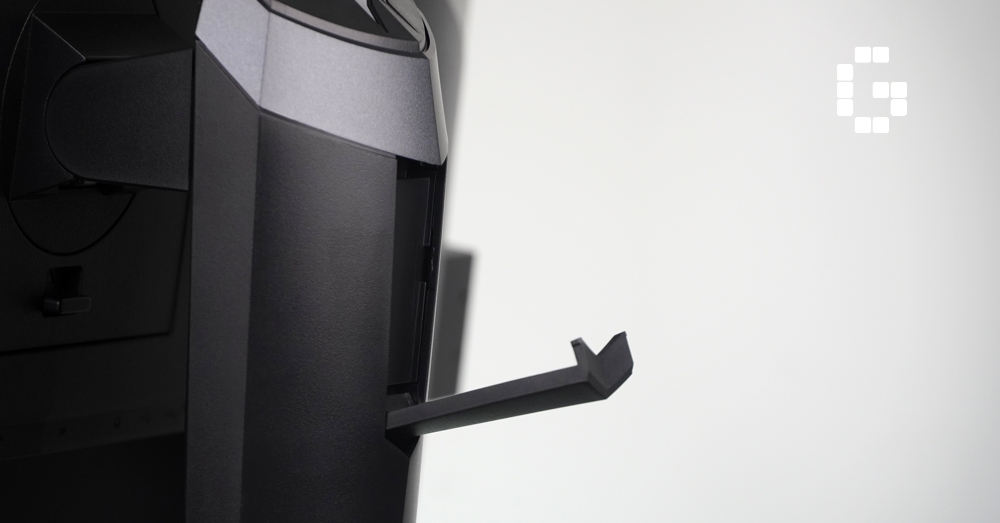 Although the base of the monitor stand is just your average stand, at the back there's an extra part that can be opened, which you can use to hang your headset. It's not necessary but it is a helpful feature that allows you to comfortably store your headphones in an easy-to-reach place. 
Crazy Good Adjustment
Although there are a lot of monitors out there that can also do this, the freedom of adjustment on the Predator X28 is impeccable. There are four ways to adjust the monitor, the Tilting angle, the Swivel angle, the Pivoting angle, and the Height of the monitor.
While most will likely find little use in turning the monitor upside down, the ability to turn it to face any position and march with your line of vision is incredibly useful. You barely need to put in force to make any sort of adjustment.
While we don't have official measurements, from our estimates, the monitor can pivot 90 degrees (to each side), for tilting it can go at least 40-45 degrees from all the way up to all the way down, for Swivel it can go around 40 degrees from all the way left to all the way right, and for Height, it can go a good 16-17cm. The main point here is that the Predator is incredibly flexible, and adjusting it to suit your play style is very satisfying. 
Ports and Joystick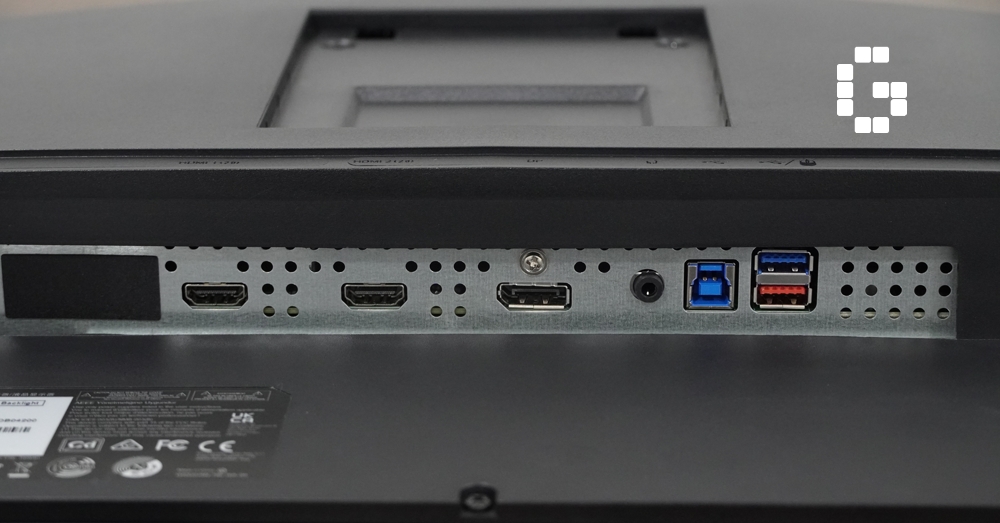 What is a monitor without a few ports on it? There are two HDMI 2.0b ports, a DisplayPort 1.4, and four downstream USB Type-A ports ( three of them are 3.0, one of them is 2.0. Two on the left and Two on the bottom where the other ports are), an upstream USB Type-B, and a headphone jack.
While HDMI 2.0b technically can support 4K120Hz, if you want to go 4K144Hz or overdrive it to 4K152Hz, you still need HDMI 2.1 for that extra refresh rate. If you are using DisplayPort however, then this is none of your concern, as that will go into overdrive fine. 
You can control the Predator X28 and make performance adjustments by using the button+joystick combo on the right of the monitor which is pretty handy. I would always prefer to navigate through the monitor OSD with a joystick instead of a button, it just makes things much easier.
Display Performance
Predator X28 is a 28'' monitor that uses an Agile-Splendor IPS panel that supports up to 4K, with a maximum refresh rate of 152Hz, and is also DisplayHDR 400 VESA Certified and 90% DCI-P3 color gamut.
Using the monitor to play games is clear and satisfying, no matter what type of game you play. I'm playing Monster Hunter with 4K resolution on this, and everything is so detailed and it looks so nice, there's not a place where the textures look mushy or blurry, every single place is so vibrant, it's just so beautiful.
Of course, 4K resolution isn't the only thing that is good with the monitor. The Predator X28 also supports NVIDIA G-Sync, and if you turn on the Esport mode, the refresh rate of the monitor will sync with your in-game framerate which eliminates screen tearing issues, which makes experiencing first-person shooters on it is superb.
There's also a monitor built-in crosshair that you can turn on in the OSD. I personally prefer not to use them but for those who wonder, there are 3 types of different crosshairs that you can choose from, but the only color on them is white.
This monitor also has a large eye protection technology software put into it, like VisionCare as well as the Flickerless and BlueLightShield Pro, which not only can protect your eyes up to a certain degree but also put less straining on your eyes so you can do whatever you do for a longer amount of time.
On top of that, the monitor also has LightSense technology, which senses the brightness in the surrounding area like your room, and adjusts the monitor accordingly, and Dark Boost technology which can help you see better in darker areas.
Verdict
The Acer Predator X28 is quite frankly one of the best monitors that are under 30''. It supports up to 4K resolution and has a refresh rate higher than 120Hz (If you use DisplayPort that is). If this is not enough, the GtG response time is only 1ms (Most have 5ms or 4ms), and you can even overdrive it to as low as 0.2ms, is that not enough? The number of features has truly made the gaming experience with this monitor more enjoyable.
The color displayed is vibrant and accurate, watching a documentary with this thing makes me feel like I can touch the animal in the video. The refresh rate makes everything so much smoother, and it's super helpful for FPS gaming. Everything is just perfect for this 28'' gaming monitor.
I can safely say that if you want a 4K gaming monitor with a high refresh rate, this would be one of our first recommendations.