Mobius Final Fantasy developed by Square Enix is undoubtedly one of the best games so far that Square Enix has made for the mobile platform. On their recent 8.88 million Registered users event, currently they have revealed a huge update for the game. There will be 3 new jobs that will join the fray in the next update coming soon. They are namely "Cloud, Soldier 1st", "Squall, Mercenary of Balamb" and "Tidus, Ace Striker". The information below are not from the official site, however they are from a blogsite that has transcribed a leaked information from Japan. If you are new to this game, you can check out our previous written article on it here.
Cloud, Soldier 1st
Cloud is the protagonist in the story of Final Fantasy VII, and here we see his card displayed as one of the jobs that you can pick from in Mobius Final Fantasy. The card is a Warrior type. Further details are compiled in the picture below.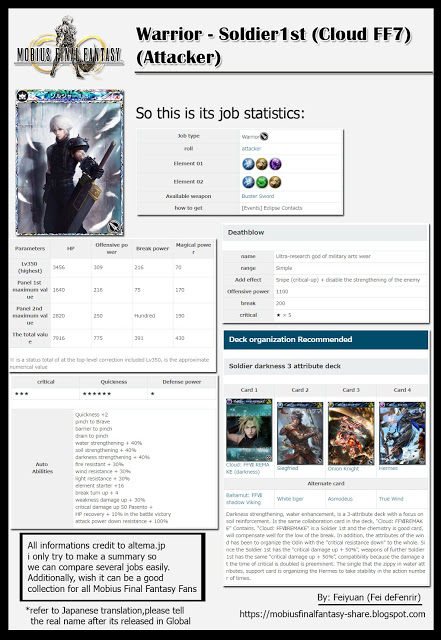 Squall, Mercenary of Balamb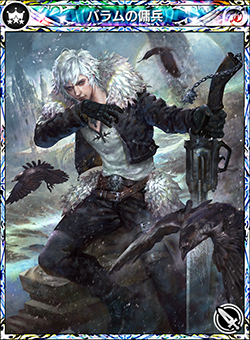 Squall is the protagonist of Final Fantasy VIII and we all love his gunsword. Now we get him as one of the jobs you can explore with in the game. Squall is also a Warrior card type with a tremendous amount of Offensive Power for his Deathblow skill. His stats are greater than Cloud's in comparison for Critical, Quickness and Defense Power.
Tidus, Ace Striker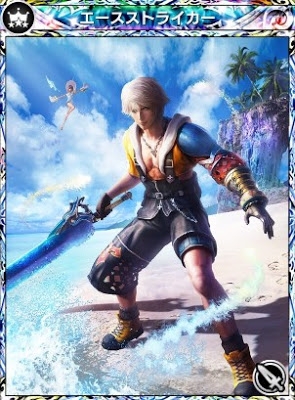 Tidus, the ever charming protagonist in Final Fantasy X is one of the job cards in Mobius Final Fantasy. His card is balanced in offensive and defensive stats with his Deathblow skill slightly higher in power compared to Cloud's. Tidus' job card is also a Warrior type leaving us with 3 Warrior job types to choose from in the next update. Below are the stats compiled for Tidus.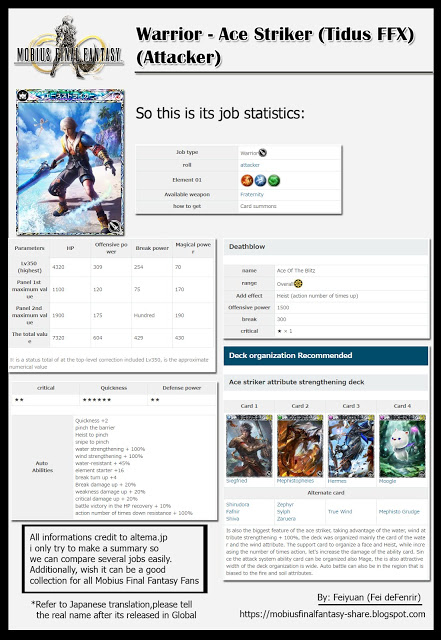 All of the cards have a different set of Elements to it. Thus players will have to choose and play their jobs according to what they have that fits their deck and play style. There is no news on when the update will be coming to us. However let's keep our fingers crossed and hope they would come soon.
Source & Credits: mobiusfinalfantasy-share.blogspot
Kartrider: Drift has opened for the second beta test! Register at
here
!