Harvestella is a unique title. Being a farming game with a twist of adding in JRPG elements, which can be compared to the Rune Factory seires. Developed by Live Wire Inc and published by Squre Enix, I dove in head first into the world of Harvestella, and I thoroughly enjoyed  it.
Harvestella starts off with your usual case of the JRPG trope, meaning that the main character has amnesia. The story progresses where you and your party members need to get to the bottom of the phenomenon known as the Quietus, a one day season where the air is filled with deadly dust, and that all living things that come into contact with will die. Except you of course.
Bask In The Ray of (Seas)light
The world of Harvestella is built upon 4 main crystal-like structures that loom over different areas called the Seaslight. Each of the Seaslight dictates the stable change between the four seasons, but one day a strange occurrence called the Quietus plague the lands, which causes crops to wither and die and prevent people from coming out for one day. After being unaffected by the Quietus, the locals at Lethe Village lets you stay at a vacant house in Bird's Eye Brae where you get to perform your daily task of farming.
The story of Harvestella isn't super innovative or something to write home about but it has its certain charms. One thing that's most noteworthy with it is how the aforementioned Seaslights and Quietus plays a part in the farming aspects of Harvestella. Each season lasts for 30 in-game calendar days and before the season shifts, the day of Quietus will start which forces you to replant your crops.
I personally feel like it's a better way of introducing the players into the world compared to your usual "your gandpa has passed down the farm to you to take care of" narrative. It's refreshing to see this whole saving the world ordeal be the main narrative of Harvestella in contrast to the more chill and relaxing plot of other farming games.
There are also character side-quests that are optional which can sometimes increase the bond between you and the character (and eventually have the option to romance them if your bond is high enough with them). These side quests are your usual fetch quest where you need to travel to a certain location and collect an item to deliver it back to the person.
The game does a good job with tying those with a neat story, one example being the quest with the three kids in Lethe Village where they have to come to terms with one of them moving out of the village because of their parent's work.
Don't Turn Away From the Light
The overall art direction of the game looks really gorgeous. Stuff from character design to how each of the towns look significantly different from one another, and how the giant crystal Seaslights towers over the far distance, accompanied by how each dungeons have varying levels of design differences makes the game visually appealing.
Going on to the visually distinct towns, majority of the town's designs represent the corresponding Seasonal Seaslight. You have your typical green and lush starting town of Lethe Village, something you can normally see where you start off your journey in an usual anime RPG setting. You have a town where flowers bloom all year round which is filled to the brim with cherry blossom trees and petals called Nemea Town representing Spring . And the seaside village of Shatolla where the buildings have straw roofs and colourful corals are scattered across the village representing Summer.
One of my favourite aspects of the game when it comes to the presentation of Harvestella is definitely the 2D sprite art of the characters. The sprite work is hand-drawn in a very distinct style that gives off a whimsical and fantasy-esque feel to them, fitting the JRPG style but different enough to stand out from other titles.
While the models of the characters translate relatively well in 3D, there's this certain "fuzziness" in the graphics that lacks the sharp outlines that I personally prefer. Though this is just something minor in the  grand scheme of the game.
Although one of my main gripes is that despite the game letting you choose the character voices, the lack of voice acting in the game during dialogue does shallow the immersion of the game. I get that not having voice acting doesn't necessarily immediately make a game bad, but it's weird that the character only talks randomly during combat.
It's Not Much But it's Honest Work
Despite the name, the farming aspect isn't the main aspect for Harvestella. Though it's still necessary for you to build up your farm since that's going to be your main source of income for weapon upgrades and buying important items. The farming in the game is your average run of the mill gameplay loop, you have different crops, each with different harvesting time, some only can grow in certain seasons and some crops where you don't have to replace the seed with.
While you can upgrade the size of your farm, build machines to craft specific food products and even add animal pens, the farming mechanics are pretty simple which honestly makes it relatively relaxing.
After a certain time, you'll be given access to a book that has a bunch of small objectives for you to complete like harvesting a number of particular crops, or cook certain food dishes. Turning in a number of these quests will in turn allow you to get access to farming abilities like being able to hoe down multiple patches of land at once.
Other than turning your crops in for money (you do it through depositing it in the shipping box, and you'll collect the money at the end of the day when you go to sleep), you can use the crops and turn them into food or beverages to fill up your hunger bar.
The hunger bar is essential because it acts as one of your currency in terms of performing your daily tasks like farming as well as attacking during combat. It's very important to avoid having your stamina bar empty, especially in dungeons because you'd be left defenseless, being unable to attack the enemies.
Players are able to travel between different towns and dungeons through an overworld diorama-like map, and each of the dungeons that the players go through are multi-layered and somewhat maze-like  where the more you explore, the more the map opens up to you. Each of these dungeons would normally take a number of in-game days to fully explore, not because they're extremely huge but because time passes really quickly in the game. Each of these dungeons are then concluded with one final boss fight.
There are certain obstacles that you would come across during dungeons though. One of which are broken paths where you need to spend in-game time to repair, and some of these paths will act as shortcuts once you're able to patch them up.
There's also other obstacles in the form of FEAR enemies which are massive monsters that are high level where you need to avoid until your party is strong enough to fight them. Some of these FEAR monsters would block your path or guard treasure but most of the time you can pretty much sneak past them, but on the off chance that you draw their aggro, you can always run away and they'll stop chasing after you after some distance.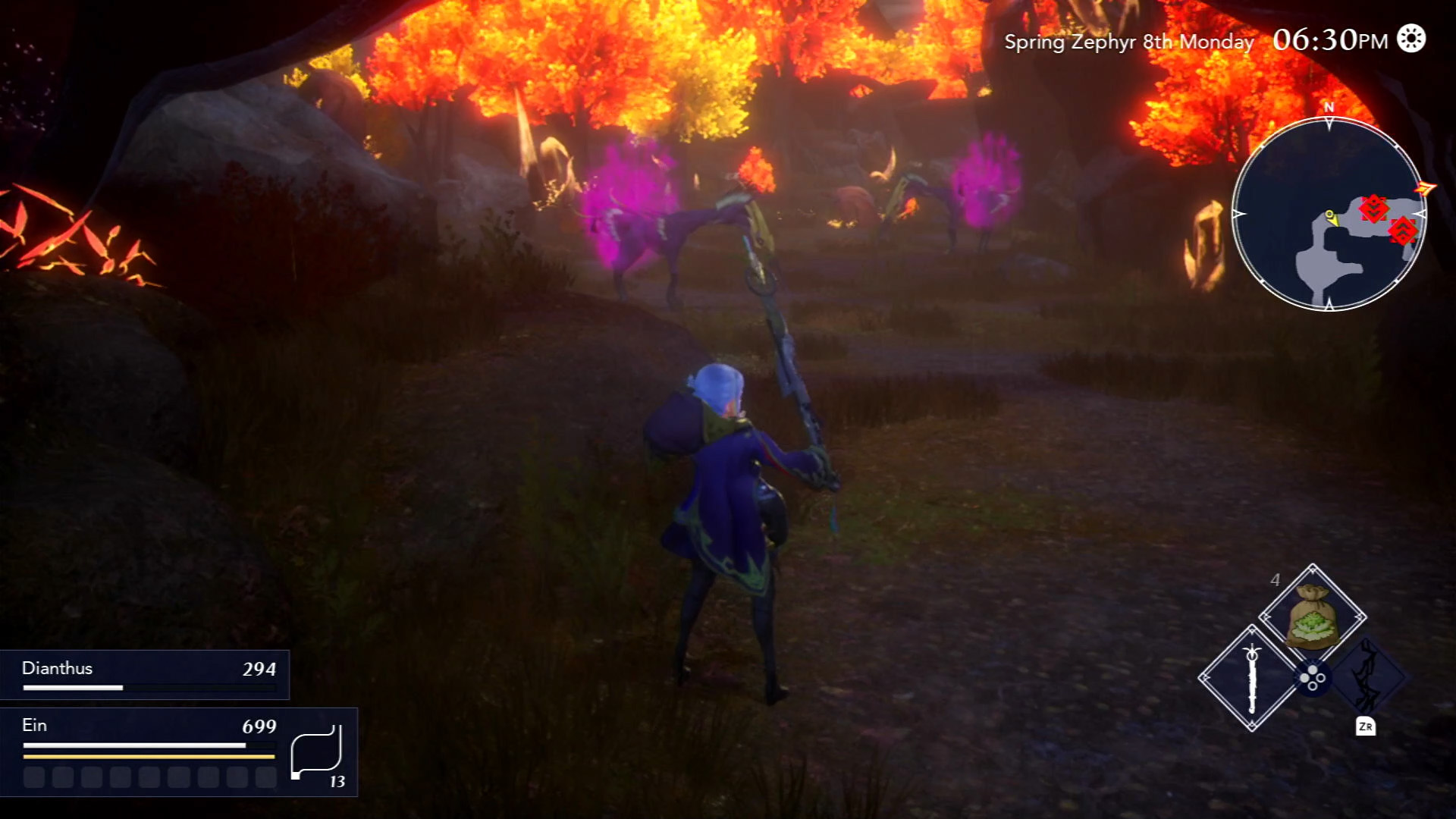 Speaking of combat, it's a hack-and-slash style where your combos only require one button input with the occasional two button input with your class skills. To say the least, Harvestella doesn't have that much depth in terms of combat but it's simple enough to still make it satisfying. You can have up to three different Jobs where you can swap between during combat and each of the classes feel pretty different from one another.
Each of the classes have their own skill tree which needs you to have Job points to upgrade but one thing I like about this is that the Job points are separate from each of the classes and you don't need to use the Job to gain points. Meaning that you can just play about with your preferred Job and still be able to gain points and level up a different class's skill tree.
Each enemy has their own elemental weakness and during boss fights, if you repeatedly hit them with one of their weaknesses, it will trigger a "break" effect where the enemy will take more damage for a limited time. You can stack the break effect for a "double break" if you can hit their weakness before the first break gauge fully depletes.
Closing Thoughts
All in all, I enjoyed my time playing through Harvestella, the combat while lacking depth offers a nice gameplay loop with distinct Jobs and playstyles which is perfect for those who look for a more casual time.
But those who look for a purely farming game wouldn't particularly enjoy Harvestella since it's pretty simplified and honestly you're spending your time mostly fighting off monsters and exploring dungeons rather than tending your crops. But I still find the farming satisfying regardless of its simplicity.
Though my main gripe with the game is how fast the time passes for each in-game day. It feels like your main currency in the game is time and how you spend it. It can get rather frustrating at certain times where you're just a few steps away from reaching a certain checkpoint in a dungeon only for you to get booted back home.
But despite all of that, Harvestella is a noteworthy title for fans to pick up if they're looking for a casual game with beautiful art direction and unique twists to the farming genre.
| | |
| --- | --- |
| Pros | Cons |
| Gorgeous Art Direction | In-game time passes too quickly |
| Simple yet fun combat | Game might not be everyone's cup of tea |
| Distinct Job Classes | |
Harvestella is reviewed on the Nintendo Switch