We're back with another card preview for Magic The Gathering (MtG), this time taking a look at Defiler of Vigor from the upcoming Dominaria United set.
Defiler of Vigor is a new creature coming to MtG : Dominaria United, and is great for the player who likes their creatures big and economic.
It's effect reads:
Trample

As an additional cost to cast Green Permanent spells, you may pay 2 life. Those spells cost [Green] less to cast if you paid life this way. This effect reduces only the amount of green mana you pay.

Whenever you cast a green permanent spell, put a +1/+1 counter on each creature you control
Even ignoring its main effects, Defiler Of Vigor is a great beatstick. At 5 mana with 6/6 and Trample, you're gonna have no trouble ploughing through weak defenses and spilling that damage over to other players.
But where Defiler of Vigor truly shines as an MtG card is its effect- by paying 2 life, you can reduce the Green mana cost for some of your biggest, baddest creatures (or even swarm the board with littler ones if you're feeling extra rich in life).
Sadly, this is indeed limited to green creatures, so no pulling Eldrazi out of nowhere using Defiler's ability.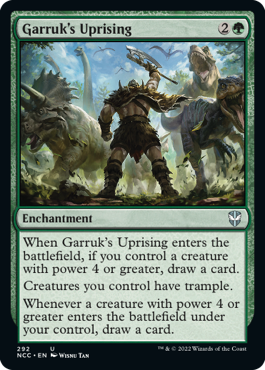 But by boosting your life by playing a green/white, be prepared for a formidable addition to any stomping deck- further enhanced by that +1/+1 counter. Consider pairing it up with Garruk's Uprising in Commander games to spread the goodwill around- get a free card since Defiler is 6/6, then let your next-summoned creatures also rock a +1/+1 with Trample thanks to Garruk (and get extra cards if they're over the threshold too).
Dominaria United releases for MtG on September 9th, and you can pick up Defiler of Vigor in the set at your friendly local games store.
---
Check This Out Next
---