Capcom's popular franchise Monster Hunter has been an ever expanding series filled with its deep lore, engaging gameplay as well as possibly the main selling point of the franchise, the interesting and unique varieties of different kinds of Monsters in the Monster Hunter universe.
And with the release of Monster Hunter World: Iceborn, the game's popularity has definitely surged. One common way to capitalize the popularity of a certain franchise is by publishing merchandises, most notably in terms of figures and figurines.
We got our hands on a Glavenus or its Japanese name Dinovaldo (ディノバルド) figure and we'd like to showcase this magnificent figure.
A brief intro to Glavenus, it is a Large Monster of the Brute Wyvern species. Glavenus can spit fire and wield its heavy blue tail like a blade. It sparks its tail with its jaws to light it up, making it glow red which is similar to where Hunters would sharpen their blades when its blunt.
Glavenus was first introduced in Monster Hunter Generations and is part of the Fated Four which are the four flagship monsters in the game.
Glavenus is arguably the fan favorite of the Fated Four due to its super cool monster design as well as the badass armor set that it provides in the game.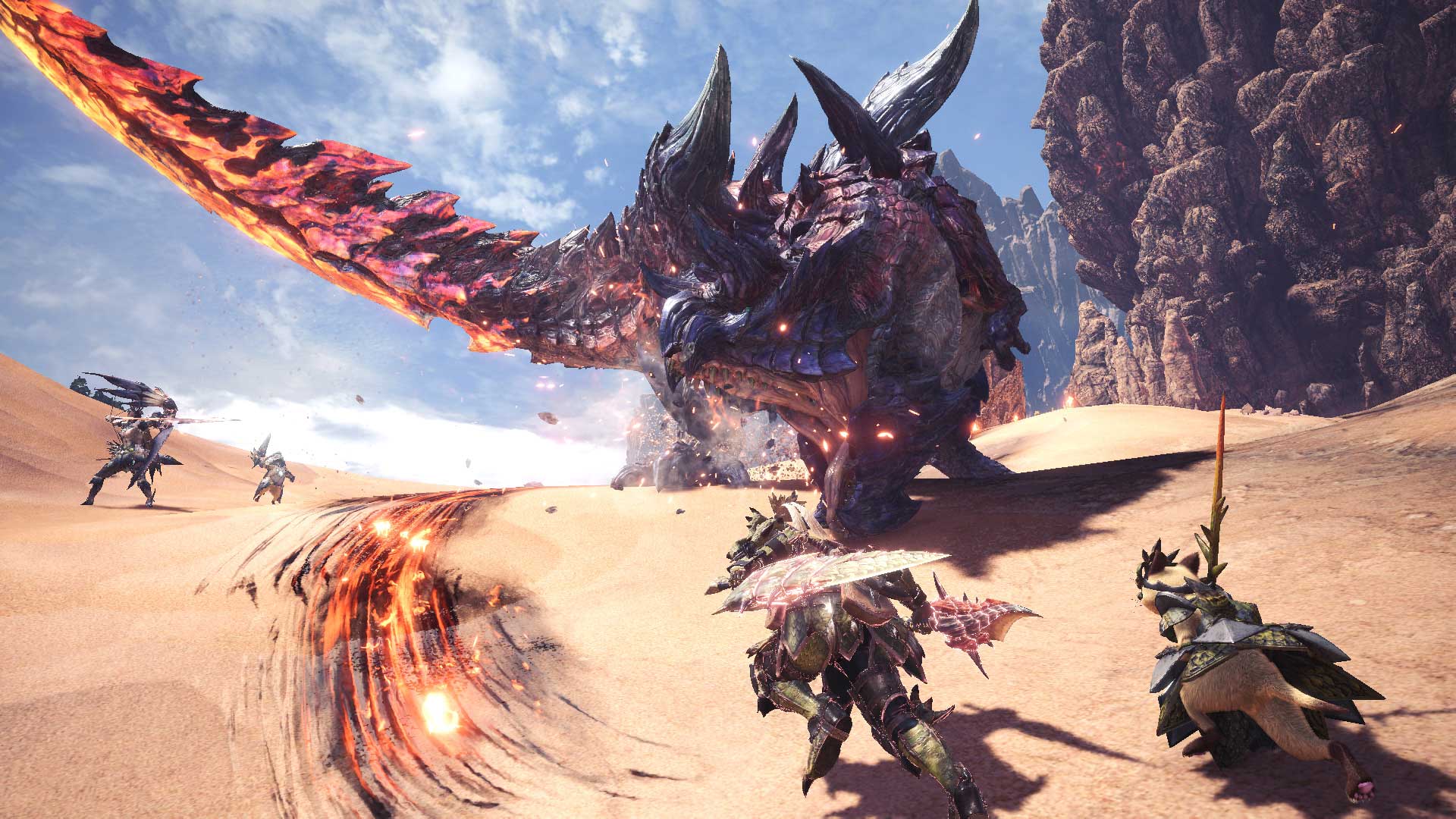 But before we get into the review, we would like to thank the kind souls in Gamer Break for allowing us to have this chance to review this figure. Do check out their Facebook page for more cool goodies.
– Review –
At first glance, it's not hard to see how detailed the figure is. From its head all the way to its tail, the figure is beautifully crafted and it's super well detailed.
The creeks and cracks on its body are well sculpted making the figure ooze with life. Not only that, the scales have the rough and intricate look to further emphasize the jagged feel that Glavenus is supposed to give off.
Not only are the colors are painted on nicely, the blending of contrasting colors are also mix in well and you hardly can see any off putting colors being painted on halfheartedly.
You can barely notice any seams on this figure, they really hide it well in between the rocks as well as underneath the craggy scales which is always a plus and shows how well the craftsmanship of the figure is.
The overall feel to the figure is really firm and holds weight which further amplifies the pristine quality of this figure and most importantly, it does not feel cheap at all.
The highlight of the figure to me would be the tail. The blueish/purplish hue where the tail is yet to be sharpen by Glavenus itself really plays off well to showcase the "metallic" parts of Glavenus' tail and gives a really nice contrast of colors to make it stand out more.
All in all, this figure is definitely very high quality and a must buy for fans of Glavenus. It even comes with its own rocky high ground together with Glavenus, what's not to love?
– Figure Details –
For those who are interested in purchasing this figure, do check out Gamer Break's online store page on this Glavenus Figure.
Item size: 29.0cm x 27.2cm x 24.2cm
Weight: 1.4 kg 
Material: PVC, ABS
Price: RM 549 (Including Postage)
---
Check This Out Next
---