Arknights Global will be rerunning the Grani and the Knight's Treasure event, throwing more predictions out of the window. The upcoming schedule will be as follows:
Grani and the Knight's Treasure will run from 26 November 10:00 UTC -7 to 10 December 03:59 UTC -7 and will require players to clear 1-10 of the main storyline. Do note that the stages themselves will close 6 December 03:59 UTC -7. Bounty Coins, furniture pieces, Elite Materials will be obtainable, including the 5-star Vanguard, Grani.
First-clear rewards from the previous iteration will not be reset, but older players will be able to get Intelligence Certificates to exchange in the relevant Certificate Store.
Log in to receive Bounty Coins for use in the event shop from 27 November 04:00 UTC -7 to 6 December, 03:59 UTC -7.
Day 1: 600 Bounty Coins
Day 2: 800 Bounty Coins
Day 3: 1000 Bounty Coins
Day 4: 1300 Bounty Coins
Day 5: 1600 Bounty Coins
Day 6: 2000 Bounty Coins
Day 7: 2300 Bounty Coins
Day 8: 2500 Bounty Coins
Day 9: 2800 Bounty Coins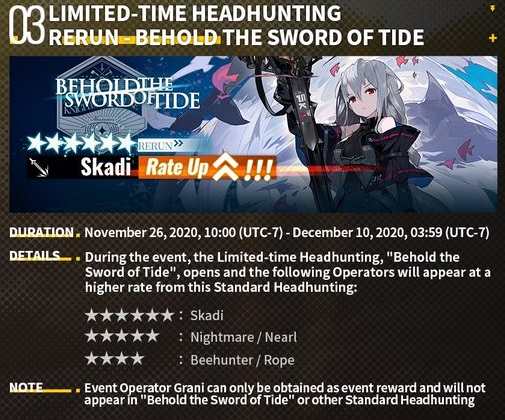 Behold the Sword of Tide Headhunting will be rerun, featuring:
6-star Guard, Skadi
5-star Caster Nightmare, 5-star Defender Nearl
4-star Guard Beehunter, 4-star Specialist Rope
To throw a literal spanner in the works, Quicksand Vortex is a brand new Headhunting banner that will run from 26 November 10:00 UTC -7 to 10 December 03:59 UTC -7. The featured Operators are not limited and will be added to standard Headhunting. This banner features:
5-star Caster Beeswax
5-star Vanguard Chiave
Outfits available from 26 November 10:00 UTC -7 to 10 December 03:59 UTC -7 will be:
Pioneer Series Outfits

Silence (15 OP)
Meteorite (18 OP)
Jessica (15 OP)

Epoque
Last but not least, the Express Chain Pizzeria furniture set will also be rerun from 26 November 10:00 UTC -7 to 10 December 03:59 UTC -7.
If you missed out on Grani and / or the furniture set, now's your chance to return to Arknights and collect them.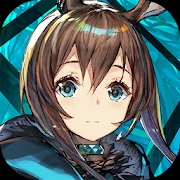 Arknights Global
Android, iOS
Take on the role of a key member of Rhodes Island, a pharmaceutical company that fights both a deadly infection and the unrest it leaves in its wake. Together with your leader Amiya, you'll recruit Operators, train them, then assign them to various operations to protect the innocent and resist those who would thrust the world into turmoil. Your tactics will determine the future of Rhodes Island. Fight for the Dawn!
---
Check This Out Next
---