AGES 2016 (ASEAN Games for Esports) is a regional event organized by Platinum Eden Sdn Bhd *in partnership with* Esports Malaysia, the Malaysian Ministry of Youth and Sports, Communications and Multimedia Ministry and the Ministry of Higher Education. It's been 90 days since the event ended back in May, but the prize money and salary have yet to be given out to the players as well as staff involved.
This is not the first time AGES 2016 has receive negative reviews. Earlier this year the tournament was delayed because of internet issues, and also an issue with FACEIT where AGES blamed them for the game time constraint.
Many players have been sending complaints to the AGES 2016 official Facebook page last month, but the officials never gave them a definite answer. AGES 2016 tournament wrapped up at the end of May, but it seems that the agreement to pay out the $ 250,000 (about one million ringgit) prize pool has been delayed yet again. Malaysian caster Muhammad "FLAVA" Farouq posted on ESM Esports Malaysia's Facebook page yesterday:

And this was their reply: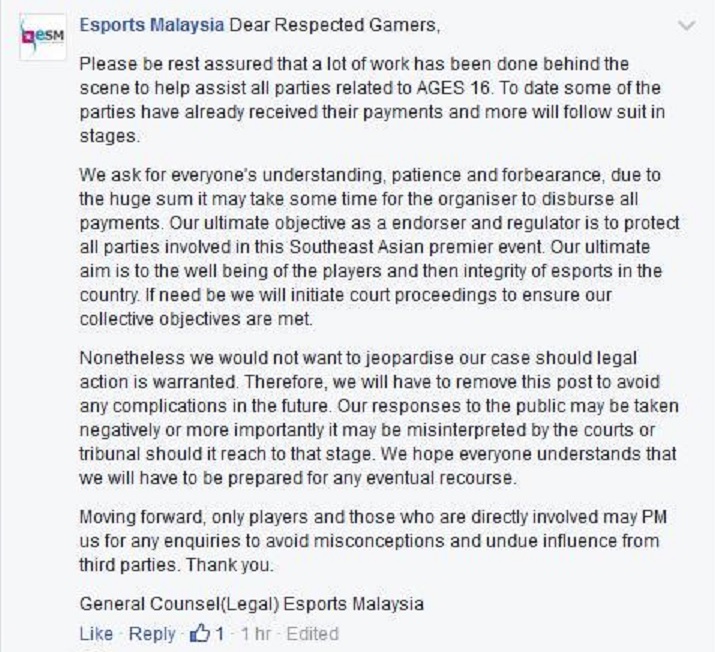 What was basically a request for some disclosure from the officials was taken down last night from the ESM Facebook page, along with the whole visitors post feature. Apparently, ESM mentions that "some of the parties have already received their payments and more will follow suit in stages."
All that aside, the terms of payment was that the prize and salary were to be given out within 90 days after the end of the event. Today's the 90th day, and with all the comments on AGES 2016 Facebook page, it doesn't seem like anyone has been paid yet.
Not sure how this is going to be played out, whether it's going to be a scam like Major All Stars or not, it will yet again stain the name of eSports in Malaysia if Esports Malaysia do not settle this quickly.
---
Source: Wanuxi