The Predator XB323QK NV, Acer's newest gaming monitor, fell on our lap for a review. From eye care to refresh rate, this monitor has it all. Thanks Acer Malaysia for providing us with the Predator XB323QK NV for this review!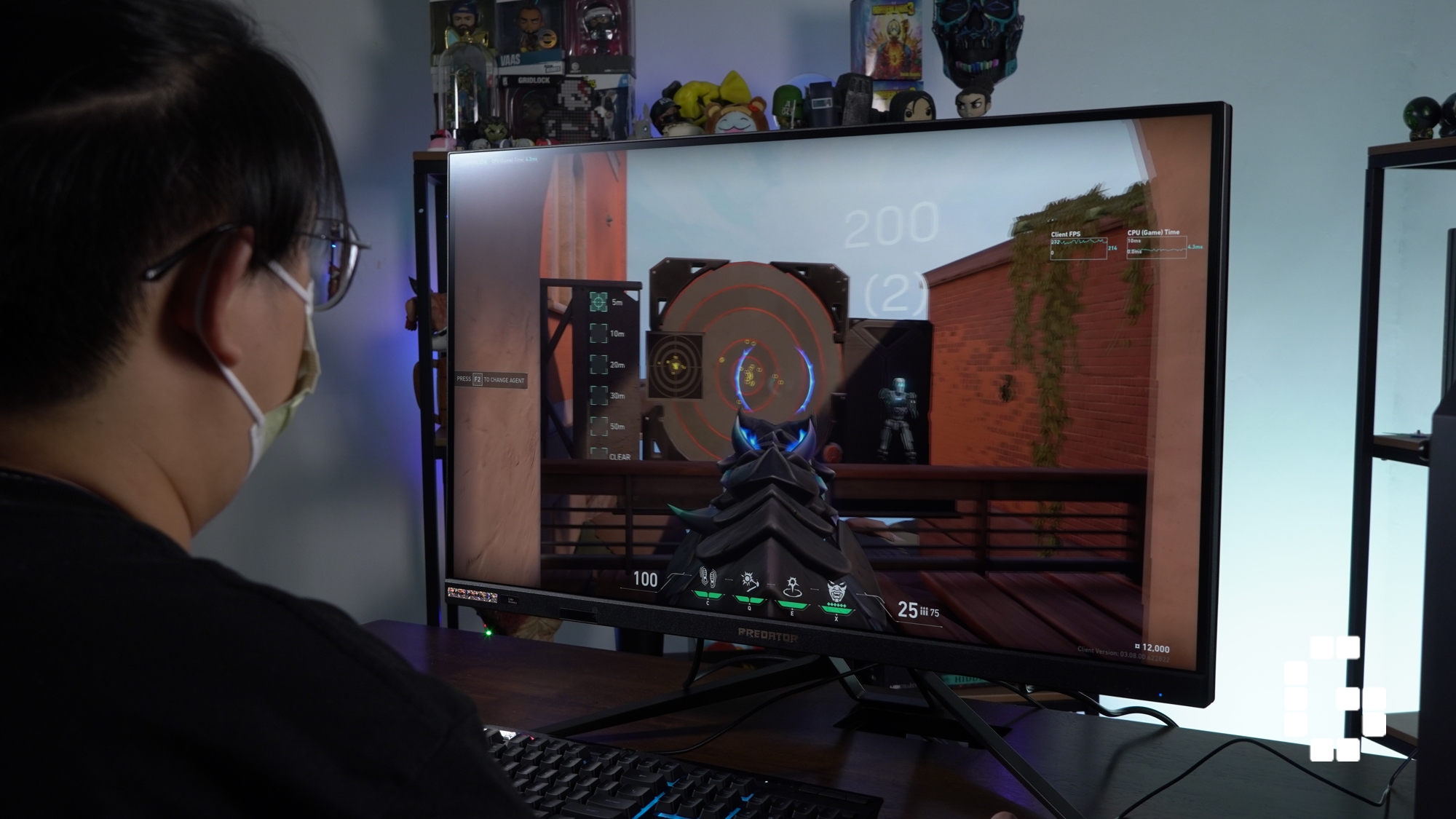 Specs
Screen Size
31.5″
Maximum Resolution
(4K UHD)3840 x [email protected] Hz
Aspect Ratio
16:9
Response Time
1 ms
Colour Supported
1.07 Billion
Adaptive Contrast Management (ACM)
100,000,000:1
Brightness
400 cd/m²
Viewing Angles
178° Horizontal
178° Vertical
Panel Type
IPS (In-plane Switching)
Stand
Height adj (130 mm)
Ports & Connectors
HDMI® (2.0)
1x DisplayPort(1.2)
Headphone
Power
500 mW (Power Standby)
300 mW (Power Off)
55 W (Power On)
Colours
Black
VESA Compatible
(Yes) 100 x 100mm
Package Contents

1 x Predator XB323QK NV Widescreen Gaming LCD Monitor
1 x Displayport Cable
1 x HDMI Cable
1 x Power Cord (UK)
1 x USB Type-C Cable
1 x USB 3.0 Cable

Features
VESA DisplayHDR 400 Warranty
Design
Thin bezels a sleek black body and a chiseled back is what you get with the Predator XB323QK NV. The gaming monitor isn't just all looks, though, as the tripod-like design of the sculpted ErgoStand has some neat tricks up its sleeve.
The ErgoStand lets users adjust the monitor in all 3 axes of movement. You can swivel, tilt and adjust the height of the monitor in just about any way you want. I find this very convenient because whenever I want to lean back on my chair and watch a video, it's very easy to get the perfect viewing angle, regardless of my position. Note that you cannot turn the monitor the same way you turn a car steering wheel.
The ErgoStand does feel a bit too big, in my opinion. If you have a small desk, you might have trouble putting other stuff on your desk, or it might block the movement of your mouse. The stand is also pretty heavy, so that's all the more reason to avoid using it on a small desk.
Monitor
Able to support PlayStation, Xbox, Switch consoles and of course, PC, the Predator XB323QK NV runs great no matter what device you're connecting it to.
In addition, you can also adjust the OSD (on screen display) with the buttons on the underside of the bottom bezel, near the right side. I found this arrangement to be a bit inconvenient. Sometimes, when trying to change the OSD settings, I accidentally turned off the screen.
The monitor also comes with 'ProxiSense', a proximity sensor that automatically dims the screen's brightness or turns it off if there is no one in front of it. Occasionally, when I moved my body from left to right, the Proxisense will kick in, dimming the screen's brightness as it thought that I wasn't there.
One really cool addition that I like is the Adaptive Lights at the rear of the monitor. Not only can you adjust the colour of the lights, you can also set them to react to what is happening on-screen.
Display
The most important part of the Predator XB323QK NV, the display is as great as you might expect. 4K UHD on a 31.5-inch screen is not to be underestimated. The quality is easily that of TVs which you can find in the electronics department of your local shopping mall. Thankfully, you don't need to worry that much about your eyes running into problems as the monitor is TÜV Rheinland certified.
Of course, as a device designed for gamers, the 144 Hz refresh rate is a must-have. The screen itself uses a matte anti-glare surface. Top that off with its amazing range of colour support, and you're set for just about any video game.
Closing Thoughts
With a price of RM 4,299, the Predator XB323QK NV does seem like it's on the pricier side. Even though it isn't perfect, it does its job as a gaming monitor extremely well. On top of its eye care features, the flexibility it offers and the great compatibility with any console makes it well worth the price.
To learn more about the Predator XB323QK NV or to buy one yourself, visit its product page on the Acer website.