A new full-fledged Battlefield Mobile, developed by Industrial Toys, led by one of the co-founders of Bungie (Halo), will soon be arriving for IOS and android devices. In an FAQ, EA's community manager answered a few questions about the title.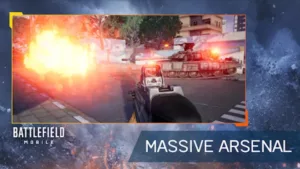 Converting the console game experience so that it plays well on mobile is a hard thing to accomplish and many do not get it right. Here the Battlefield Mobile developers have done a solid job and recreate the gameplay of a traditional Battlefield game although with certain elements toned down so that it plays better on mobile devices.
Initial Play Tests
The game will go live this fall on the Google Play store in Indonesia and the Philippines for playtesting. This will later expand to other regions. The game will be fully released in all regions in 2022. If you are in those countries and would like to get early access, pre-register the game on the Google Store.
System Requirements
The game will be playable on both IOS and Android however the current playtest is specifically made to run on Android 7 phones. The developers have again confirmed that it will be able to run on a larger variety of devices at launch.
Microtransactions
In a typical EA style, the game will be free to play but with microtransactions. They have firmly said however that these microtransactions will only be for cosmetic content like costumes, battle passes, and unlockables and that the game will not be pay to win.
Gamemodes and Gameplay
In terms of gameplay and game modes so far only the Grand Bazaar Map and Conquest Mode, the classic Battlefield multiplayer mode will be available to start. The developers say that this is to ensure that the game feels as much like a core Battlefield game as possible at launch before introducing more modes. More information about upcoming content will be announced closer to the official launch.
The game's Google play store however says that there will be"maps and modes both new and familiar to veteran players" and a screenshot likewise says there'll be a "range of game modes" implying that there will not only be new modes and maps but there may be some exclusive to this mobile release.
Their game will also feature customizable characters with a wide range of classes, guns, and skins. Weapons that have been listed through the screenshots include the F2000, P226, Frag and SMAW.
One image also shows the player controlling a tank with the words "large scale destruction" underneath the picture. This likely means that the series of iconic destructive environments will be present in the game as well.
Since this is a standalone title, it will not feature any crossplay with any of the PC or console Battlefield games.
Battlefield Mobile will be officially launching on Mobile Devices in 2022. EA will also be releasing Battlefield 2042 this year, they've even released a short prequel film to prepare people for it.