Warhammer 40K: Tacticus will be officially launching worldwide in short order. It's actually been out in certain territories, but these will be duly reset to ensure everyone will be starting at more or less at the same point. That aside, Snowprint Studios very kindly allowed me early access to the currently available live build for me to try out, so let the non-40K-aware heathen fiddle with some very iconic characters.
PRESENTATION
Warhammer 40K: Tacticus is played vertically, somewhat unusual for the mobile space. As a strategy game, clarity of presentation is something I look for. The field itself is quite clean, with colour-coded valid hexes – blue for traversable hexes, red for targetable enemies, and purple for valid special ability targets.
I don't feel like this extends to the actual combat stats though. Looking at the top of the screen, you can see an array of numbers and icons. At first glance, how many of these would you instinctively understand if you don't know Warhammer 40K, or similar strategy games? The information can seem really cramped together, more so when you see them in a vertical slice. However, in practice, I think you should be able to pick it up instantly, even if you can't name what they are.
Looking at the in-game models, the top-down ones are on the small side, but they are still recognizable with the way their little motions. I like the 3D models that you can view in more detail in the inventory, and you can turn them around too! I certainly can't say I recognize any of these people, but they look really cool, and isn't that all that matters?
GAMEPLAY
To put it simply, you field your units on a compact hex-tile field and turn the enemies before you into pulp. You and the enemy will take turns to make your move, selecting a deployed unit and tapping to a desired location. You can also directly tap on an enemy unit to automatically use a default skill. Abilities typically are only single use due to how powerful they are, so be sure to maximize its effect.
You will be able to raise star levels when you when have enough "shards" of a unit, which naturally raises their parameters. Other ways you can improve units is by getting these equipment pieces to make a full set of 6 individual items. Once that's done, you move on to the subsequent level of equipment.
Skills can be levelled up too, of course. These require the unit to hit an experience level threshold before you can level those up. Natural EXP gain through combat feels a little slow though. You can pump 'em up a little, of course.
Unusually for a mobile title, I did not see an auto button after clearing the first wave of maps. Just consider the recent Japan release, Fullmetal Alchemist Mobile, which even as a strategy game, does allow for auto play, even if it is terrible. Incidentally, there is a skip function for Warhammer 40K: Tacticus, which requires the game's equivalent of skip tickets.
Aside from the campaigns, there's "Onslaught" that takes you through several waves of battle per sector, Guild Raids for the bigger battles, Arena and Salvage Run. I didn't really try out the multiplayer modes or some of the power level locked modes, so that's something for you to try out.
Getting more units can be acquired through "Requisitions", requiring 3000 Blackstone for a 10-pull. I didn't see any tab to check the rates, so good luck getting your faves for the factions!
CLOSING THOUGHTS
All in all, outside of the Warhammer 40K trappings, it should be a pretty easy game to pick up if you fancy some simple to control strategy game. There are other mechanics I did not mention that will be gradually unveiled to you through the tutorial baked into the story, which are likewise should be fairly simple to pick up.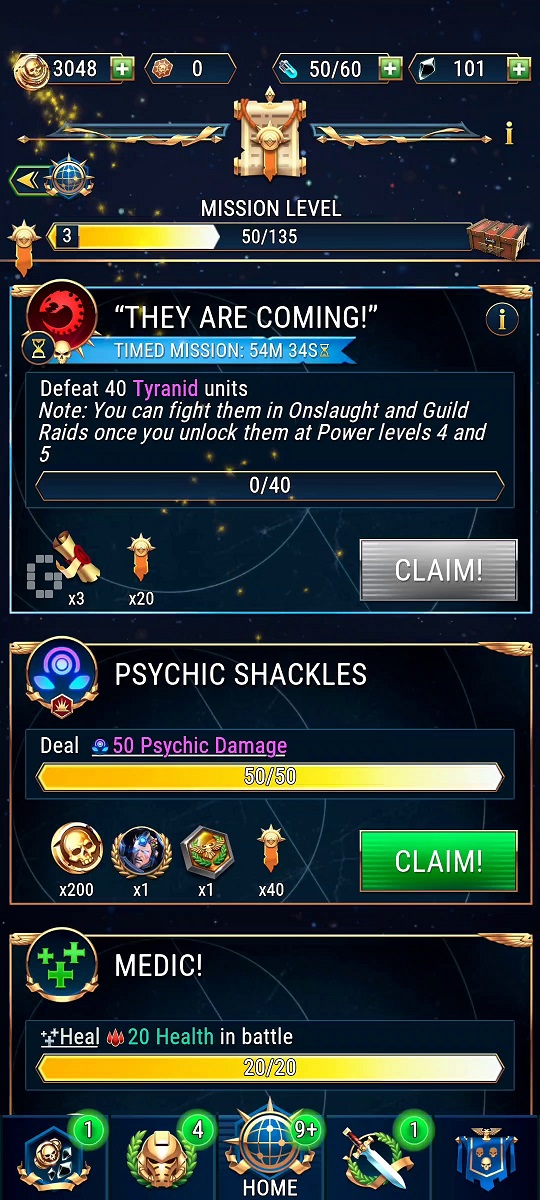 The story is told in small chunks as you play through various stages. Since I'm not familiar with the series, I won't judge it from that lens. What I can say is that it starts off fairly standard, easing you in. I do like what I've seen, just taking my time to make the death march.