With a new banner refresh that will last until 20 October 2021, we have the addition of Princess Kawakami to the Uma Musume: Pretty Derby lineup.
★3[プリンセス・オブ・ピンク]カワカミプリンセス(CV:#高橋花林 さん)が登場!
中距離を舞台に得意の差し脚で可憐にぶっ飛ばす、おてんばプリンセスウマ娘です!
ガチャで獲得すると今だけ「カワカミプリンセスのピース×90」がおまけで付いてきます!#ウマ娘 #ゲームウマ娘 pic.twitter.com/X6SibSA4bV

— ウマ娘プロジェクト公式アカウント (@uma_musu) October 11, 2021
An unexpected addition to the lineup, Princess Kawakami is competing in a crowded space as a betweener for the medium distance tracks. With some minor tweaking however, she can be run in the mile tracks. Unlike some of her peers who can play dual strategies, all of Princess Kawakami's skill insist that you play her as is. The backloaded speed up abilities make her far suited to take on the longer distances, so take advantage of that. The 20:10 guts and power training bonuses is somewhat unfortunate as they should gone all in on power purely on character portrayal basis.
King Halo's daughter at the end of the day is one of the characters that you should only roll for if you like the design, since she does not appear to be meta-defining. That said, the former should be good reason enough, so if you have the carrots to spare, we say that you should roll away.
Uma Musume: Pretty Derby is currently available on Android and iOS for mobile, and DMM Games for the PC.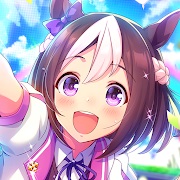 Uma Musume: Pretty Derby
Android, iOS
Horse girls take to the track! Train up these cute horse girls to be the best of the best.