For many Digimon fans, it's been a long time coming. Digimon Last Evolution Kizuna is the sequel to the tri. series of movies, wrapping up the stories of the original Adventure crew. At least, for this arc that they followed, considering the fact that this crew has gotten a reboot in Psi. In any case, we're not here for the Psi storyline, we're here for the OG. Spoilers ahead.
Also fair warning, I am completely unfamiliar with Digimon as a whole and have not seen any of the previous anime series or movies, but decided to watch the movie anyway due to a soft spot for them. When I heard BUTTER-FLY played in the trailer, I almost cried so there's that (haha).
---
PRESENT DAY BLUES
We get a little calm before the action begins with an aurora phenomenon. The voiceover on the news says it's nothing to worry about, but this being the start of the movie, you can expect that won't be the case. Soon enough, Parrotmon bursts through a Digital Gate, and starts wrecking havoc in the town. Takeru and Hikari arrive on the scene with Angemon and Angewomon to subdue the monster, with Koushirou as support.
Taichi is here too, of course, waiting to make a cool entrance with Agumon, but the device he's using – a prototype creation of Koushirou's – malfunctions, not to any dire consequences. Still, Parrotmon is on a rampage, and the hero's gotta do something. If you're a fan of the Digivolution sequences, savour this one when Agumon turns into Greymon: it's the only extended one you're gonna get, unfortunately.
What follows is some nice action moments, with Yamato coming in much later with Garurumon to help incapacitate Parrotmon. They send it back to the Digital World, Taichi and Yamato heading their separate ways once the dust settles to their universities, and Hikari and Takeru babysitting Agumon, Gabumon with their own Tailmon and Patamon. Humans are pretty used to Digimon being around now, though they would still be, of course, naturally terrified if a Digimon comes hurtling at them.
We get to see glimpses into the lives of the other original Adventure squad: Koushirou is CEO of a company, Mimi's a jetsetting fashionista with her own brand, Sora's keeping at her flower arrangement, Joe's doing his housemanship while Taichi and Yamato admit they're a little adrift when they meet up. Their Digimon are the one thing that hasn't changed, while everyone else has moved on in some way or another. Someone collapses at the next table, losing consciousness, bringing us to the main conflict of the movie.
Enter Menoa Belluci, a Digimon researcher. People all over the world have been going into comas, and their one common link is that they are all DigiDestined. Their partner Digimon are also nowhere to be found, nor do their humans have any signs of waking up, no thanks to a Digimon dubbed Eosmon. Koushirou, Takeru, Yamato and Taichi, being the biggest names they know in saving the world, they are brought onboard to capture Eosmon and recover the digitized consciousness of the DigiDestined.
The plan doesn't go well. Eosmon manages to somehow Digivolve, and in trying to secure the Digimon with Omegamon, something goes wrong and they split apart, returning to their Baby forms. Eosmon escapes in the resulting confusion, and the data lost. Here comes the second conflict: Taichi and Yamato, now adults, have lost that "potential" that drew the Digimon to them in the first place, and their time with their partners are coming to an end. The rings around their Digivices count down to this end. All the while, other DigiDestined are entering comas, including Mimi and Joe.
Gennai makes an appearance, who tri. viewers will recognize – certainly not I – to exposit a little about losing one's partner: "Why hasn't it come up before?" "Because it's like death, no one wants to talk about it." He's pretty much there just to hammer home the point of Growing Up, Being An Adult, now that they're in university or working, rather than "just" high school in tri.
The 02 crew make their cameos, revealing that DigiDestined are able to travel from one place to another with ease thanks to the gates. No plane tickets needed! Yamato contacts Daisuke, revealing his suspicions about Menoa's "assistant" and getting his help to look into the guy: a pretty nondescript and apparently shady fellow complete with the corny spy movie trappings in his pursuit. He's not very important besides being revealed as FBI, as the true villain is Menoa herself. In the midst of all this, Takeru and Hikari are also robbed of their consciousness.
CAN'T LET GO
You see, the 02 crew find out that Menoa was a DigiDestined, but her Digimon is nowhere to be seen. Koushirou finds out that Eosmon is a man-made Digimon, created by none other than Menoa. Alone, revealing his knowledge of her crime, Koushirou too falls into a coma, not before managing to send Taichi coordinates of an apparently empty space in the Digital World. Menoa shows her true colours, the empty space unfurling to show friends and family and the other DigiDestined now trapped in their childhoods, but appearing happy with their partner Digimon. They would never part, and it would be the perfect end.
We learn that Menoa's partner, Morphomon, disappeared, just like how Agumon and Gabumon would. This is her way of ensuring no one else would need to go through the same painful experience, with an eternal slumber in their happiest moments. "Neverland", she dubs it, having – what you could say are – the purest intentions to do good for the DigiDestined, in a forceful way.
Naturally, Taichi and Yamato are against this. They do get curbstomped and mope for a bit, but together with their Digimon Partners, they shorten their timers and push through. With a blow of a whistle – calling back to the time Taichi roused Greymon at the very beginning – the important characters break out of the spell. With the power of Feelings, and the titular Last Evolution, they fight off the false dream.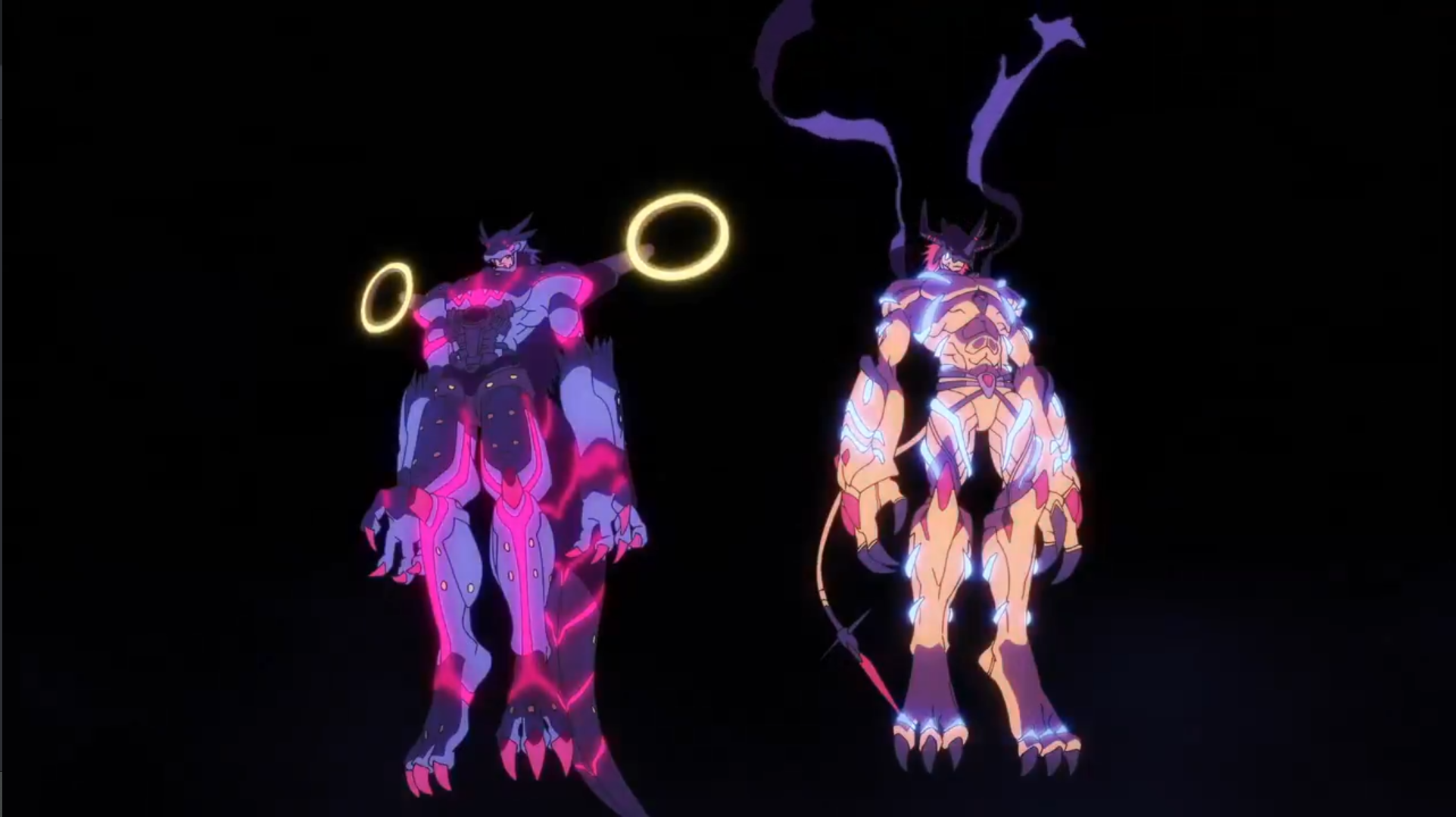 Taichi and Yamato bid farewell to their Digimon, their Digivices bricking once the timer runs out. Tears were shed, but they move on, movie ends. For the sharp eyed, while Piyomon appears with Sora, as she remains out of the limelight, when she appears next, her Digivice is also bricked. She already decided on her path, her own fight having concluded off-screen.
END OF AN ERA
If you were looking for some more answers since tri., you don't get that many here. The focus is squarely on growing up, realizing that your childhood is in the past and that after some point, you need to keep moving forward even though it hurts. I'd also say there's also a secondary focus on Taichi and Yamato's friendship, being fellow drifters in the beginning, and both being the ones to show their pain and loss from losing their partners. Unfortunately, due to the focus on Taichi and Yamato, it means that the others don't get that much screen time, though the 02 cast get some action sequences to themselves fighting off Eosmon in the real world.
Reading up on tri., there is that whole deal with King Drasil and Homeostasis. tri. viewers might have expected some kind of conclusion to this, and Eosmon is pretty much in the former's domain, but if I didn't read up on tri. or got told about it, I wouldn't have known there was such a plot point. As you might've gathered from me writing the story beats, nothing of it comes up.
I can see points that will really bother lore enthusiasts, as there are no names for the moves used by the "final" evolutions, nor any in-universe explanations regarding Eosmon's Digivolution, or even why the final evolutions are so humanoid. Is Gennai necessary for that scene of exposition? Perhaps. Would his appearance confuse non-tri viewers and fans alike? Maybe. Depending on how badly you want to know just more about everything, the lost potential – haha – from exploring these areas might have to wait for any supplementary material without overbloating the movie.
Besides that though, for someone who hasn't been into Digimon much, I can feel the appeal to nostalgia. Remember the adventures you had? Do you really want to give that up? The world goes on whether you do or not, and being trapped in the past is not living. Putting it that way, it sounds heavy-handed, doesn't it? In your pursuit for your future, you sometimes unwittingly lose sight of what's important – spending time with your partner Digimon – but you also can't dwell on it as change is a part of growing up – as Taichi and Yamato sacrifice their remaining time to fight to save the world's DigiDestined.
We lose the innocence of youth and the little joys in life as we find – or don't find – our purpose in life as we get older. Menoa finds what she wants to do, and she loses Morphomon in the process in pursuit of the dream she wanted to share with her Digimon. Taichi and Yamato languish around, having their Digimon, and are pushed to an ultimatum to let go, because they want to do the right thing, because they're the only ones who can do it and in losing what's precious to them, do they learn to move forwards.
I personally found it very enjoyable nonetheless. It may not be the perfect send off of sunshine and rainbows for the Adventure crew, but it gives a message of hope for the future, and I think that sometimes, that's really all you need to keep trucking on. Nobody can take away the past from you, good or bad. It's what you do next that matters.
Do stay back for the credits for a few extra scenes. Learning of 02's ending where they're all adults with their Digimon partners – some even with different jobs than they do in the movie and shockingly awful hairstyles for the modern day – what does this mean for Kizuna? Do the lost Digimon partners come back, or will we get a different canon? We'll have to wait and find out where it fits.
---
Check This Out Next
---