As the not so famous saying goes, "My loli senses are tingling!". Azur Lane: Slow Ahead! is the story of the peaceful dorm life of Azur Lane's shipgirls.
Azur Lane is an extremely popular mobile gacha game from China, where players play the role of a commander in charge of their fleet of anthropomorphised ships. Previously, it spawned its own anime adaptation of the exact same name in 2019. On the other hand, Slow Ahead! is not a continuation of the 2019 anime. Check out our previous article on Slow Ahead! to know more about this new series.
With its third episode aired, I decided to give the series a watch. How does the anime adaptation of the 4-panel manga adaption of the waifu collector gacha game fare? Read on to find out.
---
Azur Lane characters are massively popular in the anime community. All you need to do is to search up the Azur Lane tag on anime image boards and you will be greeted by thousands of fan art. Is the game known for its action? Compelling story? No…
The answer is waifus.
Azur Lane does not need to have a masterpiece of an anime adaptation. All the franchise needs is more screen time for its waifus. That's exactly what Yostar Pictures achieved with Slow Ahead!
Each episode is 8 minutes 30 seconds worth of cute girls doing cute girl things, with some parts of fan service to grace your eyes. That said, who are the lucky (or unlucky) ladies providing most of the fan service?
Characters
The first sentence in my article contains the line "My loli senses are tingling!" and for a good reason. The main cast of Slow Ahead! is the starter ships Azur Lane players have to pick at the start of the game. Guess what? They are lolis.
If you are a loli lover, rejoice! This anime is made for you. After all, Slow Ahead!'s director also worked on the Fate/Kaleid Liner Prisma Illya series, and that show is famous for its lolis.
In Slow Ahead!, Javelin, Laffey, Ayanami and Z23 (called Nimi in the show) are best of buds. From sleepovers to bathing together, you will see them interacting a lot with each other.
Don't expect to see any major character development or growth in relationships, though. There is no traumatic backstory or revenge plot so far (please stay that way), Just our shipgirls going about their day-to-day business.
In terms of other characters, there are basically two kinds—side characters and background characters. The former gets some screen time as we explore some of their activities through our main cast. The background characters serve a similar role in the 2019 Azur Lane anime. They are there just to keep the environment look alive, while getting their fans to go "Look! Look!". Beyond that, the background characters don't amount to much, but is understandable considering Azur Lane's massive cast of characters.

Atmosphere
The anime is cute, with characters drawn with puffier cheeks than their in-game counterparts. This, coupled with the relaxing pace of the show, gives it a very warm and homely atmosphere.
Visually, colours are soft and generally on the brighter spectrum, further exemplifying the already warm atmosphere. Because of this, the characters feel precious, and will likely kick in those "must protect" feeling within the viewer. However, don't expect anything bombastic in terms of cinematography, given the simplistic nature of the show. Even in terms of action, the closest we got so far is a pillow fight scene in the first episode.
In terms of sound, light, cheery music accompanies many of the scenes that take place in Azur Lane: Slow Ahead! They are not immediately noticeable, given the great work done by the voice actresses of the girls. However, they certainly help add to the atmosphere. Further fleshing out the feel-good vibes are the accentuated sound effects, which is typical of comedy anime.
Note that despite being listed under comedy on MAL, Azur Lane: Slow Ahead! only has very little comedic elements. Perhaps this will change in later episodes, but don't expect to go into this show thinking that it will be like Gintama or KonoSuba.
Fan service
Depending on your tastes, this part either makes or breaks the viewing experience for you. The fan service in this show is very, very blatant and in your face. While it is tame in comparison to the outright ecchi bath scene from episode 6 of the 2019 anime, it can get highly suggestive and risque very quickly.
Thirty seconds into the first episode, and we are already greeted with a shower scene that doesn't bother hiding the rear end of the character. Does it serve to push the plot forward? No. Does it serve to push the "plot" forward? Yes.
Luckily, this show doesn't have panty shots shoved in your face over and over again. While the fan service is blatant, it also is not overpowering in terms of screen time. A healthy amount of the anime is still cute girls doing cute things.
Just a friendly reminder not to be caught watching this in public or have your parents walk in on you while watching this. It can get very hard to explain.

Closing thoughts
As someone who has played the mobile game, watched the 2019 anime and even read the 4-panel manga of Slow Ahead!, I highly recommend this series to fans of Azur Lane. Three episodes in, and the scenes that play in the anime will certainly help you lower your salt levels from bad rolls or unlucky drop rates. The cuteness and the light-heartedness that ensues will help remind you that at the end of the day, waifu > tier list.
The other kind of people whom I recommend this anime to are loli lovers. If you enjoyed the Fate/Kaleid Liner Prisma Illya series, then you will enjoy this. There is even the occasional well-endowed side character to help balance things out once in a while.
If you are thinking of watching this purely for the fan service, then perhaps you might want to reconsider. As of episode 3, this show has not yet achieved maximum fan service levels or done anything revolutionary in that aspect.
A last reminder—do note that if you are fan of the 4-panel manga, this is not an exact one to one adaptation of the manga. While the anime uses some of the scenes from the manga, it does not follow the exact order of serialisation. For example, in episode 2, we have the chocolate baking scene with Prinz Eugen. In the manga however, this scene only takes place in chapter 24. Do bear that in mind.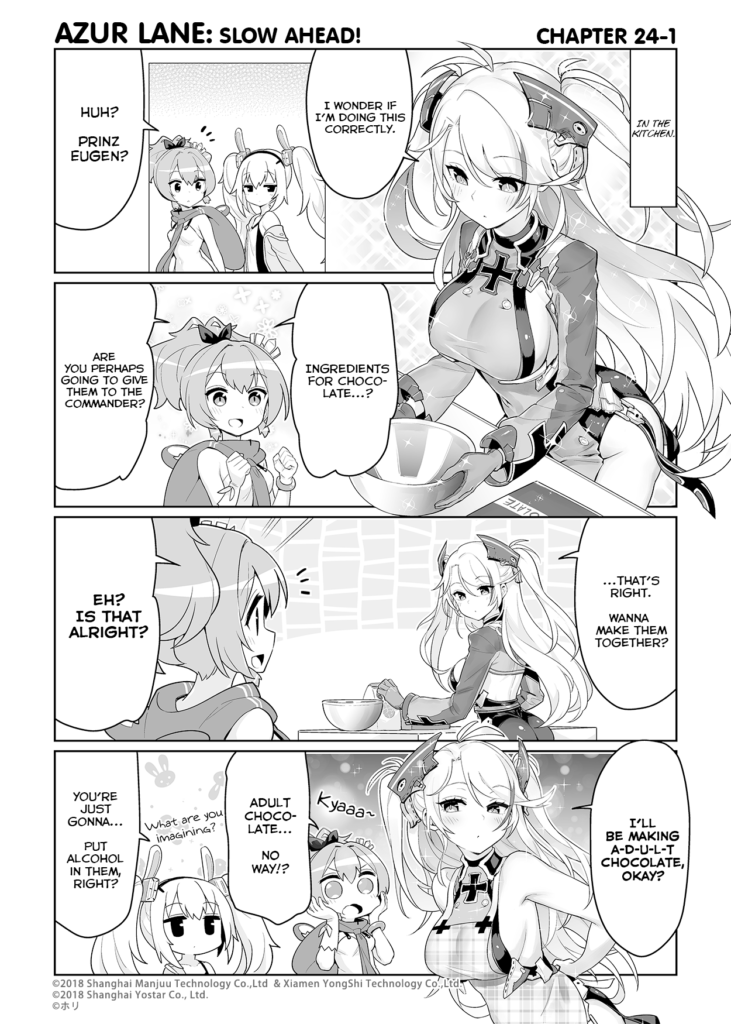 If my first impressions of the first 3 episodes convinced you to watch Azur Lane: Slow Ahead!, you can click here to watch it on Crunchyroll.