How do you review a gaming chair? Though I should probably start with what the whole Razer Iskur actually is. Razer, in their pursuit of giving gamers what they deserve, have crafted the Iskur to provide proper support, consistent gaming performance, optimized reach and minimize aches and strains. The pièce de résistance is the Iskur's lumbar support system, designed to provide fully customizable support. That's about the gist of it, so let's break it down.
THE GREEN YOU KNOW
The ever present Razer signature green graces the outline, logo and front middle section of the chair. The "For gamers, by gamers" slogan is also emblazoned on the front side of the seat. As much as you might have been thinking about it, the logo does not have RGB lighting. Both the seat and the lumbar system has a cobra skin design. As for other chair functions, the height, back seat, lumbar system and hand rest are all adjustable.
𝖫̶𝖨̶𝖬̶𝖡̶𝖮̶ LUMBAR
Arguably the highlight of the Iskur, it is meant to support the user's spinal cord in the neutral position. Regular gaming chairs often utilize either a pillow support that provides moderate, but non-customizable support, or a built-in lumbar that has minimal customizable support. The Razer Iskur's lumbar support system is fully customizable by the user, extending up to 26 degrees to ensure the throne provides support for optimal posture as you game.
When fiddling with it, the lumbar seems borderline useless if the chair itself is upright, and trying to adjust it just made it seem more uncomfortable. It probably needs some time to get used to, or the set up itself is incorrect. Maybe too advanced?
NO PUNS FOR ARMRESTS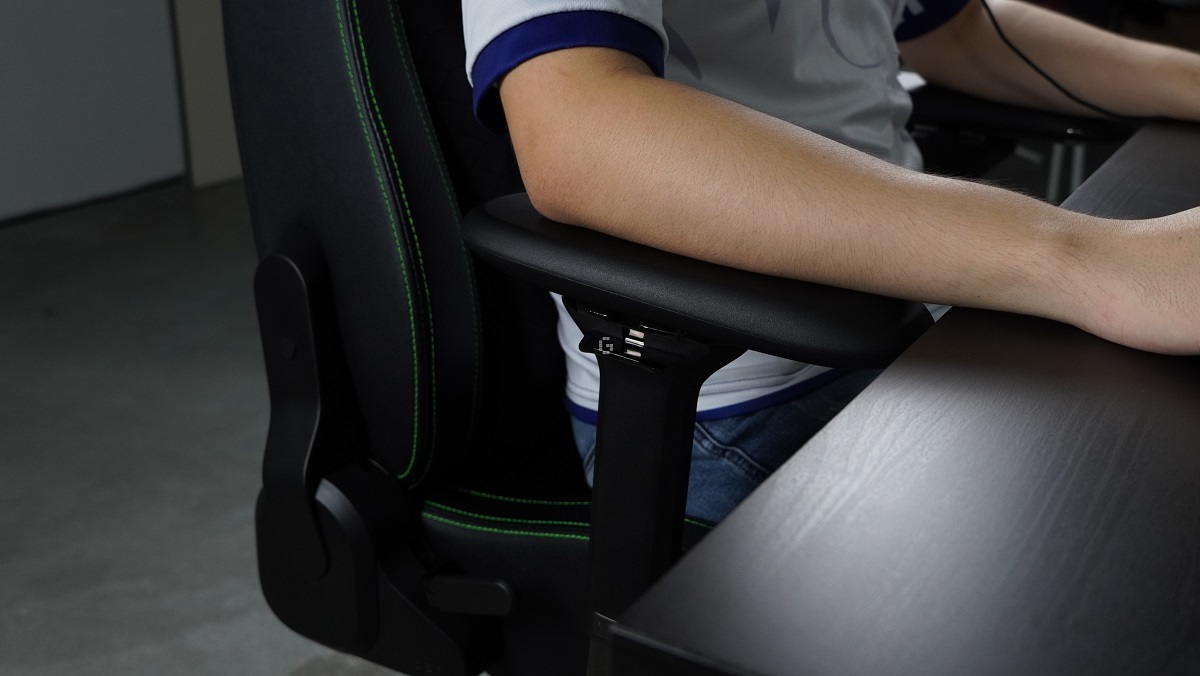 Dubbed as 4D armrests, they can move in and out, up and down, left and right, and front and back, so slide those babies around as you need them whenever you game. The wrist and forearms are especially positioned for agile responses, handy for those who like to adjust the rests' height and have minimal aches all round. Gaming chairs increasingly have these highly adjustable armrests, and honestly, it's pretty essential.
REST YOUR WEARY HEAD
The head cushion is a memory foam one, so it can contour nicely to your head. It's also placed for optimized line of sight, and aids in maintaining posture for maximum visibility. Depending on who you are and your height, the cushion could be placed a little too high (or even low) for yourself if you leave it in place.
THE EVERYTHING ELSE
The chair is made of multi-layered synthetic leather, and is built to withstand much wear and tear, as well as being water-repellent. The material doesn't breathe well though, so for those of us stuck in the equator or for an especially muggy summer, it's going to be a mite uncomfortable.
The seat is slightly wider than most other chairs, with high density foam cushions to provide a balance of support and comfort, and comfortable it certainly is. The seat back is the same material. The backrest can be adjusted up to a 135 degrees, but not completely flat to 180. Nevertheless, it's got a wide enough range that it should be comfortable for just about anyone.
THE VERDICT
It takes 2 persons about 30 minutes to an hour to fully build this chair, with the end result clocking in at about 136kg and 190cm in height. You might need the Iskur to support your fall as it'll set you back a cool RM2299 for you to own it. If you're one who easily sweats, this might be a pass due to the material used, but if you can afford it and are a self proclaimed Razer mega-fan, then there aren't any glaring disadvantages to use this chair.
| | |
| --- | --- |
| Pros | Cons |
| Seat wider than most similar chairs | Gets uncomfortable in warmer temperatures |
| Long term use and comfort | Top of the seat not as suited to shorter users |