The summer camp scares had to be delayed, but nevertheless, Supermassive Games' Little Hope, the next game of The Dark Pictures Anthology, is on time for the real spooky season(?). Make your way into the titular, totally not creepy town, and have the field trip of your lives! Yay 😀 thanks to Bandai Namco Entertainment for giving us access to the game! While I avoid discussing the entire story, there will be spoilers nevertheless for those who prefer to jump in blind.
---
DO A LITTLE JIG
If you're coming in from Supermassive's previous games – Until Dawn, Man of Medan – the control scheme is essentially the same. You have your button prompts for quick time events, and the joysticks for movements. Little Hope comes with handy accessibility options, removing the need to hit multiple different buttons or button mashing. From my playthrough, it doesn't feel like the "hold" is working, and I can't button mash quick enough to get the proper result, so maybe that might be something to look into.
For future games, I'd suggest possible options for one-handed play, colour-blind friendly subtitles and auto-aim assists. The timer is decently generous for the aiming QTEs, but I apparently missed a few despite swearing I hit them, so that could be handy. At certain points, I do feel the movement can be awkward as the prompt to interact doesn't pop up until I shuffle a little more or change the direction I'm facing.
I like the use of the camera angles in this game, with a bit more cinematic variety, and the freer camera when you're in wider open spaces. I'd say these angles aren't all that great if you're thinking strictly from a gameplay perspective, but hey, the story's the focus here. You're able to jump back into scenes instead of playing through the entire thing again, especially wonderful for those completionists.
IT WAS A DARK AND FOGGY NIGHT…
The bus crashes on a forced detour into Little Hope. The driver vanishes, seemingly into the fog rising from nowhere. Did you know? Little Hope was known for its witch trials. Well, witches don't actually exist, do they? We should just find the bus driver. Don't think about these superstitious mumbo jumbo. You can't help it though. The signs are all around you. Carvings. A doll here and there. A poster about historical reenactions. A fog that just won't let you leave. It's the kind of things that would make you a believer.
Then, there's the apparent time travelling. The ghosts that hold on to you do correspond to whom you would be seeing in the… flashback? Is that what you can call seeing your dopplegangers in the past? They can see you, but not the regular people. Your actions can influence some points of history, but for the most part, you can probably assume that people will die regardless, and you'll be hunted down by the dead seeking your lives.
The monsters have traits from their deaths, like how Angela's specter (?) would seek to drown her and wrap her up in chains. Speaking of which, I got Angela killed because I had to do the button mash prompts, so uh, oops. Sorry. Likewise I got other people killed in the party because of similar control issues, be it from the game or myself. It's okay, I can save them in another playthrough. Probably.
The characters do choose to stay together when they can – the narrative that makes them split up is not egregious in my opinion – and in fact, pretty much is the one constant objective you'll get from scene to scene. They're not overtly stupid and plays with and references the tropes utilized, and I did quite enjoy the group as a whole even though, say, Angela, can be a real hard ass. There'll be the use of scare chords and jumps especially when the literal ghosts of the past grab on to you, but I don't think they're especially ubiquitous. Or scary, even. After the keynote and demo, I went in to Little Hope with the mindset of uncovering the mysteries instead of horror, per se.
Another spoiler warning here, for one of the endings, and briefly, Man of Medan.
The witch trials allowed for more space for "unexplained" occurrences, starting off with the mysterious disappearance of the bus driver, and the fog that wouldn't let the principal characters leave. The seeds of the supernatural are there with creepy little girls, absolutely suspect priests and the idea of the devil in your midst.
As such, I have to say I found it a little disappointing that, after 5 to 6 hours for one route, it turns out it was yet another "mundane" explanation in that it's a hallucination of our dearest Anthony in the not-too-far off past prologue, as you might recall from our coverage of the keynote, coming off the "it was hallucinogens from gas" in Man of Medan. He survived the incident that claimed his family, and he gets taken away due to the choices I've made. Is he hallucinating from trauma, PTSD, survivor's guilt? Is he actually the murderous devil he is accused of being?
Then again, it is just the one ending. Maybe the devil does exist. It doesn't even have to be Anthony…
Ending spoilers end here.
END CHAPTER
I'm not especially familiar with Man of Medan, so I missed out on any references if there were any. The premonitions this time come in the form of postcards, calling attention to Little Hope, the town, being a bit of a tourist spot for those, "historical weirdos", quote Andrew 2k20. They're as cryptic as ever, as are the hints that the Curator offers in between Acts. You can choose to refuse hints, and saying nothing would default to no hint. The Curator's quite sassy too, admonishing me for missing out on useful things, or throwing them away. Hey, I can come back, don't fret!
There are points where it's especially obvious you definitely want those repeated playthroughs, and the Curator's Cut, for more of the juicy details. Like I mentioned, I quite like the cast this time, especially Taylor, so I wouldn't be opposed to revisit the game once I have more things off my plate. I'd also love to get a friend in it with me, as I feel the experience would be quite enhanced with you snarking with a friend or just clutching your pearls together. Dang this pandemic climate for preventing offline bonding.
Towards the end, a hint is dropped about the next game. I'll keep quiet on that for you to discover and make your own speculations about it.
| | |
| --- | --- |
| Pros | Cons |
| Cast is enjoyable | Not horror horror for thrill seekers |
| Creative use of camera | Pretty safe and formulaic |
| Accessibility options! | |
| Lots of replayability in collectibles, branching paths | |
FINAL SCORE
7.5 / 10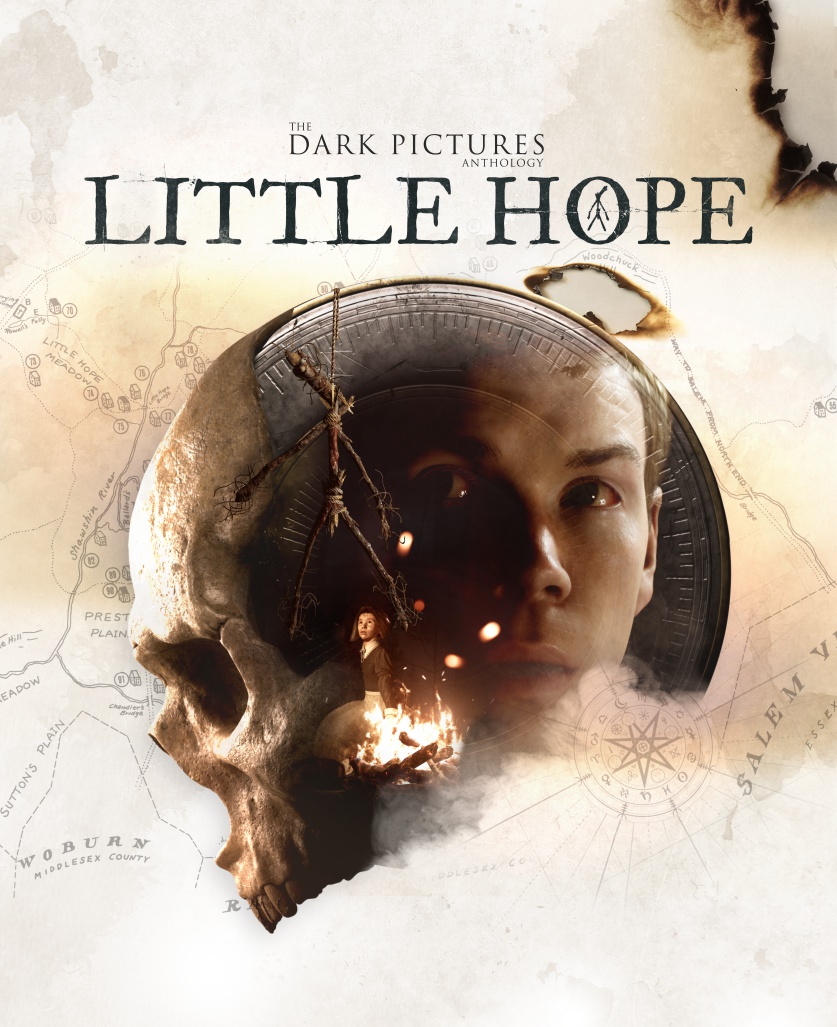 Little Hope
PlayStation 4, Steam, Xbox One
Little Hope - the second game in the Dark Pictures Anthology
- Witness terrifying visions of the past whilst trying to escape the streets of Little Hope.
Abandon Hope - all who enter here...