The Settlers: New Allies is a mixture between Real Time Strategy and a City Builder game and is a reboot of The Settler series, with the last Settlers game being back in 2010.
The main premise of the game stems from building up their settlements by gathering resources, buildings farms for food, and eventually constructing military structures to build up your army.
A World to Explore
The visuals in The Settlers: New Allies is surprisingly good. The art direction that the game is going for leans towards a more historical and Western style, which fits the overall theme well. The texture work and details of the buildings and units are finely detailed, which is a surprise how they managed to make everything look so detailed on a large scale. Zooming into each of your buildings, you're able to see the minor and intricate details for each building materials along with some weathering effects to them too.
The beautiful visuals are also amplified in the game's Campaign mode which features various cutscenes to tell its narrative. These visuals also go hand-in-hand with the well animated animations of the characters. There's this mesmerising feeling you get when you look at your carriers transporting resources from one place to another while completing their assigned tasks.
Environmental designs for some of the maps are pretty atmospheric too. You got the lush and green flora scattered across the lands, glistering blue seas vast and open, coarse and rocky mountain terrain filled with rare ores.
The game also features some gorgeous 2D artwork which can be found from the menu and loading screens. Long story short, the game looks pretty.
Settling for Less
In terms of gameplay, The Settlers: New Allies is pretty systematic. You start off the map with your main resource hub structure called the Warehouse, a bunch of non-controllable units called carriers, and a handful of engineers.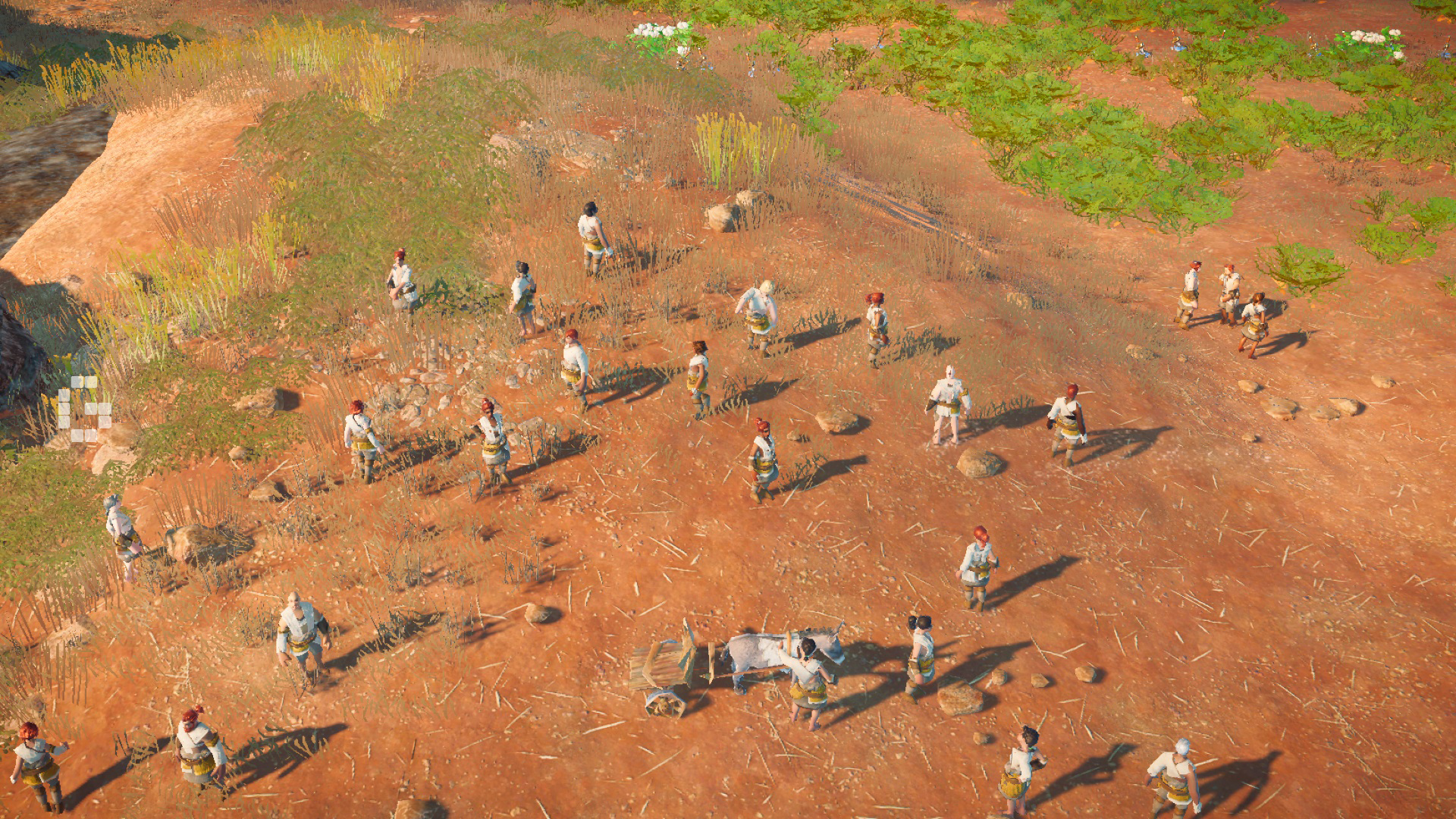 You then need to construct your resource gathering buildings such as lumber mills and quarries, which needs to be connected by roads to the warehouse, to have a steady flow of resources. Those resources are then used to make coal and iron mines which produces the respective resources which are converted into weaponry to produce military troops; all while expanding your territory.
This gameplay loop can be very repetitive because that's pretty much all you do throughout the game without much variations. Sure, you get to choose between three different factions in the Elari, Maru, and Jorn, but aside from having some specialised units and faction bonuses, they mainly play the same way.
On top of having repetitive gameplay, it also feels really slow-paced. When constructing any type of building, your carriers will need to transport all of the required resources from the Warehouse to the set destination of your buildings. That also applies to collecting resources where your carriers will also need to transport those resources all the way back to your warehouse.
I will admit, the whole process was mesmerising to look at in the beginning, but it loses that charm very quickly. There are some other ways to quicken the travel time like building stone roads or raising Donkey Carts, but even then the whole process will take a tool on you.
Expanding your territory also takes some time. When you start off each map, you are only given a limited amount of innate land where you can set up your essential buildings. However, if you spot a patch of land of untapped ores that is outside your initial building range, you'll need to send out your engineers to "claim" the lands which expands your building range. And of course, that action will also take some time.
Oftentimes, this can be frustrating especially in skirmishes when you spawn into places where key resources like coal and iron are far away from your Warehouse; and in some cases where these resource patches are too far from your Warehouse, resulting in needing to spend additional resources to build another Warehouse that's nearer to that resource patch because your Warehouse has a range limit where goods can be transported to and fro.
Combat in Settlers happens often but it's slow and lacks depth. For starters, your troops come as individual units rather than as a group of units; which means you need to recruit them one-by-one. And bear in mind, the resources you need to train up the units will need to be transported from the Warehouse to the Training Hall, so building up a large scale army will take forever.
And while most units have their own skills, it's very easy to gloss over it since the battles are mainly determined by whoever has the largest army. Needless to say there isn't much micromanaging needed to maneuver your troops around the battlefield, aside from maybe steering your troops away from enemy defence towers. There's also a very apparent lack of unit types, there's no artillery or animal units, which is a shame because it makes combat feel stale very quickly.
Going on the same vein, gameplay for The Settlers is considered to be very basic compared to other RTS & City Builder titles. Once you've set up most of your essential buildings, there's nothing else you need to do in terms of progression since there's no apparent production chains. And unlike with other city builder games, you don't need food production buildings to keep your residents happy since there's no emotion mechanic. Food is only needed to hasten production rates, and different buildings have different food preference like Blacksmith needing meat, Quarry needing Fish, so on and so fourth.
The lack of strategic and logistic depth can be a turn off for a lot of RTS & City Builder veterans who are looking for a challenge. But you could bring up the argument that this game can be a nice entry for newcomers of the genre to get a taste of some of the mechanics diving head first into the complexity of the genre.
Giving credit where credit's due, The Settlers does a nice job with introducing newer players with its extensive tutorials, dedicating to individual features like production, engineers, logistics, into separate tutorials so that new players won't get too overwhelmed with the abundance of new information.
Verdict
All in all, The Settlers: New Allies is a very beautiful game with colourful graphics and pretty presentation. Unfortunately, it's a very slow paced and has a tedious gameplay loop. Pair those up with a lack of depth in terms of gameplay can drive away players who are accustomed to other RTS/ City builder games.
I have to admit, the game can be enjoyed in short sessions, but it loses its charm the more you play the game because a single map could easily last around two hours. Personally, if the game adds in a fast forward button, it would make the game much more enjoyable.
The Settlers: New Allies also acts as a good introduction to newer audiences in the RTS genre. But for veterans who are looking to scratch their RTS itch, this game won't be fitting that bill.
| | |
| --- | --- |
| Pros | Cons |
| Beautiful Graphics | Slow paced gameplay |
| Resourceful tutorials for newcomers of the RTS genre | Gameplay loop is very tedious and repetitive |
| | Lack of depth in its gameplay mechanics |
The Settlers: New Allies was reviewed on PC via Ubisoft Connect.
The Settlers: New Allies
Microsoft Windows, Nintendo Switch, PlayStation 4, PlayStation 5, Xbox One, Xbox Series X|S
The Settlers: New Allies is a real-time strategy city-building game developed by Ubisoft Düsseldorf and published by Ubisoft. It is a reboot of The Settlers series.
---
Check This Out Next
---