While events like the Dai Berserk Ten exhibition have been delayed due to a state of emergency in Japan, the upcoming Jojo World attraction is still set to go on, announcing new merchandise on sale.
While the organizers haven't said anything for or against the state of emergency, the fact they haven't commented on a possible postponement implies the planned exhibition centre is still happening.
Via the Jojo World Twitter, they've even announced new merchandise featuring Chibi-style art of each protagonist and the characters they're most closely associated with.
They haven't announced exactly what kind of merchandise is going to be sold with the art, but it's safe to assume it's not a big departure from the usual t-shirts, acrylic stands and buttons.
While the fan term for these characters is usually "JoBro", that's not quite accurate for this lineup as several characters aren't the typical JoBro of their series, such as Dio being placed next to Jonathan instead of the character Speedwagon.
There's also the case of Josuke from Part 4, wherein he's been placed next to fan-favorite Kishibe Rohan instead of his actual number 2, Okuyasu.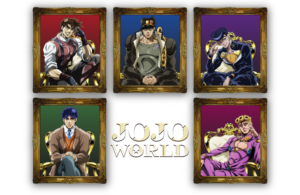 Of course, the entertainment centre isn't set to open for another few months, opening March 5th in Yokohama. Presumably, the organizers are being optimistic that things would get better before the start of the event.
Jojo World is an entertainment centre built around the long-running manga Jojo's Bizarre Adventure, featuring attractions based on all the produced anime of the series.
---
Check This Out Next
---