Bleach: Eternal Soul released today, and with a roster of 41 characters available at launch, we narrowed down the best units to aim for.
Note that while there will be more characters to come, the characters listed here will still remain incredibly useful and are worth investing in for the long run.
Thus, in no particular order, here are the best characters to recruit into your team in Bleach: Eternal Soul.
---
Byakuya – The best talent
As an SSR unit, Byakuya is definitely not as good as the other characters down the list. Nevertheless, Byakuya is still a solid Attacker that has the annoying passive of reducing the ATK of male enemies when he is alive. Since the strongest characters in Bleach: Eternal Soul are male (this is not sexism, this is fact), Byakuya is a decent choice for PvP.
However, the main reason why Byakuya is definitely the most important character to get, even moreso than the UR characters, is his Talent. Byakuya's Talent lets you get one free Soul Jade Token a day. The earlier you get him, the better as Soul Jades are the most important resource in the game. In the long run, he will make it easier to get the other characters you want.
Also, topping up any amount of money will get you Byakuya, so if you don't want to rely on luck, you can always buy him with real cash.
Kenpachi – Super strong and super buff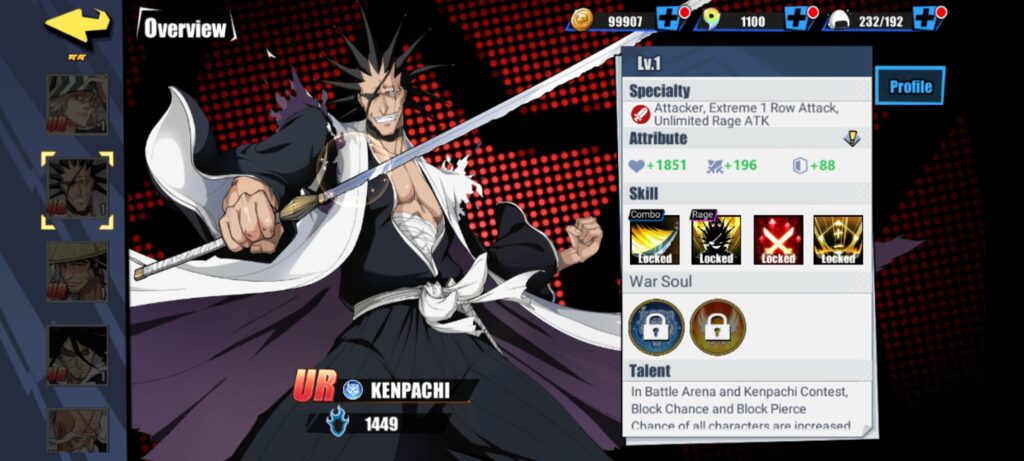 Kenpachi is an ultra-aggressive attacker with great support abilities. His entire kit relies on weakening enemies' DEF while increasing his team's damage.
His Combo skill is extra harsh on Defense-specialty characters giving him an additional 60% damage against them. Furthermore, his Rage skill can also reduce a column of enemies' DEF by 30%, making him incredible against tanky enemies. On top of that, he has a fantastic passive which increases his team's damage rate.
Overall, Kenpachi helps your entire team to kill the enemy faster, and he himself is an expert at doing that job, especially against teams that field Defense-specialty units.
Zangetsu – King of bleed
Zangetsu is even more aggressive than Kenpachi in terms of stats. He is more of a glass cannon, with greater ATK but lower health and DEF.
However, Zangetsu's skills which all cause Bleed scale off really well thanks to his high ATK. In particular, his combo skill has a 20% chance of stunning on top of the bleeding, making him a really annoying opponent. He can also reduce enemies' Rage with his own Rage skill, giving them a free gift in the form of more Bleed damage.
His Bleed abilities are great, but he also has one of the most frustrating passive abilities to face. If Zangetsu is alive, dealing fatal damage to his teammates has a 5% chance of making them survive. While it rarely happens, it can ruin your arena fight if it does.
Yamamoto – Burn and stun for days
Yamamoto may be old, but he is great at making others expire before he does. The 1st Division captain is all about burning enemies with an added chance of stunning.
His Combo skill is similar to Kenpachi's as both have the additional 60% additional damage to Defense-specialty characters (which kinda explains why defense characters have it rough). Unlike Kenpachi, Yamamoto's Combo skill has a 20% chance to stun, which is the most annoying status to face.
On top of that, his Rage skill hits all enemies giving them a nasty burn, 20% chance of reducing Rage and a 10% chance to Stun. A lucky Yamamoto Rage skill can shut down the entire enemy team, which is more or less a guaranteed victory.
Aizen – Single-target bullying
Not to be confused with Anniversary Aizen (the one in blue and without the glasses), Aizen is a master of outright deleting a single enemy.
His Combo skill lets him steal 15% of the target's damage rate, which is dangerous if left unchecked. His Rage skill turns this up a notch, letting him steal 10% ATK and 20% DEF, while dealing an absurd 335% damage, the highest damage scaling of any skill currently in the game. If he does not kill the enemy with his Rage skill, the added Bleed damage most likely will.
Aizen also has an annoying passive, which is reducing all enemies DEF by 10%. If you need to remove an annoying enemy character from the fight, Aizen is your man.
---
That is all for this list of best characters to obtain in Bleach: Eternal Soul. Note that some characters will perform better than others in PvE or PvP environments, but generally, you would not go wrong with the above characters in any of them (with the possible exception of Byakuya, because you are getting him for his talent anyways).
Follow the game on Facebook to stay updated.
Bleach: Eternal Soul
Android, iOS
The official mobile adaptation of the popular BLEACH anime, which has swept Europe and American, now launched in S. E. Asia! BLEACH: Eternal Soul faithfully recreates the plot of the original anime, with over 100 classic characters and voiceovers from the original cast of VAs. Fans of BLEACH, join us now to unleash your Bankai and eliminate enemies!
---
Check This Out Next
---