In an exciting new collaboration, characters from Tales of Vesperia will be making their way to Exos Heroes for a limited time only. Check out the trailer for this crossover event uploaded on YouTube by Line Games' channel:
This event will go live after the maintenance on 25th February 2021. Yuri Lowell, Estelle and Flynn Scifo from Tales of Vesperia will be available in Exos Heroes during this event.
Yuri Lowell and Flynn Scifo will be available in the first half of this event. These two event characters, together with their exclusive weapons will be obtainable from 25th February – 4th March 2021.
After that, Flynn Scifo and Estelle will be available. Flynn, Estelle and their respective weapons will be obtainable in Limited Recruit between 4th March – 10th March 2021.
Besides rolling and praying to the RNG gods, players can get Flynn as a login reward. Be sure to log in for at least 7 days between 25th February – 10th March 2021 to get the Imperial Knight.
In addition, players can expect an original story event just for this collaboration.
Besides that, a retweet campaign for the game is ongoing. Players can get thousands of gold and Xes depending on the number of retweets. To take part:
Follow @exosheroes_jp on Twitter
Retweet the following tweet
Stay tuned to the game's Facebook page to stay updated.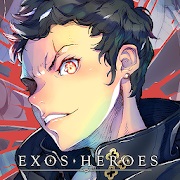 EXOS HEROES
Android, iOS
The grand adventure to search for 'Exestruk', the missing sword of the emperor, and the curse of the ancient dragon! Experience the adventure of your lifetime. Experience the unique visualism beyond your imagination. Experience the unique, extraordinary RPG!