Touken Ranbu Online Pocket , the mobile game based off of the Touken Ranbu IP, is now available for pre registration via Android and iOS for US residents.
The game is a mobile port of Touken Ranbu Online, which was previously released in Japan. According to the App Store, Touken Ranbu Online Pocket will release in the US on August 31st, 2021.
Setting wise, it's a fairly bizarre series to localize- the game revolves around Token Danshi- the human personifications of swords across Japanese history.
Here's the game's summary, courtesy of the Google Play Store:
Revisionists seeking to change history have begun to attack the past.
The "Saniwa", who has been given the task of protecting the history, heads back in time with "Touken Danshi", the fabled swords that have taken the forms of powerful warrior.
As with many mobile games, the gameplay will revolve around you collecting more Touken Danshi. It looks like you'll be able to forge new ones as well, although they will require time to forge similar to games like Warframe.
You'll need to assemble a party of sword-boys to complete your missions, though that's not the only reason to collect them- you'll also be able to unlock special dialogue between certain Toukens, so you'll definitely want to collect all your favorites if you want to see if they'll have any special interactions.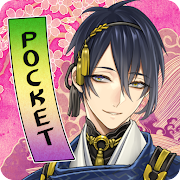 Touken Ranbu Online Pocket
Android, iOS
Fabled swords have taken the forms of powerful warriors called "Touken Danshi". You must become the "Saniwa" who leads them, and fight to protect history. Gather eight types of Touken Danshi -- Tanto, Wakizashi, Uchigatana, Tachi, Otachi, Naginata, Yari and Tsurugi -- and create your own unique battalion! Fight your way across a variety of battlefields in this sword-raising simulation game.