No Time to Die, I'm pretty sure that's what Daniel Craig said when they convinced him to come back and do one more James Bond film, his fifth time in the role and 25th in the series overall. But we must give credit to Craig, for his last time as 007 he's truly given it his all with a powerful performance of Bond pushed to his absolute limit. It was a delight to see.
The movie has its setbacks, but overall No Time to Die was a good time to be alive.
James Bond (Daniel Craig) has quit being 007 and is enjoying some quality time together with his love Madeline Swann (Léa Seydoux), who returns from the previous film Spectre. He is soon attacked by the operatives of Spectre, only to find out that Madeline may have been a former member and that the two can't be together. 5 years pass, and a deadly nanotech virus has been uncovered. Despite no longer being 007, Bond must stop the virus before it falls into the hands of Spectre or the mysterious Safin (Rami Malek), a new figure from Madeline's past.
The View to a Kill
The cinematography in No Time To Die is stunning. The cinematographer Linus Sandgren describes the film as visually realistic, and it shows with an emphasis on natural lighting, often in dimly lit sets like the nightlife of Cuba, and the cold grey skies of Norway. It creates a solemn feeling that suits the tone of the film perfectly. Even Craig's baby blue eyes feel a little more cloudy than usuals. 
The action sequence remains fast and brutal. We all know that Bond is gonna make it out ok, but the film does a great job of making you doubt it. The highlights of the film are the opening car chase in Italy, the scene in Cuba, and the final battle. The fight in Cuba is especially cool as not only is Bond's partner here Paloma (Ana De Armas) adorably bubbly yet still very much competent, but also the intertwining of different goals. The two need to infiltrate the Spectre base but also compete against the new 007 Nomi (Lashana Lynch). It makes for a well-choreographed scene packed with all the explosions, gunfights, and witty lines you'd expect from 007.
The Sound of Thunderball
The soundtrack by Hans Zimmer is also good. Each score fits into the right point and strengthens the dramatic tension. A pleasant surprise is that No Time To Die also brings back the song 'We Have All The Time in the World' from On Her Majesty's Secret Service, likely due to the thematic similarities between both films. A nice appropriate call back for old-time fans.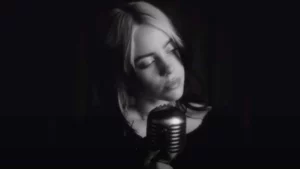 The highlight of the soundtrack however is the opening credits featuring the new Bond theme, performed by Billie Eilish. For such a young singer, she was successfully made one of the best Bond themes I've heard. It's a quiet haunting melody that fits the mood that Bond and his love interest Madaleine are going through, all while set to some great visuals that homage the very first Bond opening in Dr. No over 50 years ago. 
Bond, James Bond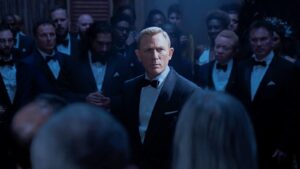 You know a film is good when the total runtime is 2 hours 43 minutes and yet you don't really feel it. The film moves at a steady pace, always introducing new plot points and trickling with entertaining dialogue between the various MI6 agents and villains. 
The Craig era of 007 has been asking the question of how to adapt a character like James Bond, a character that has often been referred to even within the films as a "sexist, misogynist dinosaur" into the modern world. Here we see a Bond that still embodies the masculine traits of the past, swab, charismatic, deadly, but now with an added layer of sensitivity.
Craig's Bond shows a sense of vulnerability not only physically showing pain but emotionally. He gets angry, sad, and even just a bit miffed. The opening scene has Craig play a spectrum of barking mad, silently furious, and clearly feeling a sense of loss when putting Madeleine on the train when they split up. There's is relatively little dialogue and yet Craig portrays each emotion perfectly through just his face. For his last time in the tux, he gives it his all, right up until the film's impactful ending. 
His Majesty's Secret Service
The MI6 regulars of M (Ralph Fiennes), Q (Ben Whishaw), MoneyPenny (Naomie Harris), and CIA agent Felix Lighter (Jeffrey Wright) do great as usual all having great workmanlike banter with Bond. The highlight of the supporting cast however is Nomi, the new 007. I like her rivalry with Bond. It's clear she doesn't want to put up with his bullshit but also wants to prove herself to him. By the end of the film, you feel she's grown into her own identity and left his shadow. It's enduring and Lashana Lynch pulls it off well. 
The movie even manages to improve Madeleine, but only to an extent. The previous film, Spectre, did a poor job at establishing chemistry between Bond and Madeleine. By the end of the film, I wasn't convinced that a character known for being a womanizer and cold-blooded assassin had finally found 'the one'. This film does do a better job of showing they care for each other but I still don't entirely buy them as a couple.
The Ghosts of Spectre
Unfortunately, the film does drop the ball with the villains. Safin (Rami Malik) is pretty bland, without a solid personality to really endure himself. Just another evil mastermind with a messed-up face. I do like that his evil villain lair is a kind of callback to the over-the-top villain lairs of older Bond villains but the character himself just isn't that interesting. His henchmen are kinda cool though.
Christoph Waltz also returns as Ernst Starvro Blofeld and likewise feels underused. Waltz seems like a perfect fit for a character as iconic as Blofeld but like with Spectre he doesn't get much of anything to do. He doesn't even have a cat to stroke. The 007 movies are known for their charismatic villains so it's shame that despite having two acclaimed actors in the parts, both of them felt so lukewarm.
No Time to Die
No Time to Die is a fitting end to the Daniel Craig era of James Bond. It is an action-packed emotional ride that shows Craig's honed performance as this character. It's held together by a strong supporting cast and good interactions between them and Bond. It is let down a little from lackluster villains but far from enough to ruin the film
It's not quite up there with Casino Royale or Skyfall but it is leagues above Spectre or Quantum of Solace. As an ode to everything the modern Bond Films have accomplished, it is a good final chapter to end on. For now, we'll have to see what they do next with 007.
No Time to Die is just one of the many new films you can watch now that Malaysia's cinema is back open. Check some other films you can watch.
The Review
No Time to Die
PROS
Craig is Brilliant as Bond
Action scenes are intense and brutal
Supporting Cast are likeable and interact well with Bond
CONS
The villains are bland
I still don't entirely buy the Bond and Madeleine relationship