With Spider-Man: Across The Spider-Verse swinging into cinemas in a few weeks, we got the opportunity to interview opportunity with Sin Yee Loke, the Malaysian animator who played a crucial part in creating Miles Morales' latest adventure through the Spider multiverse.
Sin Yee Loke is a Malaysian artist from Bidor, Perak. She graduated from The Dasein Academy of Art and spent five years working at Illusionist Animation Studio in Malaysia, working on projects like Ridiculous Players From Online World.
She currently works at Sony Pictures Imageworks and carries an important role of a Lighter, in charge of bringing colors and archiving the comic style through compositing the visuals for Spider-Verse. Here's what she had to say about getting the job and helping to create the world of Spider-Man.
Could you tell us a little bit more about your professional background and how you ended up working on this movie?
After studying animation, I started working in animation studios in Malaysia for like 5 1/2 years before I started looking for jobs overseas and I got really lucky. The first one I landed on was in Australia. I was working on the VFX for the movie Love and Monsters.
Because of the pandemic, I went back to Malaysia and got locked down for two years. But after that, I was thinking "Hmm, this time I'm gonna try Canada", so I just aimed for Canada and then I sent my portfolio and my resume out. I got really lucky as there were a few companies that responded.
And then I just chose the best one which was MPC (Moving Picture Company) in Montreal, Canada. They sponsored me here and I worked on Disney's Pinocchio. And then while I was working on Pinocchio, I saw some US companies hiring and then I decided to try my luck and give it a go. "They probably won't respond to me, at least until I'm 2-3 years here and I think I'm still not too qualified. Maybe then, who knows". I got really lucky like one week after I applied, I heard back from them and then I got interviewed.
And it was for Spider-Verse! I literally screamed during the interview. "Oh my gosh, I'm a fan and I can't believe that I'm talking to the person who worked on the 1st movie. You know, I'm so impressed at the colors, art direction, and everything. So I geeked out during the interview"! After that, I got the part. "Oh my gosh, I can't believe it". I just got really lucky and got myself into Spider-Verse.
The Spider-Verse films are known for their incredibly unique comic-inspired art style. Can you specifically describe what you did to give it such a unique look?
In Spider-Verse they have different worlds which means they have different art styles. We are following according to the sequence like this is whose world and then we have the references for the color keys. Then I light it, render it out and compensate it and then follow according to the specific art direction and do it that way. There are different kinds like maybe the brushing, and the inking, they are all different in each world.
The production team has developed many specific and unique design tools for the movie. For your role, were any tools specifically created for your department?
There was a lot. They are all internally developed by talented artists. So there are a lot of plugins and tools that they will constantly update throughout the movie. There are so many different versions, I have no idea how they do it because I'm not too into technical stuff, but I'm trying to learn how to use it. These gave us so much convenience, creating like the brush strokes, the inking, and everything. They are so talented and cool.
Was it hard for you to adapt to using these new tools?
Yeah, of course. Everything is so new and the workload, pipeline, software – even the style, I've never worked on something crazy like this. So the adaptation for the first few months, it was definitely hard.
But once you got into it, you got the direction and everything, it wasn't that hard anymore. It was more challenging how to achieve the look that you want, the look that the director wanted
When incorporating these different art style concepts into the movie, did any design difficulties arise?
Oh yeah, I think they changed the design quite a lot, and even the color keys kept changing, and the art style was continuously refining. Some of the artists may have gotten annoyed with this but for me, I appreciate it, I believe in the Art Director a lot.
I thought it looked better every time they changed it so I'm glad they decided to go for it. There are a lot of shots that were already approved and done, but we had to go back and redo them because the director changed their mind. But of course, it now looked even better, and better suited the story.
With these last-minute changes, is it the story that's changing, or the animation style or technique, and how does that affect your role specifically?
At first, it was fine, but closer to the end, it was kind of stressful because we still have new shots to do. Those shots were already approved, but now they were going back, they were changing the dialogue. I think that it's on the news too. Like Hailee [Steinfeld], she had to go back and re-record the dialogues. I was like "What? At this time? Are you sure?".
But after they made the changes, it does make more sense and for the story, it's way better so I was okay with it. But of course, there'll be some shots that are really complicated or tedious like "Ohh finally it's approved" and then three months later like "Oh guess what? You got a new update. You're gonna redo that again". I was like "Oh My Gosh, I thought I'd got rid of it".
For our final question, could you talk about your relationship with the Spider-Man series and what this production means to you?
When I was young, I watched the first Spider-Man movie, the Tobey Maguire version and I ended up falling in love with the characters. I then watched the second one, the third one, and then Amazing Spider-Man came out. I lot of people were really into the MCU at the time but for me, I couldn't get enough of the Spider-Man movies.
When the first Spider-Verse came out, it blew my mind, the art style and the way they portray the camera movement using the printing methods offset. When I came out of the cinema, I thought "I wish I could be as good as that" and that I could be a part of them. I even posted this as a story on social media.
I still can't believe that I'm now a part of the series. Like it's hard to believe I'm working with the crew that worked on the first movie. We're colleagues now and we just finished the second one. I can't believe this is real. Am I dreaming?
Across The Spider-Verse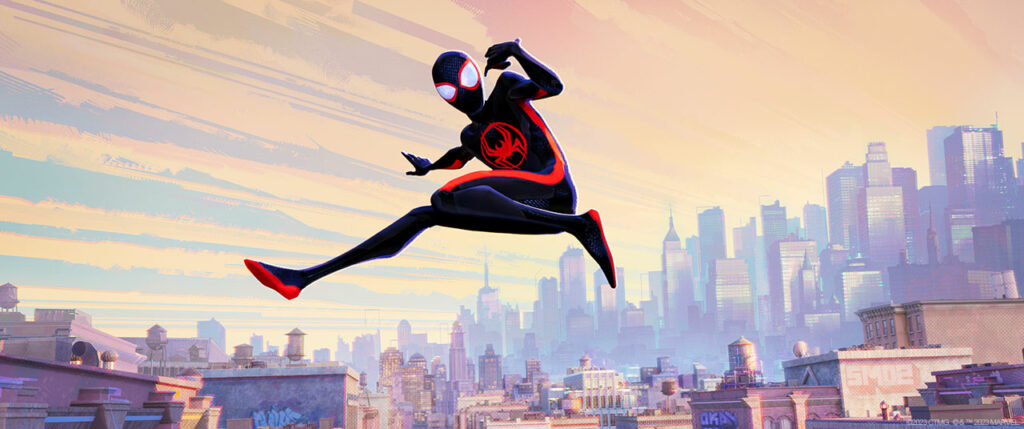 It's great to see more Malaysian Talents heading up in the world and working on iconic IPs like Spider-Man. We wish Sin Yee Loke and the rest of the team at Sony Pictures Imageworks the best of luck as they prepare to launch the second chapter of the Spider-Verse saga.
Spider-Man: Across the Spider-Verse will premiere in Malaysian cinemas on the 1st of June 2023.
The quotes in this interview were edited for clarity.
---
Check This Out Next
---