Cookie Run Kingdom is celebrating its' one-year anniversary and to celebrate, the developers have been kind enough to share out a bunch of free codes to get free items like crystals, rainbow cubes, and more.
To use these simply go to the Devplay website, put in the email address attached to your account (you can find it in your profile settings), and the code. After that, the free items should be dropped into your in-game notifications.
Here are all the codes for Cookie Run Kingdom you can currently use:
CRK1STBIRTHDAYD7 (500 Rainbow Cubes)
CRK1STBIRTHDAYD6 (3 Magic Cookie Cutters)
CRK1STBIRTHDAYD5 (3 Aurora Compasses, Pillars, and Bricks)
CRK1STBIRTHDAYD4 (30 Time Jumpers)
CRK1STBIRTHDAYD3 (100 EXP Star Jelles Lv. 6)
CRK1STBIRTHDAYD2 (3 Special Cookie Cutters)
CRK1STBIRTHDAYD1 (1,000 Crystals)
GOMAGICOVENEVENT (500 Crystals)
WEMADECKTOGETHER (3,000 Crystals)
CK1STANNIVERSARY (3,000 Rainbow Cubes and 5,000 Crystals)
CK1STANNIVERSARY – 5000 Crystals, 3000 Rainbow Cubes
GOMAGICOVENEVENT – 500 Crystals
WEMADECKTOGETHER – 3000 Crystals
The majority of these will expire at the beginning of February so be quick!
That's a lot of crystals, they are certainly generous on the Earthbread. Use these wisely to build your Cookie Kingdom.
These come alongside the most recent update to the game which brings in two new characters, Eclair Cookie and Tea Knight Cookie, as well as a number of new events and modes like the Cookie Alliance.
We recently published a guide for using the new character Eclair Cookie, so if you want to learn about his strengths in battle, check it out!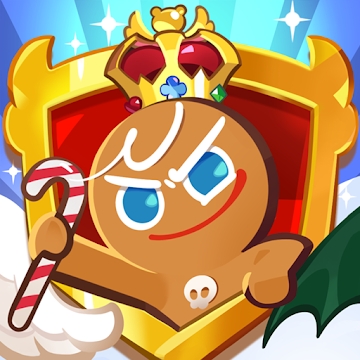 Cookie Run: Kingdom
Android, iOS
Build your dream Cookie Kingdom and reclaim the land lost against the evil that lingers in the shadows. Fresh out of the oven and from the Cookie Run: OvenBreak creators comes Cookie Run: Kingdom! Build a delectable Kingdom while battling against evil dessert monsters! Team up with friends in Guild Battles! Fight alongside other Guild Members and defeat new rivals. Battle against powerful enemies to level up together. Earn soul stones, guild level-up items, guild treasures, and more!
---
Check This Out Next
---