You've heard about Vantage coming to Apex Legends, but there's not much we know about her just yet. Wonder no more, as the dev team gives us an overview of her lore, design, and of course, her skills.
THE BIRTH OF ADVENTURE
Vantage is the daughter of a wrongfully convicted criminal, her mother. During the transport, the ship crashed onto the ice planet Págos, giving an avenue of escape. In time, Vantage was born and was raised away from the authorities. When Vantage eventually grew up, she stumbled upon the crashed ship, getting hurt upon triggering a mechanism or other. In order to save her, Vantage's mother sent out a distress signal. While Vantage herself does get aid, her mother gets taken into custody once more. Now, Vantage is out to absolve her mother, and get her out of jail.
TALKING SHOP
Here, we have the dev team talk about the concepting and design for Vantage. The Q&A has been edited for clarity.
Do you take inspiration from the real world when working on Vantage's early concept?
RACHEL GAGNER: Yeah, we looked for the arctic-themed, survival, scavenger clothing. For Echo, we looked at a lot of real world animals. One of the animators on our team has a pug with this really adorable underbite and that became one of the things we really wanted to put in for that cute and endearing face.
What Legends do you feel Vantage has the best synergies with?
CHRIS WINDER: Rampart is one of the ones that come to mind, with her shields to amp up the damage and setting up a position for Vantage to shoot from. I think the other Legends that can synergize well would be those gap closers, like with Ash, Pathfinder or Horizon, the ones that can really capitalize on the damage once Vantage has cracked open those shields.
How was it writing a young, and isolated character to the process for grizzled veteran characters like Mad Maggie?
KEVIN LEE: Mad Maggie's that super fun, punk rock energy and seems to know everything that's going on and is very much impacted by Salvo's influence in the Outland. For Vantage, it just boils down to what her life was like growing up. It's about survival, curiosity, observing, seeing things for the first time. It opens up a whole new thing of fun to play with.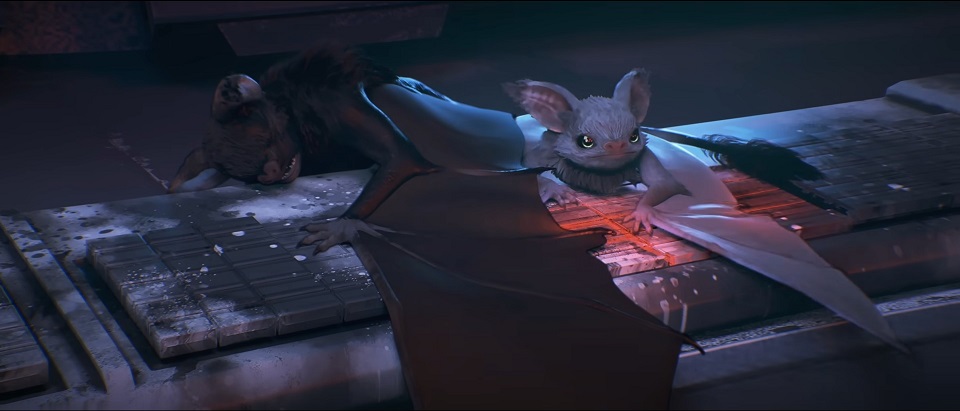 When you partner closely with your colleagues in the narrative team, what is your concept process like?
RACHEL GAGNER: To start, we worked together for the backstory. Kevin and the writing team had a really, really strong idea of what they wanted to do. We wanted the sniper, but a little different from your typical sniper archetype.
The concept side was really asking, "What would that look like?". How do we make her look like a sniper while still being different? We had the touchstones of "not being part of society", the scavenger aspect, and all that came together to creating Vantage.
With Vantage being the youngest Legend and a survivalist, can we expect any unique / interesting character interactions?
KEVIN LEE: Absolutely. She's entering the game, without her mother. Horizon kinda steps in as her benevolent mother figure, while Mad Maggie's the not-quite-as benevolent motherly figure who sees Vantage's real mother in jail and going, "That's cool, you're good in my book".
Obviously, we have Bloodhound and Vantage, both having pets, hunting, being cool… so yeah, there's going to be lots of great interactions.
GETTING INTO THE GAME
Vantage, as her name suggests, is a sniper who focuses on information gathering thanks to her passive, and is capable of supporting her teammates from afar with her ultimate. Echo is her bat-like companion, which is tied to her tactical skill.
PASSIVE: SPOTTER'S LENS
The lens can be used to read tactical information of enemy squads which will allow her to know the Legend's name, their current squad composition, currently live members, rarity of their shield and their distance relative to her. She can still zoom in even when unarmed and will be able to share the information she's gotten with her teammates by pinging.
The passive allows her to calculate bullet drops with a higher level of scope, though the devs don't specify how much higher it needs to be. (maybe ask clarification)
TACTICAL: ECHO RELOCATION
Vantage will send Echo to a location – imagine saying that five times fast – and on use, she launches herself to Echo's position. It's basically a movement skill, and you must tragically make the sacrifice of firing the most adorable Echo over yonder so that you can actually tactically reposition.
Chris Winder confirms that there will be both visual and audio cues for the skill. You'll be able to spot an enemy Echo and be able to hear Vantage pre-launch and launch as she zips over. Since using Echo requires pre-planning / pre-positioning, the team considers it a different level of strategic thinking. There's also the fact that Echo doesn't require an anchor, so Vantage players could find creative places to launch themselves to.
ULTIMATE: SNIPER'S MARK
With Vantage's custom sniper rifle, whip it out, hit a target for 50 damage and mark them for 10 seconds. The marked target will then take 100 damage from subsequent shots from Vantage, as well as increased damage from her teammates.
You can wait for the rifle to have all five bullets in the chamber, or just use two at a time. It'll keep charging, so you're not obligated to fire it all at once.
---
With all that said and done, how do you think you'll be using Vantage in Apex Legends, or counter her? You'll find out soon enough, I'm sure.
---
Check This Out Next
---