Capcom has revealed more details for Dragon's Dogma 2, including the vocations, interactable environments, deadlier nights, explorable regions, and more.
As revealed during the Tokyo Game Show 2023 Capcom Online Program, the game's director Hideaki Itsuno has unveiled various details for Dragon's Dogma 2, specifically highlighting the starting vocations.
Vocations 
Vocations represent the classes in Dragon's Dogma 2, each offering different abilities and playstyles, as well as utilizing different weapon types.
There will be 4 starting vocations that players can choose, namely Fighter, Mage, Thief, and Archer.
According to the reveal, players can also choose to change their vocation at any time by visiting the Vocation Guilds.
Fighter
Similar to the first game, the Fighter is a melee specialist who wields a one-handed sword and a shield, capable of slashing down enemies, counterattacks, and protecting allies.
Archer
Now split from the Strider class, Archer is a new vocation that uses a bow and arrows to fight enemies from a distance.
Additionally, the Archer also possesses the ability to aim enemies with precision and has various arsenal such as exploding or blighting arrows.
Mage
Returning from the previous game, the Mage is a vocation who excels at long-range magical attacks, as well as the ability to cast healing and supportive spells that bolster their allies with enhancements.
Furthermore, the Mage can also cast advanced magick, but the more powerful it is, the longer the incantation will take.
Thief
New to Dragon's Dogma, the Thief relies on their agility to strike enemies with swiftness using their daggers and evade attacks using "Swift Step".
Director Hideaki Itsuno also noted that one of the Thief's key combat strategies against an enormous foe is to find openings and cling on to the enemy to deliver precise weak point damage.
Aside from the starters, Capcom also introduced some of the advanced vocations in the game, available to unlock as players progress through the story, namely Mystic Spearhead and Magick Archer.
Mystic Spearhead
The Mystic Spearhead is a brand-new vocation that uses a combination of magick and weapon-based physical attacks.
Utilizing the Duospear as their weapon, the Mystic Spearhead is a good all-rounder who has the ability to block enemies' movement with magick or throw items using telekinesis.
Magick Archer
Another returning vocation, the Magick Archer specializes in long-range attacks using magickal arrows.
On top of having healing and supportive abilities, the Magick Archer is also capable of unleashing a powerful attack that damages enemies in a wide area in exchange for sacrificing some of their maximum HP.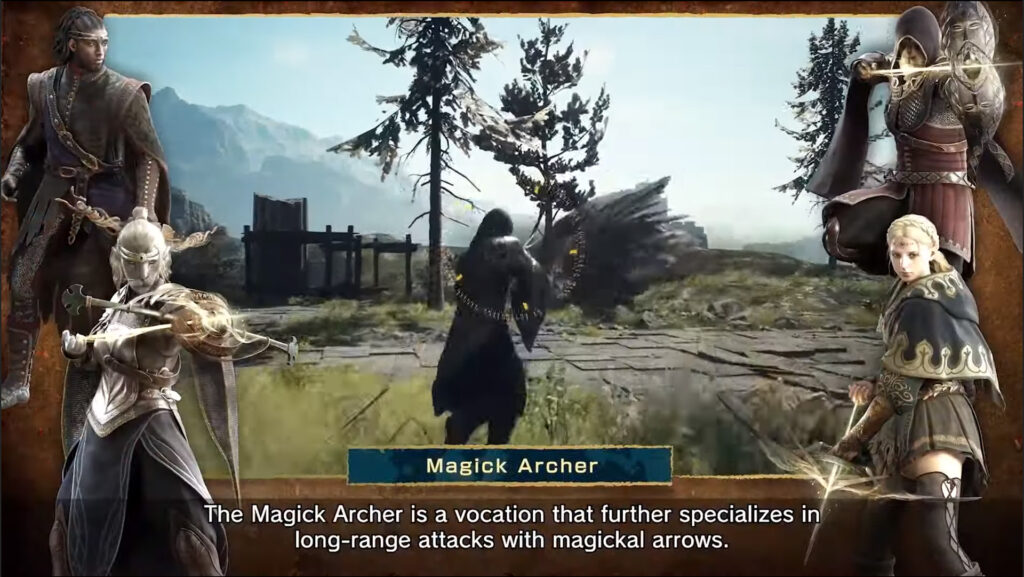 While Capcom has only revealed 2 advanced vocations, they noted that there are many more to be revealed.
Interactive Environments
While in combat, Director Hideaki Itsuno noted that players can utilize the environment to their advantage such as throwing a bomb into a water dam to cause a raging tide to wash enemies away.
As seen in another footage, players can also knock a giant enemy like the Cyclops down and cause it to temporarily form a bridge for them and their party members to cross.
Vermund and Battahl
In the livestream, Director Hideaki Itsuno also revealed the regions in which Dragon's Dogma 2 takes place.
The 2 prosperous nations in the world of Dragon's Dogma 2 are Vermund, the human kingdom, and Battahl, the land of beastren.
Vermund is a land of lush meadows where an Arisen who has slayed a Dragon has ruled as king for generations.
Battahl is the home to the beastren, a rugged canyon nation with a city constructed on the site of ancient ruins.
Capcom noted both nations will offer different experiences with contrasting environments and monster inhabitants to encounter.
Both nations will also be crowded with NPCs to meet, and they may even provide players with quests to complete.
The non-playable allies, Pawns, may even guide the players to the right location if they have knowledge of the quest and even come to aid them when they get into trouble.
Furthermore, players can travel between major locations by riding the oxcarts, though enemies may ambush them en route to their destination and force them to make a decision on how to tackle the situation.
The sequel will also feature deadlier nighttime, where players will be enveloped in pitch-black darkness with no light to illuminate the surroundings.
During dark nights, more dangerous enemies will also show up such as undead skeletons.
However, if players have a camping kit, they can spend a night at a campsite to replenish their health.
During our time at the Tokyo Game Show 2023, we got to try a playable demo of Dragon's Dogma 2, which you can read our impression here.
Dragon's Dogma 2 is set to launch for the PlayStation 5, Xbox Series X|S, and Windows PC via Steam, however, no release date has been announced yet.
---
Check This Out Next
---