Developed by the team behind the DiRT Rally series with over 25 years of off-road video game experiences, EA Sports WRC is a next-gen rally game that sim-racing enthusiasts should check out.
Licensed by WRC
Making use of Unreal Engine along with the DiRT Rally series physics, EA Sports WRC plans to deliver longer, more detailed stages compared to previous iterations, with 18 official FIA World Rally Championship locations and over 600km of asphalt, gravel, and snow stages.
A big majority of the locations, those roads have been used in the last couple of years for WRC events. Considering how everything is based on reality, the level design team uses satellite and terrain data, combined with reference material, photography, and videos to bring those real roads to life in game. Meaning that there'll be a number of WRC locations where you'll be driving exactly the same route as in the real-world sport counterpart.
Additionally, we'll also have the entire official WRC calendar represented in game, each location having 35km of unique track, totaling up to over 600km across the game. We also have 5 bonus locations to go with the official WRC calendar, each location being 35km long as well. All of the non-show locations are available for play in all four seasons throughout the year, so there's a plethora of content for players to race their hearts out.
List of Vehicles
EA Sports WRC boasts 10 current WRC, WRC2, and Junior WRC vehicles and 68 of the most iconic rally cars spanning 60 years of the sport.
Working together with official WRC teams and manufacturers such as Ford, Toyota, and Hyundai, each vehicle is built to tackle every challenge they'll face throughout the season. The list of vehicles are as follows:
WRC Car List

Ford Puma Rally1 HYBRID
Hyundai i20 N Rally1 HYBRID
Toyota GR Yaris Rally1 HYBRID

WRC2 * Cars

Citroën C3 Rally2
Ford Fiesta Rally2
Hyundai i20 N Rally2
ŠKODA Fabia Rally2 Evo
ŠKODA Fabia RS Rally2
Volkswagen Polo GTI R5

Junior WRC
Ford Fies ta Rally3
World Rally Cars 2017-2021

Ford Fiesta WRC
Volkswagen Polo 2017

World Rally Cars 1997-2011

Citroën C4 WRC
Citroën Xsara WRC
Ford Focus RS Rally 2001
Ford Focus RS Rally 2008
MINI Countryman Rally Edition
Mitsubishi Lancer Evolution VI
Peugeot 206 Rally
Seat Córdoba WRC
ŠKODA Fabia WRC
SUBARU Impreza 1998
SUBARU Impreza 2001
SUBARU Impreza 2008

Rally2 *

Ford Fiesta R5 MK7 Evo 2
Peugeot 208 T16 R5

Rally4 Cars

Ford Fiesta MK8 Rally4
Opel Adam R2
Peugeot 208 Rally4
Renault Twingo II
NR4/R4
McRae R4
Mitsubishi Lancer Evolution X
SUBARU WRX STI NR4
S2000
Fiat Grande Punto Abarth S2000
Opel Corsa S2000
Peugeot 207 S2000
S1600
Citroën C2 Super 1600
Citroën Saxo Super 1600
Ford Puma S1600
Renault Clio S1600

F2 Kit Cars

Ford Escort Mk 6 Maxi
Peugeot 306 Maxi
Renault Maxi Mégane
Seat Ibiza Kit Car
Vauxhall Astra Rally Car
Volkswagen Golf IV Kit Car

Group A

Ford Escort RS Cosworth
Lancia Delta HF Integrale
Mitsubishi Galant VR4
SUBARU Impreza 1995
SUBARU Legacy RS

Group B (4WD) Car List

Audi Sport quattro S1 (E2)
Ford RS200
Lancia Delta S4
MG Metro 6R4
Peugeot 205 T16 Evo 2

Group B (RWD)

BMW M1 Procar Rally
Lancia 037 Evo 2
Opel Manta 400
Porsche 911 SC RS

H3 (RWD)

BMW M3 Evo Rally
Ford Escort MK2 McRae Motorsport
Ford Sierra Cosworth RS500
Lancia Stratos
Opel Ascona 400
Renault 5 Turbo

H2 (RWD)

Alpine Renault A110 1600 S
Fiat 131 Abarth Rally
Ford Escort MK2
Hillman Avenger
Opel Kadett C GT/E
Talbot Sunbeam Lotus

H2 (FWD)

Peugeot 205 GTI
Peugeot 309 GTI
Volkswagen Golf GTI

H1 (FWD)

Lancia Fulvia HF
MINI Cooper S
Vauxhall Nova Sport

Builder Cars

WRC Builder Car
WRC2 Builder Car *
Junior WRC Builder Car
* All WRC2 cars can compete in the Rally2 car class.
Rally Authenticity
The 2023 Rally cars feature a hybrid system in-game, just like in the real sport. Players will be tasked with charging the battery by braking hard into a corner, and choosing when to deploy that extra power for more speed by getting back on the throttle.
Adjusting the behaviour of this hybrid system and finding the right balance for each stage will be the key to success. Whether it's opting for an aggressive high-power strategy that drains the battery quicker or a more cautious approach at the cost of ultimate speed, these are the decisions that have to be made before each rally stage.
Dynamic Handling System
The advanced Dynamic Handling System refines Codemasters' original model and gives players our most realistic off-road experience to date.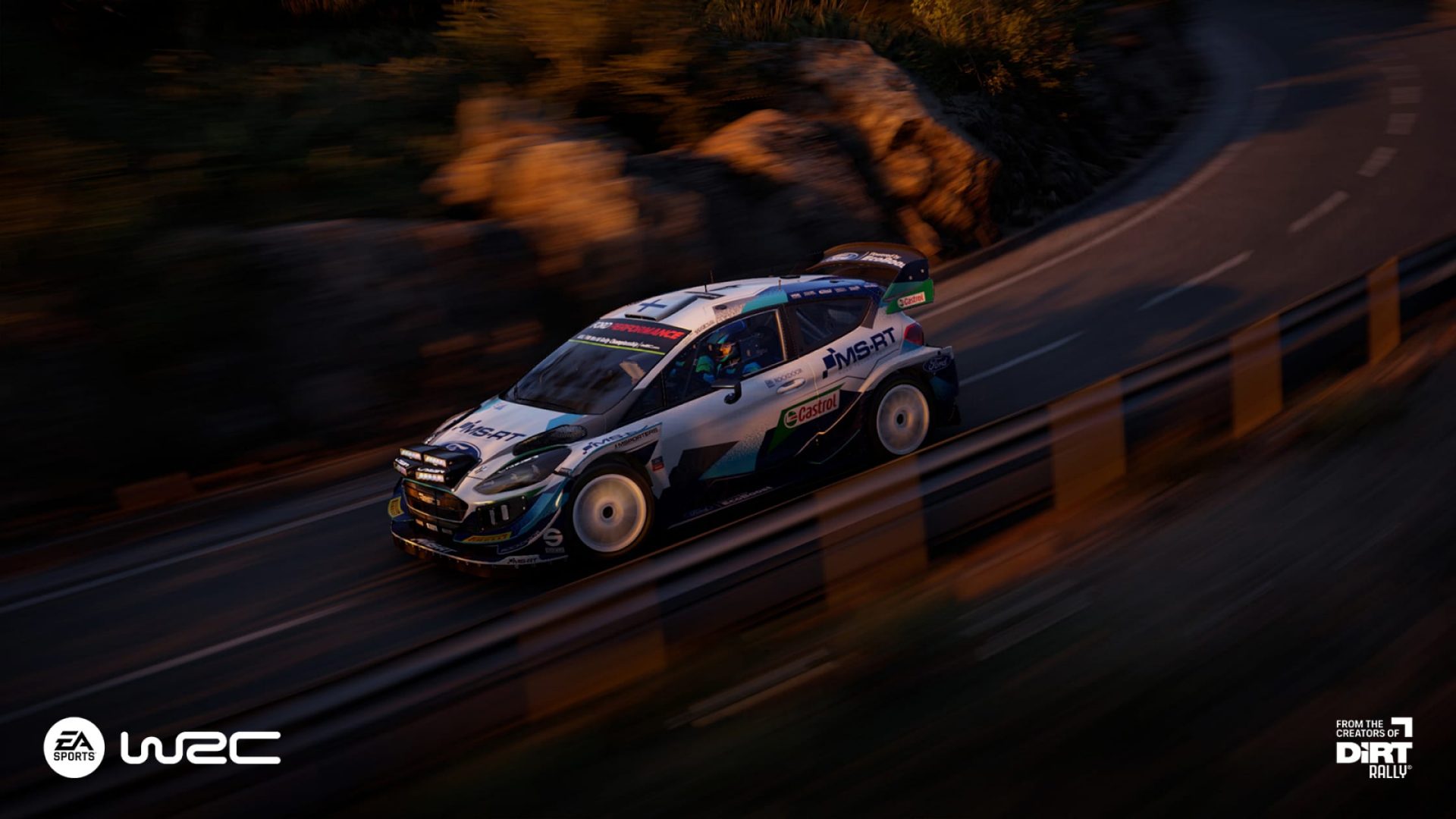 Taking feedback from drives, including game designer and current European Rally Championship 3 Champion, Jon Armstrong, players can choose the same professional driver set-up, mirroring the experience drivers encounter every race week.
New players can personalise the handling, making adjustments to help them master the ultimate player-versus-environment off-road challenge. The realism extends over to audio, with each car replicated, and new pace notes, including simplified commands for rookie drivers, give much-needed information to the player as they battle through each stage.
By bringing new players into the game, the devs have added some additional assists. We'll now be getting a throttle clamping assist to help those new players get to grips with some of the more powerful cars. In conjunction with traction control and stability control, it helps new players coming to the game to tame the rally cars that are in the game.
The game also offers a suite of accessibility settings. If players have differing physical or controller needs, or even require different colour blind options, all of that are available in the game for them to make the most out of it.
EA Sports WRC has layers of assistance to help people out. There's traction control which stops the wheel from spinning, throttle clamping that prevents accelerator planting through the floor which would normally result in the car getting out of control very quickly, on top of other accessibility options.
Driving Tools
For players that are unfamiliar to Rally but still want to get involved in the sport through EA Sports WRC, the game's Dynamic Handling System is supplemented by a suite of tools and options to give those players a driving experience that matches their skill level.
Fine-tuning assist settings such as anti-lock braking and tracking control, are accompanied by a choice between two different pace note systems.
In the real-world, drivers use a complex language of coded notes to accurately describe the road ahead. While this is faithfully recreated in-game, a simplified pace note system can break down the complex language of rallying to simple terms understandable for all players.
Pre-Order Info
Pre-ordering EA Sports WRC will net players five VIP passes, each containing additional post-launch content, three vanity packs consisting of liveries and apparel, and up to three days of early access starting on 31st October 2023.
The game will release on PlayStation 5, Xbox Series X|S, and for PC on Steam, Epic, and Origin. EA Sports WRC 23 will only be a standard-edition title, meaning that there won't be any deluxe editions, and supports English, French, Italian, German, and Spanish localised languages.
---
Check This Out Next
---