Square Enix's Chocobo GP comes out today and to celebrate, we got the opportunity to interview the game's producer Hironori Okayama, and Director Akihiko Maeda via email.
The duo had previously produced the prior Chocobo game 'Chocobo's Mystery Dungeon: Every Buddy!'. Okayama has also produced Kingdom Hearts: Unchained χ and Maeda has been a planner for Kingdom Hearts II, Final Fantasy IX, and Crisis Core: Final Fantasy VII.
Regarding Chocobo GP, they told us more about their decision to return the Chocobo series to kart racing, their wish to bring fan-favorite characters into the game, and their plans for future content through DLC:
Chocobo GP was based on Chocobo Racing on the PS1, why was it decided to revive this spin-off in particular after all this time?

Okayama: We wanted to make the character "Chocobo" more known outside of Japan, especially to young people. As such, we decided to release a new game that would be easy to pick up and went for the Kart Racer genre since it is one of the most popular genres around the world.
We also hope that you'll see Chocobo GP as a new title that has some common elements as in Chocobo Racing, as opposed to it being directly related to the latter.
Several popular Final Fantasy characters like Terra, Vivi, and Steiner were included in the game as playable characters. Could you tell us more about how you decided on which characters to include in Chocobo racing?
Maeda: As for the characters from the Final Fantasy series, our main criterion was whether they would please the fans. Once it was decided that the characters would appear, we thought about the form they would take in the story, as well as the kind of vehicles that would make them interesting.
Following this, Cloud and Squall have been confirmed as part of the first season of DLC. Will we see more characters from different final fantasy games be added to Chocobo GP?
Maeda: Characters and costumes will be added each season. Development is underway with plans to add several courses as well. We will keep you posted on what will be added, and we hope you look forward to them!
We noticed that many of the tracks were based on stages from various Final Fantasy games. Will there be more tracks in future updates?
Okayama: To follow up, we are considering adding two new characters each season, one that you can get with the full version and one that you can get with the prize pass. The addition of new courses will be available to the entire player base, including the LITE version. Stay tuned.
In the previous game, Chocobo Racing, Bahamut was a playable racer, however, in this game, he is only summonable via magicite. Why was it decided to make him a spell instead of a playable character?
Maeda: Bahamut was one of the strongest characters in Chocobo Racing, and bringing him directly into Chocobo GP would have disrupted the balance of the game. As such, to ensure a balanced line-up, we decided it would be best to have him be summoned with magicite instead of making him a playable racer.
Could you tell us more about the philosophy when designing the different karts, such as why it was decided to turn leviathan into a car?
Maeda: It can be roughly divided into three categories. First, if the original work had a vehicle of some kind, we used that vehicle as a base and redesigned it to fit the worldview of this game. For those without vehicles, we used any elements related to the character as a motif. And for those that have neither, it may be for story reasons, or it may have been an idea derived from characterization.
The game is currently released for Nintendo Switch. Are there any plans to bring the game to other consoles?
Okayama: Some elements such as graphics will be difficult to port at the current state, but we'd like to if there is an opportunity.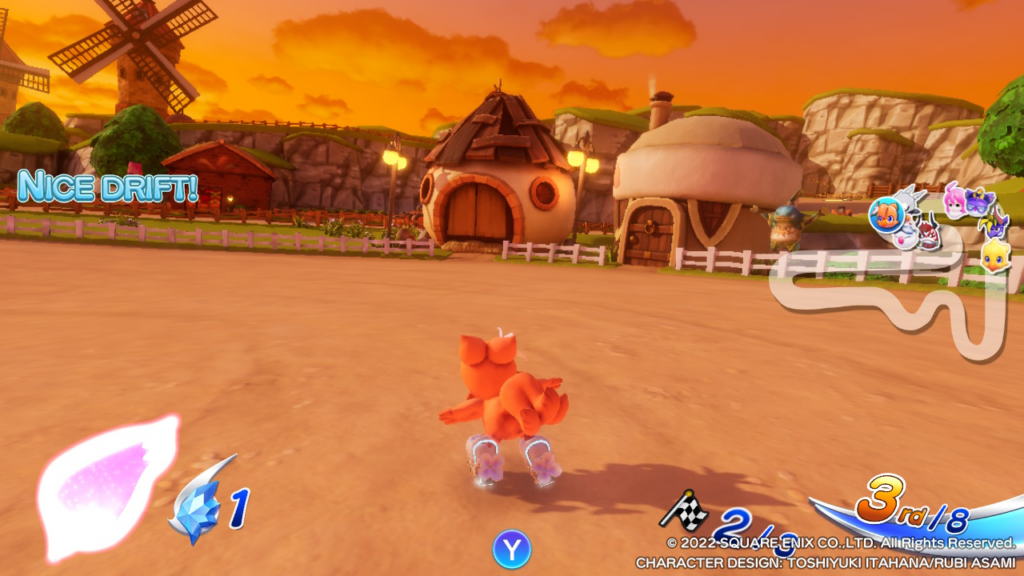 When I played Chocobo GP to review earlier last month, I found it to be a surprisingly good Mario Kart alternative with a challenging but ultimately fun gameplay and a lot of fanservice for Final Fantasy fans. It certainly helps that my two favorite games in the series, Final Fantasy VI and IX just so happen to have playable drivers and race tracks in the game.
It's interesting to hear how the developers came to the decisions of what characters to add to the game. Personally, I would've liked to have seen Bahamut be playable but that being said, he is one of the best items in the game so they certainly made him feel as powerful as an all mighty dragon lord is supposed to be.
A big thanks Mr. Hironori Okayama, and Akihiko Maeda for taking some time to answer our interview questions. Now if you excuse me, it's back to the races!
Chocobo GP is now available for Nintendo Switch
---
Check This Out Next
---