It always seemed like Mario Kart has been firmly planted as king of the mascot racer highway, Chocobo GP however puts in a valiant effort to break those limits, offering a fun racing game in its own right, with a cute style and plenty of callbacks to make longtime fans of Final Fantasy very happy.
The game is the latest in Final Fantasy's Chocobo spin-off series and a revival of the PS1 title 'Chocobo Racing'. A game made more with casual fans in mind, it offers a light-hearted adventure that's easy to pick up and get started. While it does have a few bumps in the road, those looking for a new mascot fighter will be happy to step into the jet skates of Chocobo GP.
Please note, this review is only of the single-player content of the game. As of this review, the multiplayer hasn't been working due to a lack of players since the game hasn't launched to general audiences. I'm going to give the game the benefit of the doubt and say that this is the reason there's no one online and not because the online is so bad that it couldn't match me with a single other person.
Final Fantasy Wacky Races
Chocobo GP comes with a variety of different modes, and GP Tournament mode,  a story mode, multiplayer, a series race arcade mode to race different cups, and a time attack to race for the best time. There's even a custom rules mode to change the race to your liking.
For Final Fantasy fans out there, Chocobo GP has a lot of fanservice from across the series, albeit from certain games more than others.
The rosters consist of the Chocobo series mainstays like Shirma, Camilla, and Clair (Fat Chocobo) as well as several summons, all redesigned into cuter chibi forms. There are only 4 characters from the main Final Fantasy series: Gilgamesh from V, Terra (in esper form) from VI, and Vivi and Steiner from IX. Cloud and Squall are due to appear as DLC but it would have been nice to see a few more familiar faces in the game.
Likewise, while there aren't a lot of stages, the game has a lot of variety with a few of them calling back to older games in the franchise. My favorite had to be The Bridge, with its diverging pathways and rocking rendition of the classic 'Battle on The Big Bridge Theme'.
The music in general, while also lacking in quantity, was also excellent with classic Final Fantasy renditions remade into adrenaline-pumping race tunes, even 'Melodies of Life' was remixed to be more fast-paced while still keeping true to the original track. That being said you're probably going to start finding the menu song a bit annoying after listening to it too much.
"I wanna ride my Chocobo All Day~"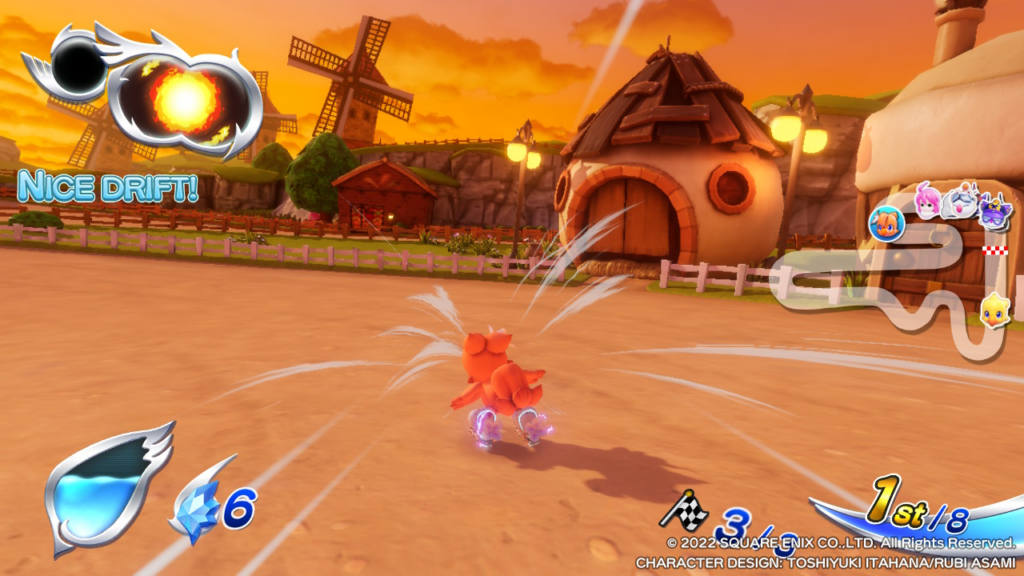 I promise I won't spend the entire review comparing the game to Mario Kart but if you've played the mushroom kingdom racer, Chocobo GP plays very similarly. You pick from a wide cast of colorful characters, select a kart and go on the track. During the race, you collide into the series of items (here called magicians) that you can use to hit your opponents and compete to be first around the course in 3 laps.
The game has the chaotic sense of fun you've expected out of a mascot racer, speeding down the track, doing drifts while trying to avoid the multiple stage hazards and attacks your enemies throw at you. The gameplay is really smooth with no lag or pop-in as far as I could tell.
Each item in the game is called a magicite and involves using different spells from across the Final Fantasy series. Aeros creates a tornado, Quake causes the area around your kart to shake. One thing I liked, in particular, is that the Death magicite, this game's equivalent of the blue and red shell, can actually be avoided if you take your time to do so.
Each character also has their own individual ability that can be charged up as you collect crystals across the map. Chocobo for example gains an enormous speed and handling boost while Terra shoots missiles at the racers ahead of her.
Kart Kombat
This is what separates the game from the most from Mario Kart. There's a far greater emphasis on hitting your opponent with spells. Between all the different offensive items and your own characters' abilities, it's just as much about stunning your opponent with attacks as it is racing well. This can be a double-edged sword in my opinion. On one hand, it does make the game more challenging, creating more variables for winning and adding to the madness of the match.
However, the items are still randomized meaning a lot of the game is left up to RNG. Each item can stun a character for a fairly long time and each has quite a bit of range. Combining this with tracks being fairly short means that if you're unlucky and get hit by the wrong item (or several), you can easily lose up to five places in a match if not more.
Mario Kart also has this to an extent but here, it just feels a bit too easy here to get screwed over by the RNG. I've done the same match with the same character and sometimes been first and other times last usually because the guy next to me hit me with an earthquake (possibly followed by a thunder cloud), I got knocked on my ass and everyone zoomed by.
On a casual level it can be seen as good since it means that anyone has a chance to win but it can be frustrating if, after all your effort, you get last place because someone else won the magicite lottery.
The Chocobo GP
The story mode for the game is fairly light in terms of plot. It is split into nine chapters, following Chocobo and Atla the Moogle as they enter a racing tournament that promises to grant them a wish. It's told in a storybook-like aesthetic but the 3D models do make it look a little awkward.
The story itself is pretty barebones with Chocobo and the gang just going around picking up characters for the tournament. That being said the characters were likable enough and it has its merits if you a Final Fantasy fan with lots of in-jokes and easter eggs that will have those in the know giggling. It's not the most memorable story but it's a passable way to introduce the different characters in stages with some fun flavor text for the die-hard fans.
You'll want to play this mode first since it's how you unlock most of the roster with new characters being added at the end of every chapter. Playing through story mode also unlocks characters for you to buy in the in-game store. These are mostly summons like Ifrit and Shiva. You can pay for them with tickets that you get by playing through races. There are crystals on the track and the more you collect, the more tickets you can earn. You can also pay for tickets with real money, which is a bit shady on Square Enix's part but at least you can unlock them by putting enough time into the game.
In Conclusion
It's no Mario Kart, but for Final Fantasy fans looking for fun more casual-oriented spin-off game, Chocobo GP is a fun time. Between the characters, story mode, and songs if you a long-time fan of the franchise you'll find something to enjoy.
If you're not a fan of Final Fantasy, the doesn't offer as much but it's still a solid kart racer with tracks that are energized by well animated, fast-paced chaos. The RNG may be annoying at times but it doesn't take away too much from the fun of performing clean drifts and going up ramps. Ultimately I'd say this one is for Final Fantasy fans first and foremost but if you're really itching for a new mascot fighter, this may be a fantasy worth checking out.
Chocobo GP will be released for Nintendo Switch on March 10th, 2022.