You can finally complete your Hololive Gamers Collection with the newly announced pre orders for Pop Up Parade Shirakami Fubuki and Ookami Mio.
The figures are available for pre order from the Good Smile website, and will ship out in June 2022. Both figures will cost 3900 yen (RM143) each and are available separately.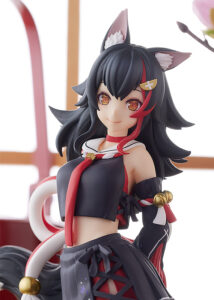 The Pop Up Parade line features Fubuki and Mio in their original outfits, with poses based on official art of the two characters. They stand at about 170mm in height, which should make them compatible with most shelves.
Unlike the more elaborate scale figure lines, Pop Up Parade's specialty is in more simple figures, lacking any kind of diorama effects to instead focusing on producing high-quality sculpts of the characters that are also on the lower end of the price range.
These come as the second wave of Hololive Gamers-themed figures, with the first batch containing Nekomata Okayu and Inugami Korone from the same generation.
Shortly after the Hololive Gamers Pop Up Parade line was announced, it was revealed they wouldn't be the only generation getting figures via the Pop Up Parade line- Hololive English's first generation Myth would also be getting figures, though no further information has since been revealed about the project.
---
Check This Out Next
---