DeNa had just released a video announcement in commemoration of their mobile game – Pokemon Masters' one year anniversary.
In the video, Yu Sasaki the Producer of Pokemon Masters and Tetsuya Iguchi the Operations Producer had mentioned the date for the scheduled One Year Anniversary update would be available on 27th August.
– One Year Anniversary Update –
The first announcement they made in the video is a rename of the app. Yu Sasaki said that this One Year Anniversary update is the biggest update up until this point and to commemorate that, the Pokemon Master team had renamed the brand to be title "Pokemon Masters EX".
The anniversary update video will be focusing on these two topics:
– 6 Star Ex Sync Pairs –
In this first topic, the Pokemon Masters team had announced a new feature that allows 5 Star units to raise up their potential to the new 6 Star rarity. The new 6 Star rarity will strengthen a unit as well as unlocking a different colored outfit.
A limited amount of sync pairs will able to be raised to 6 Star EX when this update releases, but the first sync pair will be featuring Pokemon Trainer Red.
Red's new 6 Star EX showcases Red in a different color scheme than his usual red theme. It is said that his new EX outfit is inspired by his partner Mega Charizard X. Players are also free to change between the outfits at any given time if they prefer the original design.
– Champion Stadium –
This Champion Stadium is a new feature where players face up against challenging foes in a 5 consecutive 3-on-3 battle format. The first Champion Stadium will be featuring the Kanto Pokemon League.
Sync Pairs that have participated in a battle cannot join the remaining battles so plan out your sync pairs wisely!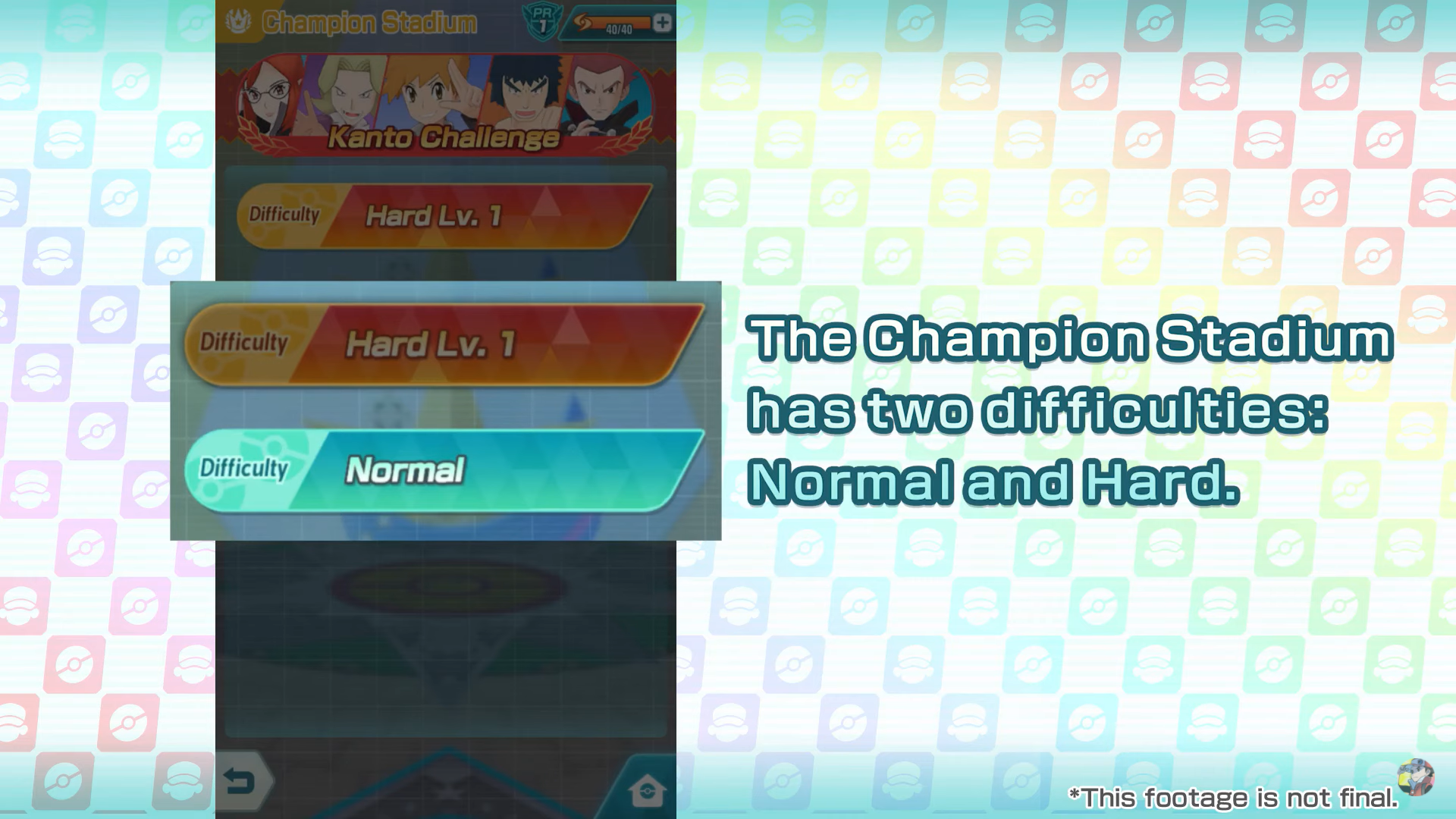 The Champion Stadium features two difficulties which is Normal and Hard mode. In Hard mode, the weakness typing of your opponents will change weekly and players are able to challenge these battles again to collect more items that are needed to increase a sync pair's potential.
The following shows the advantage types over the first group of Hard Mode Champion Stadium battles:
Grass – Lorelei 
Water – Bruno
Ghost – Agatha 
Dragon – Lance
Fire – Blue
The Pokemon Masters team had also mentioned that other regions of the Champion Stadium are planned too so stay tuned for future updates.
– Upcoming Events –
Before the One Year Anniversary update, there will be two events that will be available for all players to enjoy. The first Legendary Event features Cyrus and his sync pair Palkia from the Sinnoh Region.
In accordance to this event, a sync pair focus featuring sygna suit Cynthia and her new sync partner Kommo-o will be available for players to summon.
The Legendary Arena this time will feature Latios as the opponent.
Latios' weakness includes:
Keep these type advantages in mind when facing off against Latios.
– Events During One Year Anniversary Update –
The training with legends event will showcase a solo event against other powerful sync pairs in Pasio. Although there isn't much that was said in regards to this event so we just have to keep updated.
Next the event is the Grass, Fire and Water Type Egg Event that features:
Bulbasaur
Charmander
Squirtle 
Previously in egg events, players can only choose one egg but in this event, players are able to add all three of these Pokemon to your party. Keep in mind that these eggs might carry different movesets as well.
Last but not least is the family ties story event featuring Gladion, Lillie and Lusamine.
Players will need to help these trio to overcome their differences and work together as a family in the upcoming story event.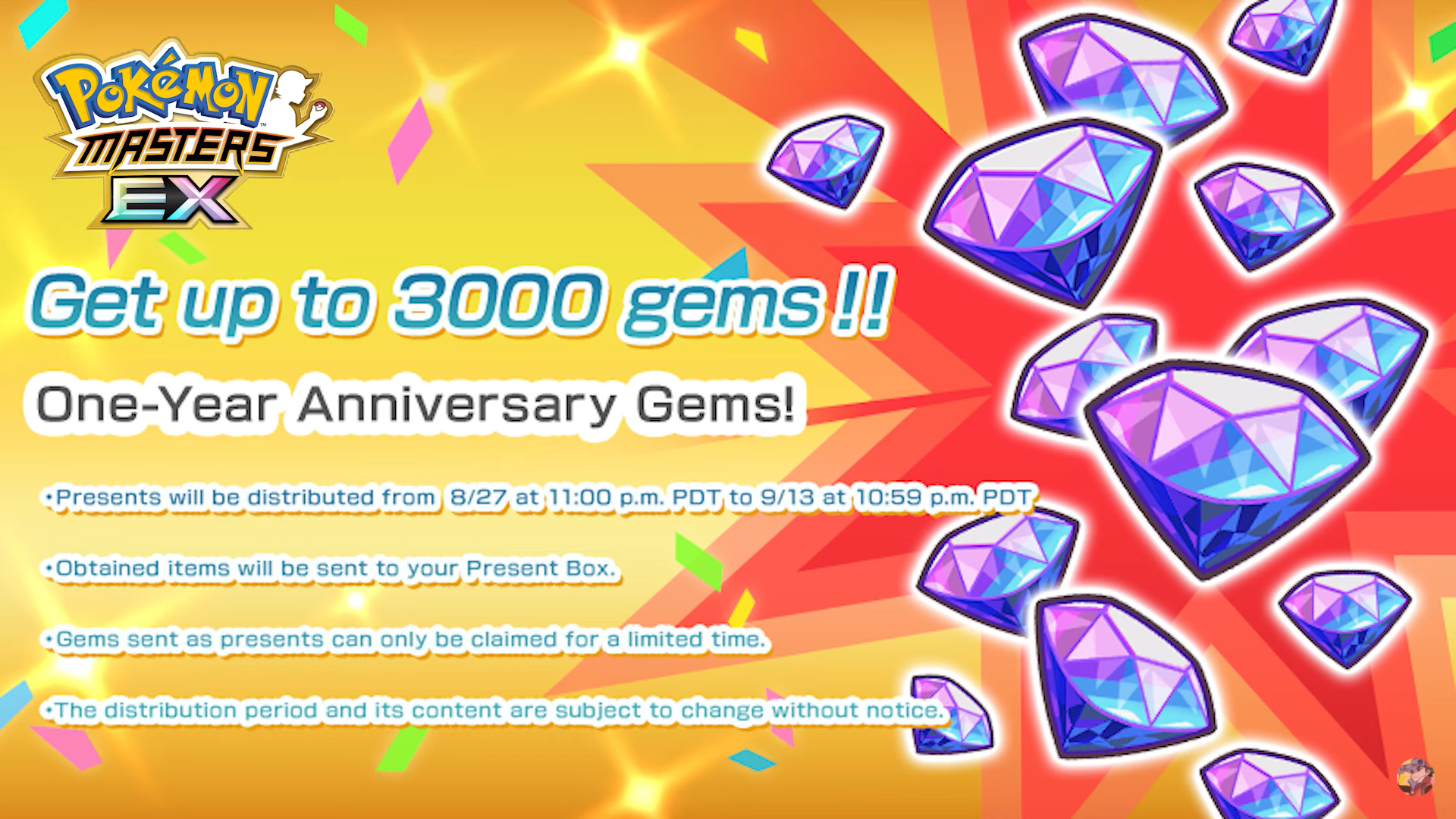 In celebration of the One Year Anniversary, players are able to receive up to 3000 gems!
For more information, check out their official Twitter page for future updates.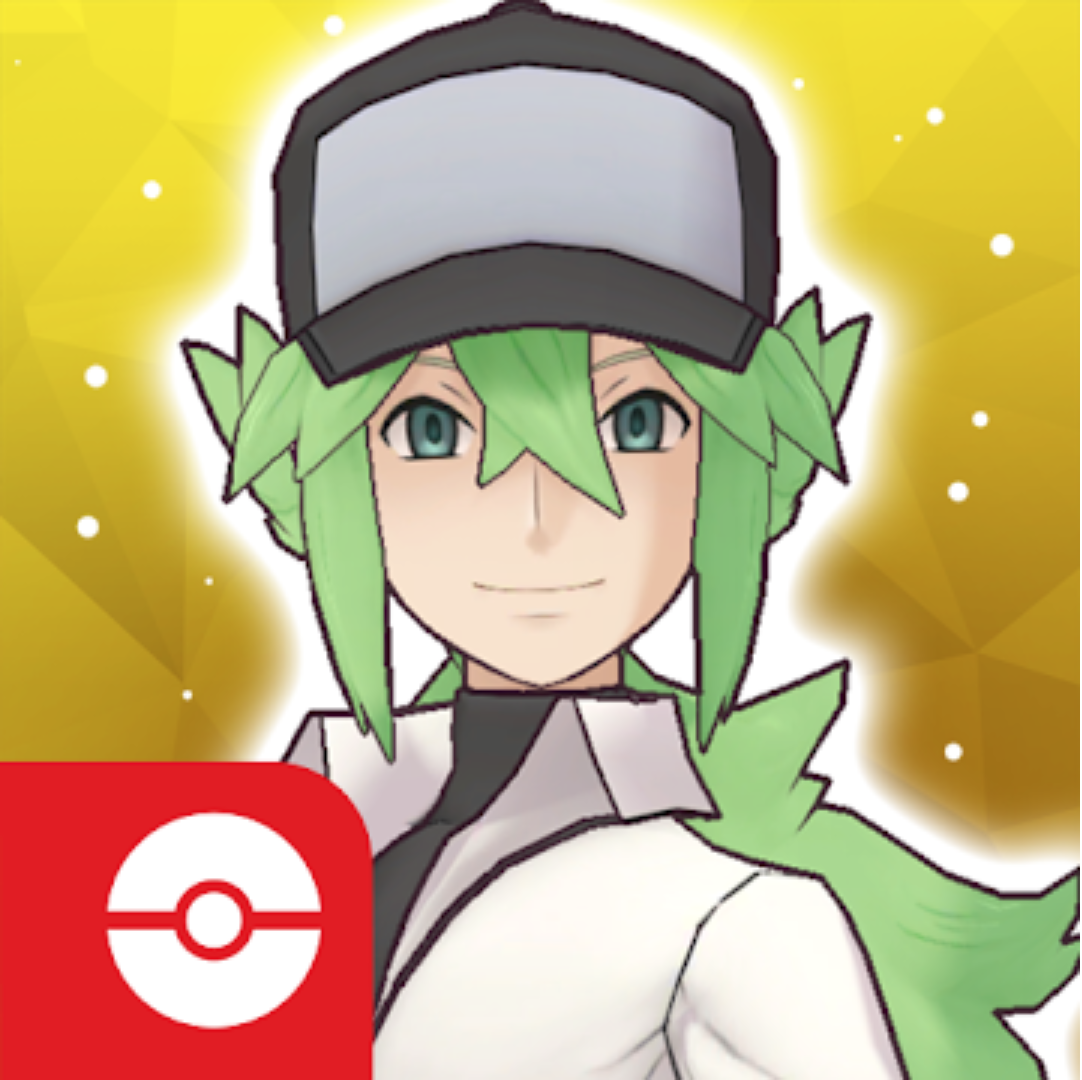 Pokemon Masters EX
Android, iOS
Pokémon Masters has evolved! Discover a whole new adventure in Pokémon Masters EX!
---
Check This Out Next
---