The Good Smile Company has announced a plethora of new Fate/Grand Order Nendoroid, Figma, PopUp Parada, and Scale figures at the Wonderful Life Hobby 34 exhibition.
There are 15 new figures in total, here's what's coming up:
Fate/Grand Order Nendoroids
Nendoroid Foreigner/Yang Guifei
Nendoroid Saber/Senji Muramasa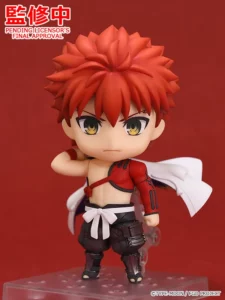 Nendoroid Doll Saber/Arthur Pendragon (Prototype): Costume Dress -White Rose- Ver.
Fate/Grand Order Figma
figma Saber/Nero Claudius (Bride)
figma Berserker/Miyamoto Musashi
Fate/Grand Order POP UP PARADE
POP UP PARADE Saber/Nero Claudius
POP UP PARADE Lancer/Scathach
POP UP PARADE Rider/Astolfo
POP UP PARADE Saber/Mordred
POP UP PARADE

 Ritsuka Fujimaru: Carnival Ver.
POP UP PARADE

 Mash Kyrielight: Carnival Ver.
Fate/Grand Order Scale Figures
1/7 Scale Figure Lancer/Minamoto-no-Raikou [AQ]
1/7 Scale Figure Lancer/Caenis
1/7 Scale Figure Caster/Artoria Caster (Third Ascension)
1/8 Scale Figure Assassin/Okada Izo: Festival Portrait Ver.
Unfortunately, no release date for the Good Smile Fate/Grand Order figures has been announced at the time of writing. We also don't know the prices they will be however they will likely be similar with more Nendoroid, Figma, or pop-up parade prices.
As you can see they are all at different stages of production, some cloured, some still need paint, some still are just concept art.
Regardless, between these and the new movies, games, and F/GO, Fate fans will have a lot to look forward to in the coming few years.
---
Check This Out Next
---