Marvel's The Guardians of The Galaxy is the latest in the partnership between Marvel IP and Square Enix to develop games for the brand. This follows on from the controversial Marvel's Avengers, however, Guardians is an all different game, a single-player adventure game with an emphasis on story.
The game was brought to life by Eidos Montreal, the developer of the modern Deus Ex game, and with that pedigree, Marvel's The Guardians of The Galaxy game is actually pretty solid. Nothing groundbreaking, it feels a lot like an MCU movie as well as the 2012 run of the comic series, very simple, nothing too challenging but a fun adventure with likable characters in an interesting world. If you're a fan of the movies and this ragtag group, you're gonna have a fun ride.
Come and Get Your Love
Marvel's The Guardians of The Galaxy stars Peter Quill aka Star-Lord staring off when he's a little kid on Earth and quickly fast-forwarding to the present where he's a bounty hunter in space and the leader of Guardians of the Galaxy. The story takes place after a massive interstellar war has left a major mark on the galaxy. Star-Lord takes this as an opportunity to make a mercenary group or rather "heroes for hire" in hopes of making a quick buck.
Eventually, Quill is able to recruit four other members: Rocket the Racoon, Groot, Drax the Destroyer, and Gamora. Their first mission is to hunt a rare monster in a Quarantine Zone, but it doesn't go so well and they end up being caught by the Nova Corps. Now needing to pay a large sum to clear their name, they set out on more adventures and establish themselves as a group to be reckoned with.
The story itself isn't anything that special, but much like the Guardians movies, the characters are very entertaining. Edios did a fantastic job with the depiction of each Guardian member to the point it's they're comparable to the MCU. Not just in their designs but their personalities. Their back and forth banter and quirky personalities feel genuine and play off each other well, especially in the more batshit situations.
That being said it's not all fun and games. The story can get pretty serious such as an early flashback scene from Star-Lord's past, the one where he is still a kid on his birthday. As you progress through the game, you can see his past memories and how they lead to him becoming the man he is today.
"I have a plan"
Another interesting aspect of the story is the dialogue trees which are utilized to create some pretty fun scenarios. They're pretty frequent and can happen at the most opportune of times, even in the middle of exploration when the characters are just speaking to each other. There are however some story cutscenes where your choice can affect the outcome of certain missions that happen and keep being referenced later on.
For example, there's this one mission where you need to get money by selling a monster for Lady Hellbender, where you can choose between Groot or Rocket (of course the plan is to bail them out later). Depending on your choice, the entire mission will have a different vibe which can be layered by other small choices. A fun one of these involves Drax wanting to throw Rocket across a cliff to activate a machine to get the rest of them to cross. Rocket, as you can imagine, isn't a fan of the idea so it's up to you whether to go along with Drax or spare Rocket the flight.
Having dialog choices makes the story a whole more exciting because they leave a pretty big impact on your campaign despite the core story being unaffected and only having one ending. At there very least, it gives you a reason to replay the game, so you can go back and see all the potential scenes you've missed out on.
The Vastness of Space
The first thing to note about the world of Marvel's The Guardians of The Galaxy is how amazing the environment design is. Each place you visit has a strong and unique atmosphere that makes the exploration feel exciting. You can tell the team put a lot of effort into bringing the Guardians of the Galaxy universe to life. My favorite level is easily the very first, the Quarantine Zone, a massive space grave, touched up with bright pink substances like intergalactic dying coral. The whole place is just so breathtaking no matter, whether it's from outer space or the inside where you actually got to explore it. In terms of environment design, they really nailed it.
With that being said, the game is very linear. You don't even have a mini-map so it's basically a constant trek down a corridor where you don't have to worry about backtracking except for the occasional small detour for some optional items.
When exploring certain areas, you will come across a certain segment that needs a Guardian ability in order to make progress. For example, you can give a command to Rocket to get into tight spaces and activate electric mechanics to open locks and Groot can make a wooden bridge to get across a huge gap. Star-Lord himself can use his visor to scan for some clues like items. It's a small mechanic that doesn't amount to much but it's a cool way of showing the team's versatility.
There are also some fun collectibles to find like Guardians Collection, basically a special item that can be used to have a special interaction with a specific Guardian in your party. There are also mechanical components to collect which is essentially the main currency of the game since you use these in order to unlock special perks for Star-Lord.
Despite the linearity, I don't think the levels are bad. The game reminds me a lot of Star Wars Jedi: Fallen Order with how the single-player environments really fit the atmosphere to each source material. It's small-scale exploration, sure, but I honestly don't mind since the game has good pacing and doesn't leave you confused about the surroundings. The game has a smooth pace and new locations flow well into each other, without being bogged down by lengthy pointless side quests or annoying puzzles like so many action-adventure games try to throw in for the sake of less linear level structure.
You do also have a spaceship I guess? There's really not much you can do in it aside from interacting with some nicknacks and changing the background song from the music player. It's there though. 
Combat
Combat is, unfortunately, the weakest area of the game. It just plays like your usual third-person action game, but in this case, despite having all of the members of Guardians of the Galaxy with all their cool weapons and abilities, you can only get to play as Star-Lord.
So what about the other characters? They more or less act on their own where you can also assign a command for special attacks, where each one of them, including you, has four slots to fill in. As the game goes on, and the battles get more intense, you'll need to constantly choose the right special attacks for each character to perform.
Here's a short explanation for each character combat style:
Star-Lord – He's the all-around fighter, that duels with a double quad blaster and can jump and fly around with jet boots. Some of his abilities let him fly around for a long period of time, firing rapid bullets of the quad blaster to penetrate enemies' defense and the one that let him jump high and rain down on enemies with a wide blasting fire.
Rocket – The little fury is a weapons expert who attacks from a distance. He focuses on damaging multiple targets at a time. One of his basic abilities and the one that I use the most is the Cluster Flark Bomb that deals moderate damage to everything in the impact area.
Groot – Our flora colossus is a tank that is able to withstand high amounts of damage. He focuses on crowd control, where one of his abilities can immobilize enemies in a small area for a short period of time. This ability is pretty busted since you can stun enemies for a good moment, even including bosses.
Drax – He is a durable brawler who is able to take on many enemies at once. He specializes in staggering enemies impervious to regular attacks. One of his abilities allows Drax to deal light damage but a huge stagger that is so useful against enemies with a strong defense that is so hard to penetrate.
Gamora – A very skilled assassin who can swiftly eliminate enemies. She can deliver quick and high damage attacks. One of her abilities can deal heavy damage to a single target.
But as I said, you can only play as Star-Lord and utilize your squad ability or special attacks to adapt to the combat flow. While Star-Lord mainly fights from a distance, you can still perform melee attacks even though they're pretty weak. But at least you can still make some cool combos like freezing the enemy with an ice bullet and smashing them with a physical attack.
Overall, the combat feels too basic and just doesn't have enough depth to it, to the point that you can pretty much gauge the extent that you can achieve pretty early on in the game. It ends up being repetitive pretty fast.
That said, one of the cooler things about the combat that makes it unique is the "Team Huddle", this is basically a super move, which involves the whole squad of Guardians. Star-Lord gives the team a motivational speech, plays a retro song (streamers, beware of copyright), and they go to town. It makes the combat feel more lively and badass. It's really unique and something that really fits with Guardians of the Galaxy. By giving a good speech you can grant the other Guardians temporary boosts, though Star-Lord abilities will be boosted regardless of any motivational dialogue that you choose. Every battle can grant you Ability Points that can be used to unlock Guardian's special abilities.
Customization & Upgrades
Another lackluster part about the game is the customization, it's really barebone but at the same time serviceable enough. There's a character upgrade menu where you can unlock special abilities for each guardian, but since you only play as Star-Lord it's better to focus on his abilities first. There are not many of them, and the other thing is that you can unlock some useful combat perks for Star-Lord from the workbench by spending some mechanical components. Some of these perks include the ability that allows him to shoot while gliding, drop additional health pick-ups when landing a lethal blow, and much more.
There are also lots of cool costumes that you can unlock by exploring and finding them from certain places or by getting a special Throwback Guardians set by pre-ordering the game. Outside of that, there's really not much customization that you can fiddle around with.
PS5 Performance
Marvel's The Guardians of The Galaxy runs pretty great on PS5 with stable FPS, except for some specific story cutscene that you can notice some nasty drop in performance although it's just for a split second. Like all the other next-gen releases, there's an option to toggle performance and quality mode, so it's up to you whether it's better to play the game with higher FPS or graphics. Though the graphics quality of the game is already great, so I think playing on performance mode is just equally good in my opinion if you want to get the eye-candy experience. While the game does support the use of Haptic Feedback and Adaptive Trigger, it doesn't really utilize them that much so don't expect to have your mind blown by the sensation.
Verdict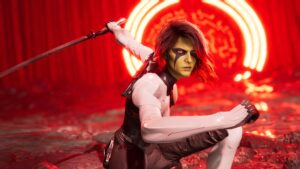 All in all, Marvel's Guardians of the Galaxy managed to exceed my low expectations with a good time. While the game is way too simplistic on some of its mechanics especially for the combat, I think your enjoyment of it will rely more on the story and character interactions which are a joy to watch. Seeing the interactions between the Guardians and how their relationship grows as a team is great, and the addition of Dialog Trees really makes the flow of its narrative way more exciting where you can also expect to see some replayability aspect to it, even though the main core of the story and ending is still the same.
I'd highly recommend it for Marvel fans. The game has much more in common with say, Marvel's Spiderman than Marvel's Avengers. A fun single-player adventure game with no loot boxes or live services junk in sight. If you're a fan of the MCU or the original comics, this is definitely one you wanna watch out for.
Game reviewed on a PS5. Review Copy provided by Square Enix, who published the game in the SEA region. 
The Review
Marvel's The Guardians of The Galaxy
PROS
Exciting story with great use of dialogue trees
Awesome cast of characters that are translated well from the source material
Gorgeous environment design
CONS
Sadly, the combat can get repetitive fast with only one playable character
Some mechanics are too barebones
Very linear experience that some people might not be a fan of