We managed to obtain access to the Genshin Impact Closed Beta, probably miHoYo's currently most anticipated title! This open world RPG will be coming to mobile devices (iOS/Android), PC as well as Nintendo Switch. Especially pertinent to mobile users, here's the storage requirements from the Closed Beta. It may change in the future, so keep that in mind.
Choose from either Aether or Lumine, a pair of siblings, battling some obviously malevolent woman. The character not chosen will then seemingly get absorbed by this mysterious woman. You find yourself in an unfamiliar world, along with your companion named Paimon, and somehow, you, now a mere Traveler, must find your way back to rescue your sibling…
PRESENTATION
For those familiar with Honkai Impact, another of miHoYo's property, then you can expect the same level of quality here. One can say the quality is even better, Genshin Impact being closer to an AAA title that's free to play! The characters have their unique idle movements, like how the Traveler seems to summon a constellation in their hand when left alone.
Even on a mobile screen, the colours are wonderful, with that anime style really brought to life. Traipsing around only a couple of locations, but they already have distinct feels to them; the more sparse open wild area with the copse of trees, and the stone paths of Mondstadt welcoming people from far and wide to enter.
The Closed Beta had language options for English, Japanese, Chinese and Korean text. Voices, except for Japanese, were available as well. As a certain enthusiast, I was certainly looking forward to playing it with Japanese dub, but alas.
The Closed Beta does chug a little, with optimization yet to be fully in place. Certainly, the storage requirement will probably be scaring off players who have lower end phones to start with. We'll be seeing how they can work on this as the game approaches launch.
CONTROLS
A virtual joystick is on the left of the screen, while attacks, spells, jump and sprint are on the right, a pretty standard layout. Depending on the characters, they may also have additional mechanics. Amber, for example, has an aiming mechanic that has you essentially looking down a scope. I personally felt this was a little awkward at best, especially being attacked while I'm trying to snipe something on higher ground that I can't reach. It would do you good to be better at aiming though, as hitting weak points can deal higher damage!
You can swap to another character in your party by tapping on their icon on the right side of the screen. There's a minor cooldown before you can change back to that character. There can be quite a bit of menuing to do, as you check equipment, the constellation skill trees and so forth. Handily enough, if you can equip something new, it highlights the appropriate slot, so there's less hunting.
Interact with things as they pop up on screen with a tap. You can sprint in short or long bursts depending on how long you hold on to the button until you drain the stamina bar. Easy enough.
GAMEPLAY
It would be easy to say, "just go out and explore the land". Indeed, you'd likely be spending a lot of time wandering, doing quests or simply admiring the vistas. Camp out, cook something for buffs while you're out in the world. Who knows what you can find? Stick around in the same place at night, and you could find some different critters roaming.
Each character has their own element, and the different elements can react to each other. The easiest way to put it by example: attack something with a fire (Pyro) attack, and it might get set alight! If you use Pyro on Dendro (grass), then the Dendro will remain on fire until it wears off. The interactions generally make sense, so try it out when you can. There are 7 elements; Pyro, Hydro, Dendro, Electro, Anemo, Cyro and Geo.
If you ever get lost, just tap on the quest and a glowy path will show up and you can follow along. It might be cool to have an auto walk, but then would you really be taking in the road less travelled and finding the beautiful sights and perhaps, the surprises, along the way?
I got a Wind Glider fairly early into the game, and as the name suggests, you use it to glide. The quest threw me into an aerial battle too, so it was pretty cool! It doesn't seem like you'd get fall damage even if you don't use the glider anyway, but it's a quicker way to sail downwards.
Incidentally, be sure to not run out of stamina while you're swimming across the river. I landed in the water after gliding down and unceremoniously died not too far from the opposite bank. Oops. I respawned back on the bank with some HP deducted. There will be areas in the game where there are currents that can send you to great heights, so the glider would definitely be better used there.
The game has a gacha system where you can obtain characters. Hopefully the rate of characters – highest rarity of character appears to be 5-star – would be decently generous. Since this is a closed beta, I will refrain from commenting on how the monetization will work since this is the closed beta, but we can probably expect the usual material packs and such. Characters themselves can be "ascended" at least 4 times, as indicated by their star level.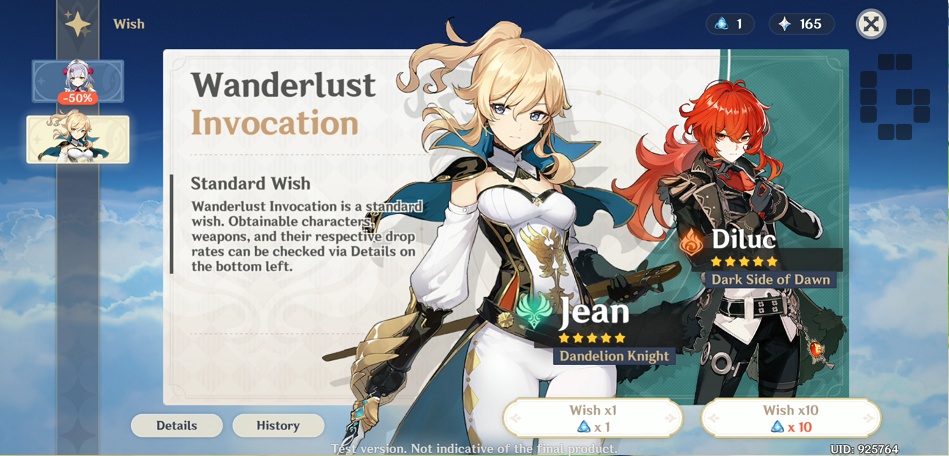 Each character has their own weapon type, and so far, only the main character can change their element. A maximum of four can be in your party at any time. There's also multiplay, which requires a high enough Adventurer Rank, which you can get simply by just playing the game. There are quite a few restrictions regarding co-op:
Important quests that are not completed (presumably story quests) are paused
Cannot pick up anemoculi, etc. when in another Traveler's world
No offerings to the Statues of the Seven, but can replenish character HP
Cannot open chests in another player's world
CAN choose to revitalize the Petrified Tree or Ley Line Blossom for individual rewards after completing challenges/Domains

Incidentally, you do need high Adventurer Ranks/Levels for various other items that include crafting, too. There's also a World Level, but it's presently unclear what it actually does.
VERDICT
Genshin Impact will be free to play at launch, so more people will be able to try out this pretty promising title thus far. The game is planned to be playable on PC and Nintendo Switch apart from mobile, but cross-platform details cannot be confirmed at this juncture. The different voiceover options will also be considered, something I figure contributes to the game's relatively large size at the moment. The game is not completely voiced right now, only in some overworld interactions and cutscenes.
The gacha system, called Wishes here, has not yet been finalized, so we'll see what they plan for that too. Right now, the closed beta is for players to get the feel of the game, with the exploration and story being the focus. Each NPC, with just a few lines, showcase unique personality, like they're actual people inhabiting this world. It makes you want to care for the world. Slowly, you get to integrate your player character into this land, making it a perfect set up for a gut punch for plot developments further down the line.
I'd say right now, it would be something people will spend plenty of time deep diving, so we'll see how it turns out should there be more beta tests in the future!
---
Check This Out Next
---