Developers WFS, Key and Visual Art's mobile action game – Heaven Burns Red will be releasing their game over on the PC via Steam as the release date has been announced.
The planned release date for Heaven Burns Red on Steam will be on the 10th August 2022, although there is currently no plans for an English Language support for the game.
That could also be one of the reasons as to why you won't be able to find the game on steam if you were to type out the English title of the game.
Fans who are interesting in checking out the game's steam page can do so here. And for those who are unfamiliar with the title, here's a brief overview about the game.
Plot
Heaven Burns Red takes place in a world where the Earth is being attacked by mysterious extraterrestrial life forms called "Cancer." Cancer are immune to any kind of weapon and have been forcing humanity to abandon most of the Earth's surface. Left with little time before they face extinction, humanity successfully created a weapon to take on Cancer known as "Seraph."

Humanity gathered those who had mastered the art of manipulating Seraphs and established "Seraph Corps" as their last hope. Those who could manipulate Seraphs have one thing in common: they are all girls. One of them is Ruka Kayamori, who finds herself thrown into the war against Cancer.
Gameplay
The player takes the point of view of Ruka Kayamori, a former vocalist and guitarist for now-disbanded legendary band "She is Legend". The game has a day-to-day system in which the player starts as newly enrolled Ruka Kayamori, meeting new characters as the story progresses. Monthly events take place within the game in the form of side stories, told from other characters' perspectives

Heaven Burns Red is a turn-based role playing game in which the player can assemble a team of 6 out of 48 available girls and fight against the enemy Cancer. During their turn, the player can choose 3 characters from the party to perform an action (attack, heal, etc). Both characters and Cancer are equipped with Deflectors (DF) which work as a shield and can also be healed; characters HP cannot be healed if their DF breaks and will be left vulnerable, though some characters have the skill to heal a broken DF. The game's story is told in a visual novel style, fully voiced. There is also a "Sixth Sense Mode".
---
For more information on Heaven Burns Red and future updates, do check out the game's official website here.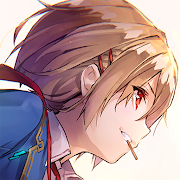 Heaven Burns Red
Android, iOS
Key by Associate Maeda, "Heaven Burns Red (Hebban)" is a story of girls who are entrusted with the last hope. A dramatic RPG that challenges you to fight for your life while running around the field and experiencing the irreplaceable everyday life!
---
Check This Out Next
---